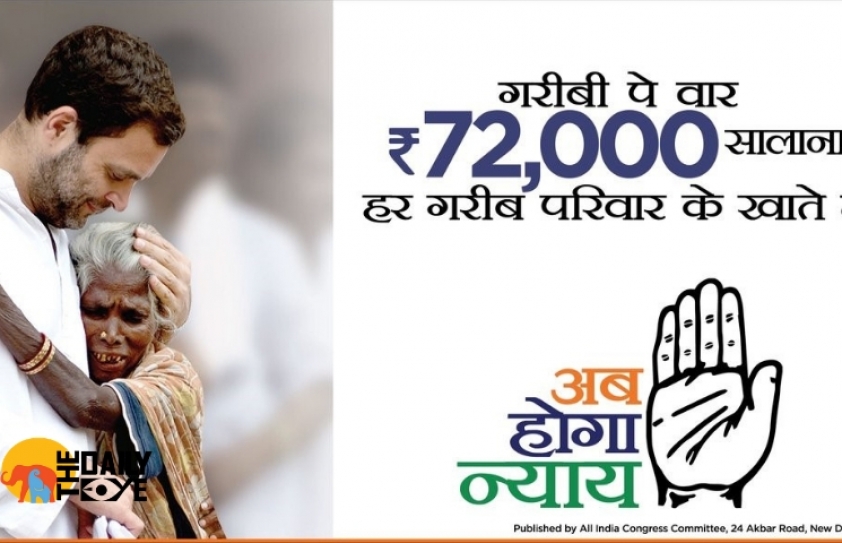 Congress Party launches Lok Sabha 2019 Campaign
by The Daily Eye News Desk
April 8 2019, 12:32 pm
Estimated Reading Time: 1 min, 48 secs
The Congress Party launched the Lok Sabha 2019 Campaign at the All India Congress Committee (AICC) headquarters in New Delhi. The Congress Publicity campaign is built around the theme of NYAY. Not only is this the acronym of the Congress Party's mega minimum income guarantee scheme, where they have committed rupees 72,000 per year deposited into the bank accounts of five crore of India's poorest families, NYAY or Justice is also the underlying theme of their campaign.
Justice for the Poor.
Justice for Unemployed Youth.
Justice for our Farmers.
Justice for Women.
Justice for our Dalit and Adivasi brothers and sisters.
Justice for the businessmen that the badly executed GST has ruined.
Justice for each of us who have been lied to and taken for granted by the present Government whose time has run out.
The campaign that launched yesterday is a 360 degree cross platform campaign. It consists of:
TV films - Indian National Congress
Cinema Spots
Radio Jingles
OOH Hoardings & digital screens
Print Advertisements
Digital / Social Media
Public Transport
Mega Container Trucks
The creative campaign places Congress President, Rahul Gandhi at its core and reflects his personal style which is informal, real and helps him connect easily and genuinely with people. All the visual elements in the campaign featuring the Congress President are from his interactions over the past few years with different people from all walks of life. Simplicity, genuineness, honesty as opposed to hollow, empty slogans and fake promises is the approach the Congress Publicity Campaign takes.
Amongst the themes covered in the campaign are:
The Nyay scheme and eradicating poverty.
Jobs for unemployed youth
Farmers
Women's Reservation
GST Reworked
Universal Healthcare
Education
Startups
The Congress Publicity Campaign builds on the recently released Election Manifesto and highlights the promises made in it to the people of India.
The following are the creative & production credits for the campaign:
Lyrics: Javed Akhtar
Concept, Script: Anuja Chauhan
Directed by: Nikkhil Advani
Cinematography by: Tushar Kanti Ray
Music: Arjunna Harjai
Production Agency: Percept H/ Goddess