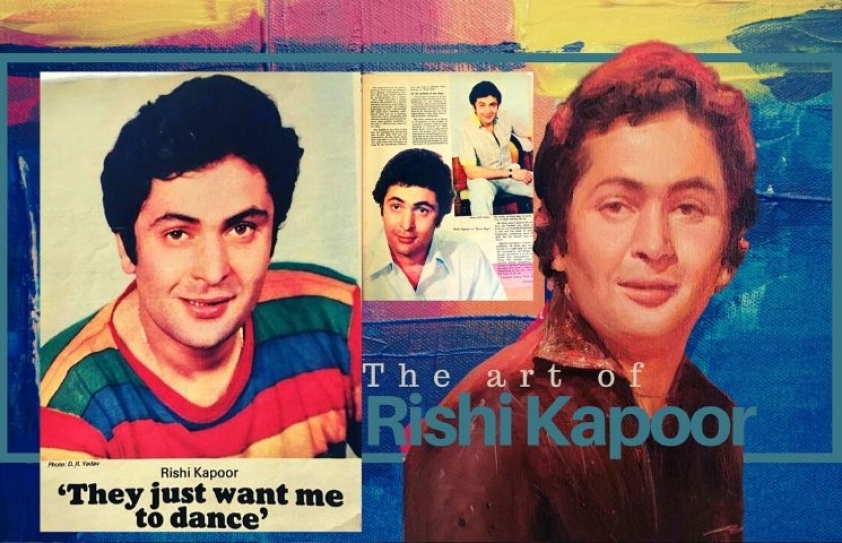 The art of Rishi Kapoor
by Reema Moudgil
May 4 2020, 5:03 pm
Estimated Reading Time: 5 mins, 56 secs
Reema Moudgil takes you on a trip through Rishi Kapoors body of work and his many reinventions as an actor who scaled Bollywood art for almost six decades. A generation, which Irrfan Khan belonged to, is the same as that which embraced Rishi Kapoor while it was growing up. Can any other generation than this, which is considered the metamorphosis that took place and delivered India from a feudal society to a liberated one, know the depth of meaning that lyrics like Hum Kissi Se Kam Nahin (We are no less than others!) and Khullam Khulla Pyaar Kareinge Hum Dono (The two of us will love each other fearlessly), provided to them?
Rishi Kapoor was a cinematic character in a thoroughly entertaining Hindi film that played for almost 64 years. It began when we first saw a baby boy in the final moments of "pyar hua ikraar hua" in Shri 420, toddling past the camera with his sister and elder brother. From gatecrashing this tentative admission of love, he went on to be Hindi cinema's first teenage rebel whose signature anthem and even autobiography would be called, "Khullam Khulla."
But even before that, he was a teenager discovering heartbreak in Mera Naam Joker. And then he was Bobby's
Raj who as Shahrukh Khan once famously said, moved filmy love stories from the world of men and women to a space meant for boys and girls. Love in Hindi film industry would not have been much fun without Rishi Kapoor who not only celebrated it openly but gave us many kinds of cinematic lovers.
The unloved puppy seeking connection and warmth in Bobby, the reckless college heartthrob of Khel Khel Mein, the self-sacrificing Dafli player in Sargam coughing discreetly into his sleeves, the angry, bitter loner of Zehreela Insaan, the soul-burnt, parched Majnu singing to the Gods, "Jahan main Qais zinda hai toho Laila mar nahi sakti, the tortured rockstar of Karz, a newly married young advertising professional who falls for a much older woman still grieving her lost love in Doosra Aadmi, the rose petal scatterer of Chandni and the conflicted husband of Damini. In almost all of these films, he challenged our notion of what love could or could not be.
Bobby was a love story between the son of a Hindu aristocrat and the daughter of a Christian fisherman and spoke about what happens to kids when parents are self-absorbed and selfish. The film's message was clear. Children have volition, and the right to fall in love with anybody.
Bobby was about rebellion and much ahead of its time, especially when you remember Dilwaale Dulhania Le Jayeinge (DDLJ), another genre defining love story that was all about negotiating with tradition and along with, Hum Aapke Hain Kaun, brought love back into the fold of parental control and blind obedience.
And then there was Dev in Prem Rog, standing up to feudal customs. Prem Rog is hugely flawed with its vulgar comedy track involving a middle aged groom and a teenaged bride, its rather ambiguous take on astrology and in its suggestion that a widow with beautiful hair will invite violation. But it also has these staggeringly moving moments that you watch transfixed. Like that scene where Dev is requesting the widowed Manorama, also his child-hood friend (Padmini Kolhapure) to have a meal with him and she says, "Tum bahut zabardasti karne lage ho." And he remembers how she once was a spirited, willful young girl. And says, "Tumne jo karni chhod di." I still remember the way he said it. Gently because he knows she is fragile.
My favorite scene in the film is where the patriarch of a feudal family (An imperious Shammi Kapoor) offers his widowed niece to Dev, not in marriage but for elopement. Marriage of a widow, he tells Dev, is not a possibility in a feudal household but yes, if she elopes, she will be first cursed, berated and then forgotten. The haveli in which this conversation is taking place, is bathed in candle light because there is a power cut and Dev locks eyes with the old man and tells him, "Ye to dharmyuddh hai… issme samjhauta nahin hoga. Ya to poori tarah haar hogi ya poori tarah jeet.'' His point being that people must watch change unfold where it seems impossible to understand that it is possible.
And just then, a few dozen chandeliers burst into light overhead. Dev smiles and says, "Ab ijazat dijiye" and walks away.
Rishi Kapoor was marvelously low-key in an otherwise overwrought film and in scene after scene he proved to you with gentle passion just how greatly under-rated as an actor he really was. His unspoken farewell in the first half of the film to his childhood love at her wedding is a text-book moment for actors who for the life of them cannot convey tenderness without killing it with too little or too much emphasis.
I did not much care for his work in the nineties but even in bad films, he was always good and always the master of songs with his quicksilver expressions, his micro gestures.
Rishi Kapoor loved song and dance and it showed. Be it his jig on a revolving HMV record in Karz that inspired Farah Khan to make an entire film, or his electrifying competition sequence in Ham Kissi Se Kam Nahi that has been copied but never bettered. His mannerisms as he plays the dafli, dances, lip syncs AND emotes in Sargam with a shrug of his shoulders, or his magnificent Akbar Allahabadi, the purveyor of timeless qawalis who sang, "yeh gham ki raatein… raatein ye kaali… inko bana de Eid our Diwali." Now a poignant reminder of how effortlessly inclusive our films used to be once. A loss he embodied in one of his best performances in Mulk.
He remained a working actor through out. And he was always convincing. Even as the villain of the revised Agneepath. Whether he was irritated asking for the pair of mojris someone else has walked away with or looking for lambs to slaughter, you knew he was in the moment, in the very heart of a dark, corrupted soul and even in that qawaali sequence, he reminded you that no one could quite carry a song like he could.
Be it Love Aaj Kal, Do Dooni Chaar, even a terrible experiment like The Body, he was always reinventing himself continuously. What I will remember him for is the last scene of Kapoor & Sons where he gathers his broken heart with a small movement of his old body as he faces the camera for a family photograph one last time.
Kapoor was not very aware of social media etiquette, gender norms or the ground realities beyond the silver screen but one thing he understood better than many of his peers was cinema was its mechanics and its magic. His love for his craft was irrefutable and in his body of work, you can see an unbroken sequence of some of the definitive moments of Hindi cinema.