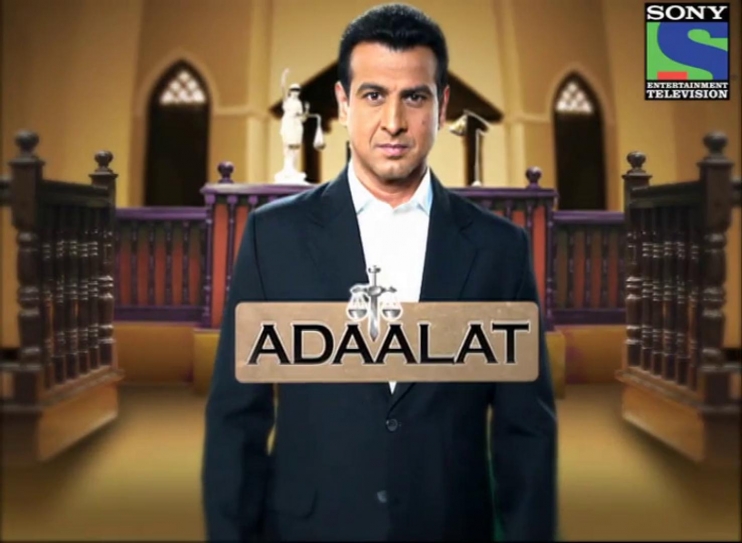 SONY, THIS WEEKEND
by Piroj Wadia
March 25 2015, 1:27 pm
Estimated Reading Time: 3 mins, 47 secs
The weekend on Sony Entertainment Television was marked by thrills courtesy Adaalat and CID; and reflection thanks to Bhanwar.
Team Adaalat went to the Andaman Islands, and that we know when KD Pathak is giving their rescuers the location. The Jurassic Jazeera episode had a dash of Agatha Christie 10 on an Island, a bit of Jurassic Parkand an encounter with tribals.
KD, a judge, Suparna, a public prosecutor and Dave, Adaalat and KD Pathak?s friendly police officer, find themselves on the private? jet of a businessman Mr Walia who is forever holding on to a locket.? Other than the pilot, there is Payal the stewardess and a crime reporter.
The jet crash lands on an island populated by tribals and dinosaurs. Whoever thought the latter were extinct, hasn?t visited this island in the Andamans. A mad biological scientist Dr Joseph has cloned the dinosaurs and T-Rex! He controls them with a whistle. The plane load is told they are here to stay!
KD is captured by the tribals, but outwits them by recording their chants on his cell phone, when he plays it back; they revere him as their chief. The pilot, who was coerced to crash land the plane, tries to escape, but is the first victim of T-Rex, next on the list is Walia;mysteriously even Dr Joseph their creator is devoured. The latter?s research notes arefound by the reporter who grabs, it dreaming of the millions he will get by selling the rights. He too falls prey to T-Rex.
KD finds Dr Joseph?s controlling whistle, but hears a second refrain-- Payal comes in view and reveals that she was seeking revenge as they had convicted her brother. Joseph was an ex-boyfriend who allowed them to come to the island and she had turned T-Rex on him. The rescue chopper arrives; before Payal can command T-Rex to attack the four survivors, the tribals kill her.Went they seven, escaped four.
A change from the stuffy courtroom, where nature is the silent witness; as punishment is being meted out to offenders.
In Pratha Ya Shadyantra State Vs Singh family, Bhanwar rewound to 1987?s infamous Deorala Sati case where Roop Kanwar?s father-in-law forced her to immolate herself on her husband?s funeral pyre which was lit by his brother. It had raised a storm of protests nationwide and worldwide. Although the accused were acquitted, that was the last instance of sati.
In Pratha Ya Shadyantra State Vs Singh family, the motive is shown as murder. The newly married husband wants to set upmedical practice in Jaipur, where he wants to move with his wife and live independently. He asks for his share from the ancestral property, which is due to him according to his grandfather?s will. The father and his two brothers won?t have any such division, so they poison him and force his wife to commit sati.At the funeral, crowds throng cheering and celebrating Sati Mata. As the pyre is lit and the flames engulf her, thegirl gets off the pyre screaming, but is forced back.
When the public prosecutor questions witnesses, she mostly draws a blank, but she does get a few leads from the odd one who has seen the woman frothing at the mouth, as poison was forced into her mouth; but the latter?s testimony is shot down by the defense counsel. The case continued for over seven years ? the accused were acquitted.
This episode of Bhanwar not only renewed interest in the Deorala Sati case, it also introduced a younger set of viewers to the dastardlyevent. The producers left nothing unsaid within that one hour episode ? no frills only facts. That?s the advantage of Bhanwar taking up landmark cases.
CID got busy tracking the sudden disappearance of people in debt; mysteriously their debts were cleared, but they were never seen or heard of. Tracking clues from autorickshaw and taxi drivers they unearth a gory underground operation, with a lot of bloodletting.
In another episode, a bunch of stunt bikers pull off an unimaginable gold heist. ?Dhoom-like they disappear, but with Abhijit and Daya hot on their wheels, they couldn?t go far. There was a lot of leaping across rooftops, and the climax sequence in a container yard had all the chasing done atop containers!?
Starring Ram Kapoor and Gurdeep Kohli?Dil Ki Baatein Dil Hi Jaane is Sony?s new prime time drama about a terminally ill patient accepting her end. ?It promises to be a warm, sad and telling story.