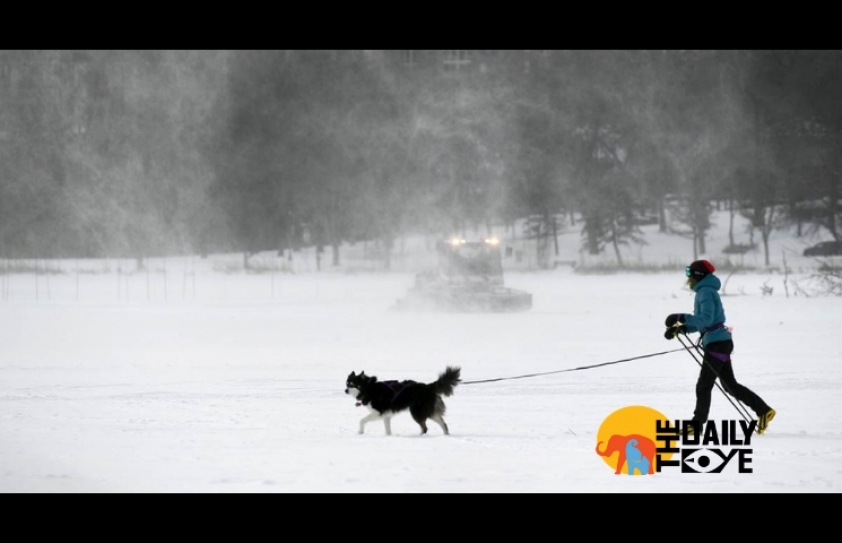 NOAA: "Winter storms don't prove that global warming isn't happening."
by Shruthi Venkatesh
February 4 2019, 3:17 pm
Estimated Reading Time: 2 mins, 41 secs
The extreme cold which covered the US Midwest last week was termed to be a "deep freeze" which urged many to wonder if it's due to global warming. The conditions were made so unbearable that trash haulers stopped making pickups and mail carriers suspended deliveries. The conflict is that when the climate is warming why the country needs to face sub-freezing temperatures. But according to a tweet from the National Oceanic and Atmospheric Administration: "winter storms don't prove that global warming isn't happening."
Some political conservatives have rejected the scientific consensus about climate change that greenhouse gases have warmed Earth's atmosphere and helped fuel heat waves, extreme storms, droughts and extreme wildfires. Senator James Inhofe, Republican of Oklahoma, brought a snowball to the Senate floor in February 2015 as evidence that the Earth was not warming. Similarly, Mr. Trump's golf resort in Ireland intends to build two sea walls and cited the risks of global warming in one of its applications for the construction. Still, the link between the climate change and the global warming isn't clear. Many refuse to agree the difference.
Record breaking cold hits the Mid West (daily mail)
The New York Times gives a report on the frigid weather from December 2017, when parts of the United States were 15 to 30 degrees Fahrenheit colder than average, but the world as a whole was about 0.9 degrees Fahrenheit warmer than the 1979-2000 average.
The cold air is termed to be a familiar phenomenon known as the Polar Vortex. It is the massive cold which blows counter clockwise over the Artic Circle. When the flow of the jet stream is slowed down, the air is pushed towards the south, into the continental United States. This led to Chicago to reach the forecast of -22 degrees (as cold as the South Pole) and Milwaukee to go even colder up to -28 degrees. Classes were cancelled for almost two days in many cities, including Chicago, and police warned of the risk of accidents on icy highways. Streets in Chicago were nearly empty, with few people walking outside in the painfully cold air. Michigan closed all its state offices through last week. Temperatures in parts of the Northern Plains and Great Lakes plunged to as low minus 42 (minus 41 Celsius) in Park Rapids, Minnesota, and minus 31F in Fargo, North Dakota, according to the National Weather Service. The frigid winds were headed for the U.S. East Coast later last week.
At least five deaths related to extreme cold weather have been reported since last week in Iowa, Indiana, Illinois, Wisconsin and Minnesota, local media reports said. Hundreds of flights, more than half of those scheduled, were cancelled out of Chicago O'Hare and Chicago Midway international airports, according to the flight tracking site Flight Aware.
The NBC news reports : "There is a scientific discussion going on as to whether climate change is actually making it more likely for the jet stream to sometimes shoot Arctic air at us," as told by the Climate Central's Strauss. It is more likely to be back to normal temperatures in the upcoming month.