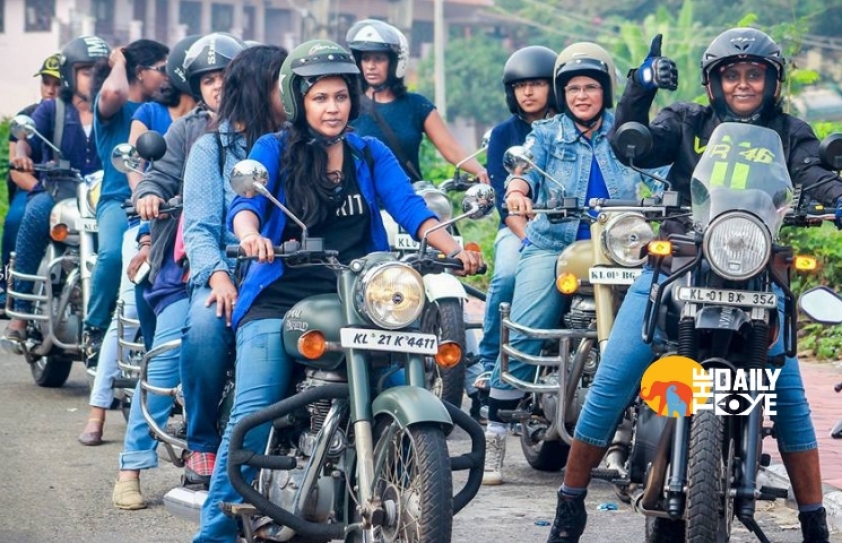 There she goes… changing gears and riding bikes!
by Shruthi Venkatesh
March 19 2019, 3:57 pm
Estimated Reading Time: 5 mins, 25 secs
Riding motorcycles have always been the 'men' thing. Yet, in the last few years women have taken over to change the concept as a gender-neutral thing. More and more women are craving solo time on motorcycles. There is also a rising tide of motorcycling culture, promoted by annual bike events and social media groups. All of which looks hopeful for the nascent world of Indian female bikers. It is a matter of freedom in this stereotypical world. Riding motorcycles and the culture around it, with the talk of "bitch seats" and women as "property", have seldom seemed very conducive to the empowerment of women – reads an article in The Guardian.
MISS MOTO MAROC - Dalila Mosbah (youtube)
Similarly, the Moroccan city of Casablanca, recently witnessed a roar of a female club who are defying western stereotypes of oppression and breaking down barriers. "We call ourselves Les Miss Moto Maroc and we're the first all-female motorcycle club in Morocco," says Dalila Mosbah, the leader of the group, sitting down at a table. The club also hosts an annual international rally, March Moto Madness, held in the same month as International Women's Day, which sees some 1,000 riders take to the streets in support of women's rights. Mosbah explains: "It's a club of women of all ages and from all backgrounds. The youngest among us have recently graduated from university and the oldest are retired, like myself, but we all share a passion for big bikes [more than 500cc]. We regularly meet up to ride out and explore our beautiful country, as well as simply catching up for coffee and a chat, like today."
At first, her main motivation was to share her passion for bikes with other women and encourage her fellow countrywomen to dare to ride. She is now determined to destroy the western image of Muslim women as restricted, powerless and oppressed, and to demonstrate that her countrywomen can be as "free" as their western counterparts. "Many foreigners think Arab women aren't allowed to do anything, but that's not true," Mosbah says. "Les Miss Moto Maroc club represents modern Moroccan women. We're not stuck at home wearing djellabas and headscarves, simply existing to cook for our husbands and children. There's much more to us: we only cover our faces to have fun." One of the women Mosbah has inspired is Ilham Filali, a pharmacist and club member, who also lives in Casablanca. She learned how to ride five years ago after seeing a report about Miss Moto Maroc on television. "Watching these women on screen gave me the courage to get a motorbike," she says.
Urvashi Patole Sane Founder - The Bikerni (twitter)
A new generation of female bikers is finding and inspiring each other on social media, especially Instagram - with a shared set of ideals: adventure, companionship and the freedom of the road. "I think we're seeing a kind of onset of a kind of powerful women being trendy," said Lanakila "Lana" MacNaughton. She and four more female riders were handpicked by Harley-Davidson and given motorcycles to ride 9,000 miles across the country. "I don't think that's really ever been seen," said MacNaughton. "For us it's about, us being on the front of the bike rather than being on the back of the bike, and establishing ourselves as strong women instead of in the background."
Gender stereotyping is very much common in India. When men are into sports and technology, women are instructed into arts, cooking, etc. Some of the best female bikers in India tell us what it really takes to be one, amidst all the objections.
Urvashi Patole Sane was just 14 when she first rode a motorcycle. She then knew that she could never stop getting on it. "It was my curiosity that inspired me. No one had to talk me into it. In fact, my parents had no clue I had been riding until I met with an accident and broke a bone," she says. I decided to start Bikerni, to create an equal platform for female bikers across India to give them a chance to follow their passion without judgement," she says. Today, the group has over 1,200 members across 17 states.
Anam Hashim had to leave home to pursue her passion. "My family never supported me. They wanted me to stop biking or leave the family. I've worked very hard to buy my own stuff. It was a long and difficult process, but I'm happy with where I am now," she says. Anam now has her own company called the Dream Motor Sports.
For women like Kalyani Pothekar, life was much easier. Her father being a motorsport racer himself, she got all the support she needed from her family. She got her own bike soon after high school and started touring. "As long as you're a woman in India, anything you do differently will be criticised, even by other women themselves. When I was studying in Pune, I hadn't learn to park the bike using the main stand yet, so the older ladies in the neighbourhood would put me to shame which was de-motivating. There were men who used to tease me," she says. Today, Kalyani is a full-time racer and a very successful one at that. "The excitement of being off the grid, the thrill of the speed, especially when you go past someone, and the elation you feel when you stand on the podium with other bikers, that's what I live for," says Kalyani.
Rehana Reya makes sure that Indian women can do anything and gender doesn't define boundaries. She says, "Though my brother was my inspiration, he didn't really want me to become a racer because of the hardships he faced — lack of funds and the general struggle that racers have to endure in our country," she explains. "Now he encourages me all the time."
Many other female riders such as Roshni Misbah, Dr. Naharika Yadav, Esha Gupta, Shirin Shaikh, Maral Yazarloo, Alisha Abdullah, Aishwarya Pissae, Niranjanie Ravishankar have strived to make a mark for women in the motorcycle industry.