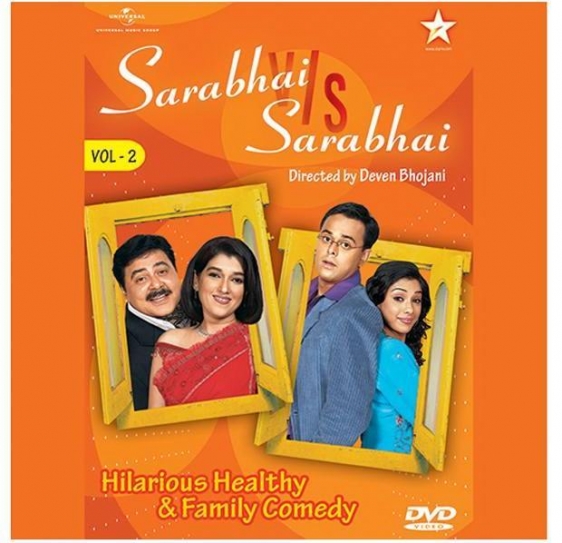 They Brought Laughter Into Homes
by Piroj Wadia
January 8 2014, 3:42 pm
Estimated Reading Time: 3 mins, 11 secs
Surfing through the channels late Saturday night, I found Sarabhai v/s Sarabhai on Star Utsav. Although relegated to Star One and not the premium channel Star Plus, in its run I always wondered if the network had committed a gross error. It made prime time viewing a fun time for many discerning viewers.
The Sarabhais, an upper crust Gujarati family live in a plush building in South Mumbai.? Maya, the family sophisticate is disappointed with her daughter-in-law Monisha (as she calls her) as she is a middle-class Punjabi girl. Indravadan, a true blue Gujarati? loves his food and? his daughter-in-law; he hates his youngest son Roshesh for being his Momma?s boy and writing bad poetry. Saahil has a high level of tolerance for his family, but occasionally gives up.? ??
The combined talents of five seasoned actors and an actor-director, each of them complemented the others with their fine comic timing, rocking performances and? sheer abandon. Week after week Satish Shah,? Ratna Pathak, Sumeet Raghavan, Rupali Ganguly and? Rajesh Kumar were the show stoppers with director Deven Bhojani, behind the camera and occasionally in front too.
Deven Bhojani as a director did ample justice to Aatish Kapadia?s crackling script. Aatish Kapadia and Jamnadas Majethia ?created Hats Off Productions which had its genesis in ?theatre projects. Now they have? ventured into training & development of talent? ?by launching the ?Hats Off Actors Studio.
In the last decade or so, Hats Off became synonymous with good comedy and ?good shows too. My personal pick, besides Sarabhai Vs Sarabhai are,? ?Khichdi, which revolved around a family of eccentrics. Each week, viewers were entertained ?with the shenanigans of Tulsidas Parekh and his family. Some of the best episodes had JD Majethia and Supriya Pathak in full flow when the family? stages a bank robbery and foils the real robbery. A? perfect comic moment occurs when Hansa (Supriya Pathak) gets the real gun and plays catch with anyone and everyone in sight. That short sequence has made ?a lasting impression. Khichdi, with its A grade comedy, didn?t catch on as a film. but returned for another season as Instant Khichdi.
????
Baa Bahu Aur Baby made weekends ??primetime fun.? The middle-class Thakkar family, living in a large mansion in Parla East, Mumbai. Godavari Thakkar (Sarita Joshi), the matriarch, ruled her family of motley? characters. This was a real middleclass family struggling with budget,? burnt milk, unexpected guests, the inability to pay property tax, etc. Who can forget the bahus conniving against Baa, or Gattu?s faux pas.?? Its appeal lay in the ?realistic ?view of? ?people who represented the quintessential, just about upper middle class.
?Ek Packet Umeed, a weekly show focused on the inmates of single women?s home, all of whom have faced trying situations in life. They now live a happy life, with a family of their choice! Each of the women ?have taken it upon themselves to bring joy and happiness through the packets of food like masalas, aachar, papads, jams that they make and sell every day. A failing script, a weekly ?and time slot all contributed to it being pulled off air.
With Mrs. Tendulkar, Hats Off took a bold step with a sitcom around a house-husband -- Suhaas ?who stays home while Vibhavari is the Bank Manager of the Gangaram Godbole Sahkari Bank. Because he does all the chores in the house (traditionally done exclusively by women), the housewives of the colony call Suhaas Mrs. Tendulkar.? It was fun while it lasted.
Much of the success of Hats Off?s shows could be also attributed to co-producer Aatish Kapadia?s sense of humor and finely etched characters. Hats Off has a few shows on air, but few make the list. I would go with the re-runs any day.