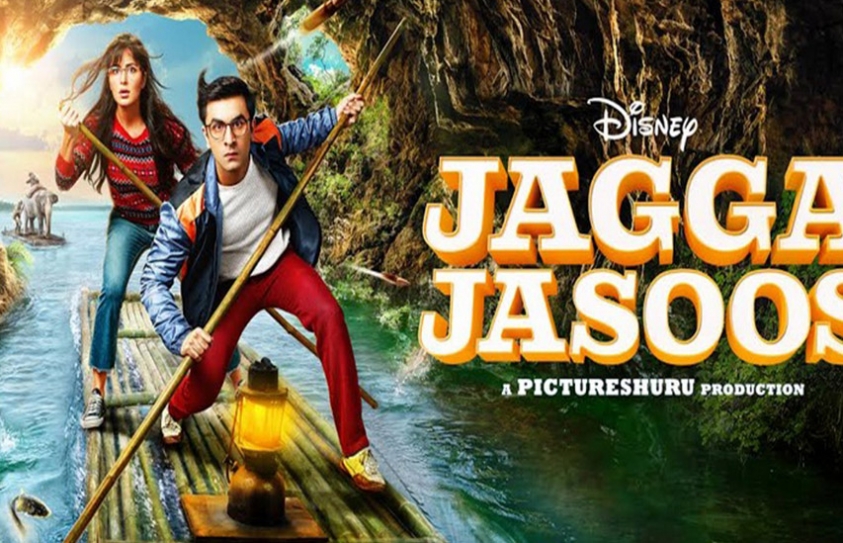 True Review Movie - Jagga Jasoos
by Aakanksha Solanki
July 14 2017, 6:13 pm
Estimated Reading Time: 2 mins, 39 secs
Cast: Ranbir Kapoor, Katrina Kaif, Sayani Gupta
Direction: Anurag Basu
Production: Siddharth Roy Kapur, Anurag Basu, Ranbir Kapoor
Writers: Anurag Basu
Genre: Musical
Duration:108 Mins*
The journey of Jagga Jasoos was a tough one. With all the broadcast drama of Ranbir and Katrina rift, it still managed to get through. Jagga Jasoos is the musical that audiences were waiting for. It has 29 songs in total. And it doesn't bore you. First few
It starts with Shruti (Katrina Kaif) the teacher narrating Jagga Jasoos's escapades to all the young kids around her. Everything in the movie is told in form a musical. A lot of singing and dancing! Pritam has done a notable job. The Disney effect is seen in the movie. Katrina's look in the movie gives out the feels of Ajab Prem Ki Gajab Kahani.
Jagga (Ranbir Kapoor), born with speech impairment, has a rough childhood. The first few years, of his life he spends it sleeping in a hospital, having lost his parents in an accident. He does not utter a word until he meets 'Tutti Futti', the man who fosters him (Saswata Chatterjee), helps to him to overcome his fear of stammering by singing them out and expressing his thoughts.
Katrina Kaif's role has been just the way we all want to see her. Which is, her not talking a lot! Katrina's character has been given just the accurate dialogues and screen time, which makes her onscreen presence, so pleasant. Ranbir Kapoor shoulders the character of Jagga as it was a cake-walk for him, once again showing us his killer acting chops. Saurabh Shukla as usual lately is seen in his typical funny wicked guy avatar who, habitually brings in the element of humor into the film.
After the first half, movie is all about the serious mysteries and adventures of Jagga Jasoos, here when we're taken to all the beautiful locations of Kolkata, Darjeeling and Morocco making it the fantasyland. Where the mystery surrounding Jagga's foster father 'Tutti Futti' is unveiled. The lively and diverse color palette used by cinematography Ravi Varman, is a treat to eyes.
The second half isn't as entertaining as the first, and there are parts of the that seem like they're dragging it which the story could've been much hastier and pace could have been picked a bit more.
Watching Jagga Jasoos convinces you with the feeling like leafing through the pages of that old childhood comic-book and manages to keep you hooked till the end. The movie is something definitely a child would enjoy watching, there's an underlined message regarding smuggling of dangerous munitions and this hard-hitting note has been delivered with simplicity, which is reached the indented audience.
According to the rumors Jagga Jasoos is the last Disney movie in India and it's planning to pull curtains over production in Indian cinema. But if this movie manages to rule box office it would give Disney a chance to reconsider their decision.
Spoiler Alert: There's also a cameo by Nawazuddin Siddiqui in the end which hints about a high possibility of a sequel.