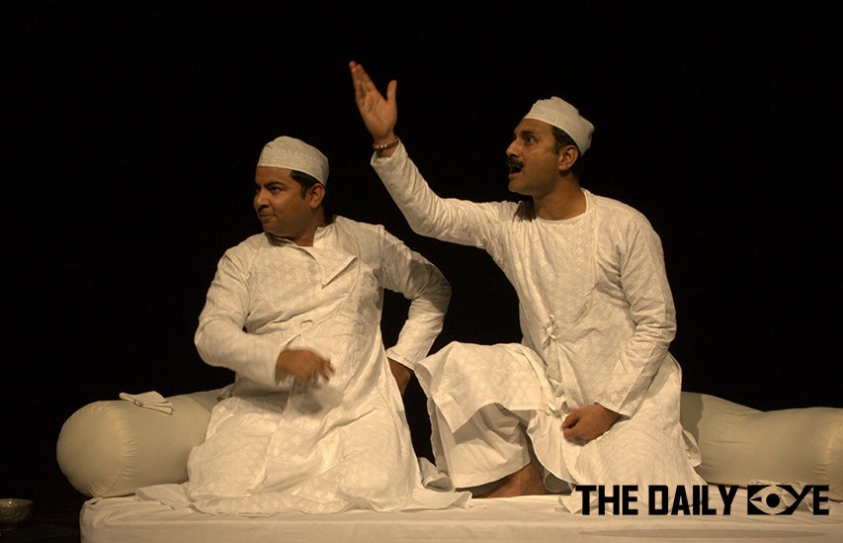 The Storytellers
by Deepa Gahlot
November 27 2017, 4:48 pm
Estimated Reading Time: 2 mins, 13 secs
We live in times fraught with violence when the artiste or performer is either silent or walking on the eggshells of easily hurt sentiments and political vendetta. When it is not the time for daring is when daring is needed the most, ideally with a dash of humour which makes the bitter pill go down.
Most ghazal listeners would be familiar with Ibn-e-Insha's work through the very popular Kal chaudhvin ki raat thi, shab bhar raha charcha tera (also sung by Jagjit Singh). However, the Pakistani poet, humorist and essayist was the best-known Urdu writer of the twentieth century, and it is thanks to Danish Husain that some of his thoughts and words have been introduced to a theatre-going audience in Mumbai, through the performance of Qissa Urdu Ki Aakhiri Kitaab Ka.
This book by Insha is the base for this uproariously funny "farcical banter" (as the synopsis describes it), written and directed by Husain, who also performs with Gopal Datt. The performance is interspersed with songs based on his poems, including the classic, Inshaji utho ab kooch karo; Is shahar mein jee ka lagaana kya, which is so relevant today, when cities are overrun with crime and inhumanity.
His Urdu Ki Aakhiri Kitaab, however, is a satire, written in textbook format dividing the chapters into lessons on history, geography, science, and other educational subjects. Husain has used this device, and in telling the story of India—right from Mohenjodaro to the present-- made sharp and witty comments in today's socio-political scenario, stopping just short of instigating the trolls.
Husain is a master of the Dastaangoi form of performance (which he helped revive from near obscurity), and has used his story-telling skills to great effect, finding in Gopal Dutt's wry tone, the perfect foil for a two-hander comic act (slightly reminiscent of Vir Das's stand-up show History Of India). But behind some of the humour is, of course, a hint of the darkness that we see around the world today. In this age of intolerance, Qissa Urdu Ki Aakhiri Kitaab Ka is a brave attempt.
Incidentally, Danish Husain has also directed a production of Rajiv Joseph's Guards At The Taj, which takes off from the legend that Emperor Shahjehan had ordered the hands of the workers who built the Taj Mahal be chopped off, so that they could not replicate the beauty of the monument. With the Taj in the news for all the wrong reasons, this play also takes on an eerie relevance.