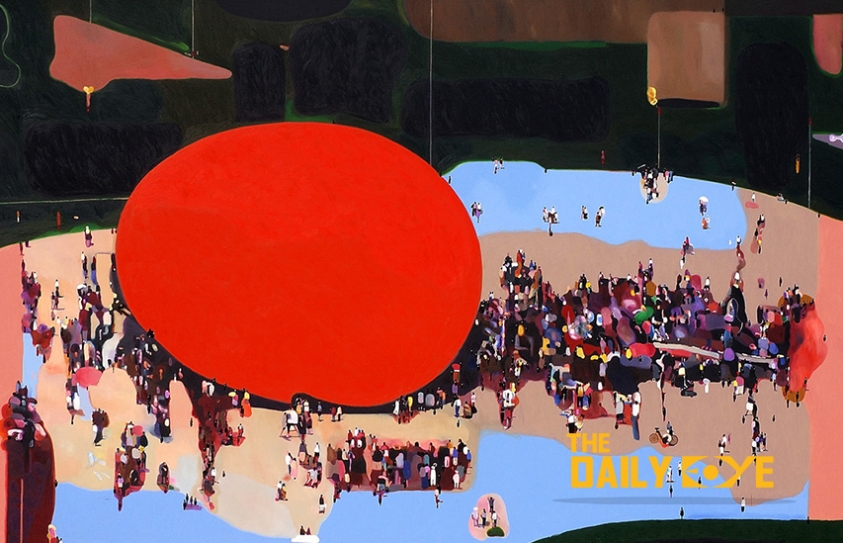 The Inspiring Story of a Village Goatherd-turned-Artist of Substance
by Khalid Mohamed
June 18 2018, 6:03 pm
Estimated Reading Time: 5 mins, 12 secs
His artworks have an unusual power. They experiment with various media – oils, acrylic, watercolours, charcoal – and aren't devoted to any singular theme.
From social commentary and celebrating vibrant occasions, like a boat race in Kerala to the study of a boy with thoughts buzzing in his head, and women in fluctuating moods, the canvases and sketches of Kodanda Rao, have me hooked.
Source: Oil on canvas titled Little Joys
I didn't chance upon the striking artworks at a gallery or at a solo or group show in Mumbai, but on his Instagram account. Enticed to know more about the Vadodara-anchored Rao, a WhatsAapp conversation was struck. As it happened he was visiting the city over the weekend. Could we meet?
Source:Kodanda Rao
We did. And the 39-year-old Kodanda Rao's ascent as an artist turned out to be one of those stories which are as inspiring as fiction. He's carrying a watercolour. While depicting a group of goatherds though a white desert, he details the profile of a goat.
Now where did that come from? "Simple," he says, "I used to herd goats during my childhood in Rajam, a village in the Srikakulam district of Andhra Pradesh. My mother continues to sell eggs, snacks and vegetables there. My father who used to work in a sawmill, passed away… because of his addiction to alcohol."
The third of five children, Rao would paint festive patterns and figures on walls for weddings in the village, besides pencil drawings of Mahatma Gandhi and hoardings of the films of the superstar Chiranjeevi. His gift for intricate drawings in earthy colours was noticed by the villagers.
Although he aspired to a career in medicine, he couldn't clear the entrance exams at a medical institute in Vizagapatanam. Next in a twist of fate, his doggedly accumulated savings gained him an entry to the uber-prestigious art school, the Maharaja Sayajirao University in Vadodara.
Source: Watercolour titled Umpteen Times
Among the Baroda artists he has admired unconditionally, he cites the names of the late Bhupen Khakhar and Nasreen Mohamedi, Gulam Mohammed Sheikh, Surendra Nair and Shibhu Natesan.
When his artworks were exhibited subsequently at art summits and group shows in Mumbai, Kolkata, Delhi and Thiruvanthapuram, these found ready patrons in Tina Ambani, Harsh Goenka, Abhishek Podar and in Manoj Bajpai.
"Bajpai sir was extremely supportive," he narrates with near-disbelief. "He travelled all the way to Baroda to buy two of my large paintings. I was overwhelmed. He said I shouldn't be, and reminded me that he was also from a small village and had to struggle to be recognised as an actor."
Kodanda Rao, I notice, doesn't try to hard-sell himself. Showing me a photograph of a huge artwork depicting passengers pouring out like ants from an airplane onto the tarmac, he points out almost apologetically that it'll take him months to complete the canvas, "I'm not sure even if anyone will buy it," he says tentatively. "And who knows if I will recover the money which has been invested in the canvas and paints which are becoming prohibitively expensive?!"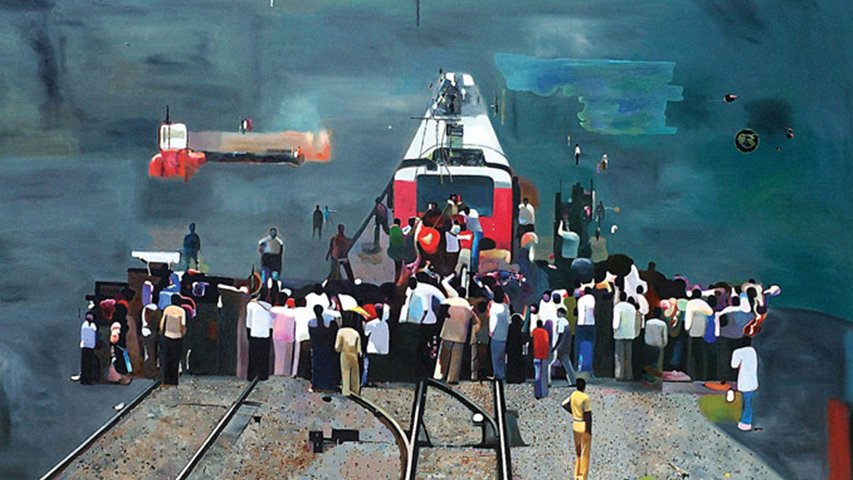 Source: Oil on canvas titled Something of the Past
Perhaps if he zeroed down on themes which collectors are partial to, he wouldn't have to feel insecure. Right? "I'm sorry to disagree", he smiles politely. "I'm not insecure. My wife and I live in a house which we could finally buy as our own. Neither do we lead an extravagant life. We don't have children yet…because it's a tremendous responsibility. We should be able to give them a semblance of a good life, at least. If I commercialised myself, for any reason, that would be the end of me. People, in general, like to buy happy, cheerful paintings, but quite often these are decoration pieces. Not art."
Five years ago, recession had hit the art market hard. According to Rao,"The situation has improved considerably today. Of course, the priority among collectors are the works of the masters Taiyeb Mehta, Ram Kumar, M.F.Husain, F.N. Souza and S.H. Raza. Fortunately, at the same time gallerists are seeking out younger artists."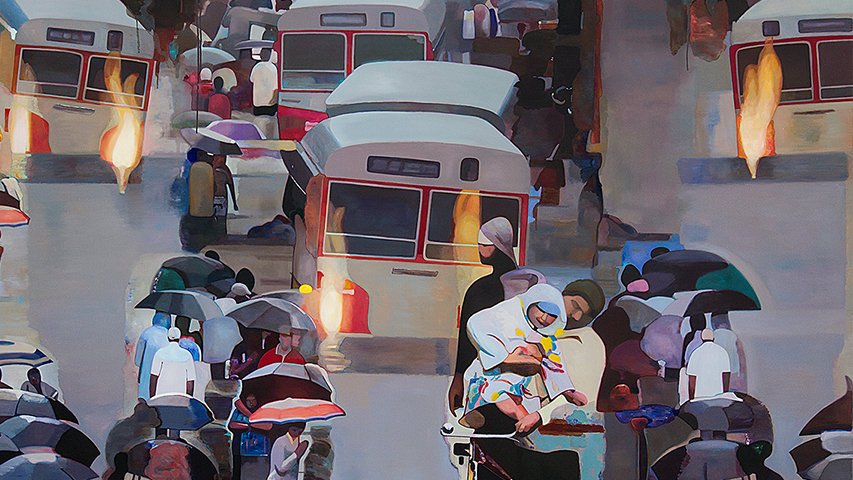 Source: Oil and acrylic on canvas titled Act of Life
He elaborates, "Still the point remains that artists of my generation have to be promoted by gallerists who have an eye for art which reflects the spirit of this millennium. Maybe I'll luck out, some day. I know very little about how to price an artwork. So I don't haggle, if I find someone who really relates to my work, I accept what I'm offered."
The art market has its own financial grid. Auctions as well as exclusive shows can fetch the masters as well as established artists, prices in multi-crores.
Artists, under the age of 50, may have not come together in any collective like say the Progressive Arts Group of the 1950s and then the Bombay rule-breakers towards the 1990s. Rao, while agreeing, emphasises, "I wouldn't say that the Indian art market is a monopolistic. The only odd thing I see is that so many art shows are being held by those who indulge in painting as a Sunday hobby. If they can afford to hire the Jehangir art gallery or other popular venues, so be it."
Source: The artists mother Hemavati
In the event, how does Kodanda Rao intend to firm his signature in the competitive art world? "Frankly," he states. "I don't have an answer to that. I may have sold over 100 paintings but I have to still fit into the mainstream. All I know is that I consider myself blessed. Once I was a goat-herd, now I'm an artist. And nothing gives me more joy than seeing my mother smile whenever she's asked to pose for a picture."