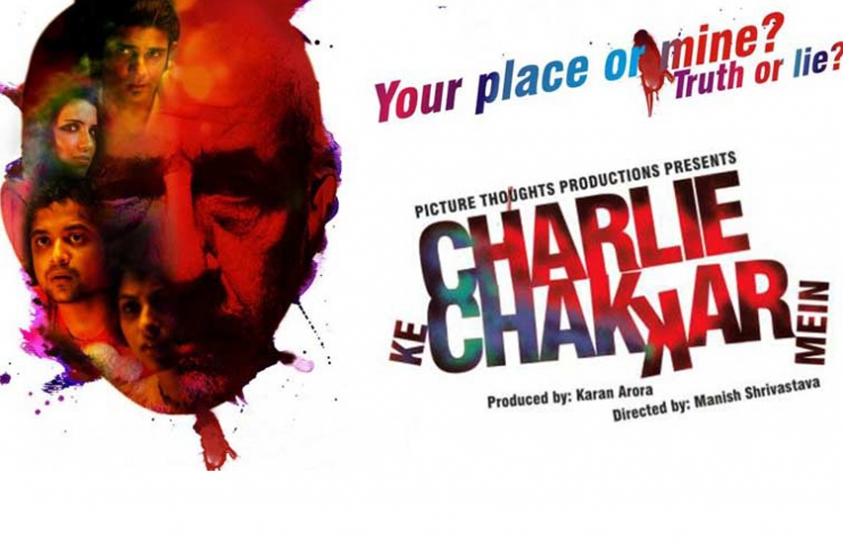 True Review Movie – Hindi – Charlie Kay Chakkar Mein
by Niharika Puri
November 8 2015, 11:28 am
Estimated Reading Time: 2 mins, 25 secs
Critics rating: 0.5 Stars
Cast : Naseeruddin Shah, Anand Tiwari, Manasi Rachh.
Direction: Manish Srivastav.
Produced: Karan Arora.
Written: Amit Sial, Manish Srivastav.
Genre: Thriller.

Duration: 102 Mins
The film's tagline proudly suggests that it is "the most twisted investigative thriller of the year… any year." It seems like a hard sell until you sit through with patience dwindling as rapidly as the cocaine (aka 'charlie') streaks on screen. If the first half is shot in a found footage manner (very conveniently featuring scenes to introduce set-up), the second half is all about debunking what the audience saw on camera and the real versus fake testimony of a drug peddler (Subrat Dutta) as he recounts what really happened.
The story kicks off when a bunch of unlikeable, drug-addicted youngsters have a punch-up with a man at a bar, only to have him pursue them but get run over by a speeding car in the middle of the road. They flee from the scene but are contacted by the dead man's girlfriend who tells them that the man worked for drug don Azmat Khan and it is now up to them to become drug peddlers in his stead or invite the don's wrath.
There is double-crossing, police trouble, a swipe in the drug consignment and a shoot-out which kills four of the friends in the beginning itself. It falls upon top cop Sanket Pujari (Naseeruddin Shah) and the case's investigating officer Sameera Pavate (Auroshikha Dey) to piece together the puzzle from the footage and understand what really happened.
This proves to be an uphill task when you endure the full length of the footage in the first half in between which Sanket actually says, "Poori ki poori film chhod gaye hain, phir bhi samajh mein nahin aa raha kahaani kya hai." (They've left behind a whole film but I can't understand what the story is). This fact is further highlighted by the intoxicated blatherings of the junkie Hera (Disha Arora), who murmurs in more than one scene that she cannot take it anymore and wants to end it all. The agony on her face is the simply the reflected torment of the audience who chose to endure this knotty yawn-fest after the interval.
The makers may believe that they are trying to pull off a strange concoction of Shaitan and The Usual Suspects, but instead seem just as 'influenced' as the main characters are, to come up with the story, dialogue and the sequences that they did. Somewhere in the blur of catfights, hysteria, shaky cam and surrealism, you lose the plot. The writers probably did too.
Charlie Kay Chakkar Mein is the perfect warning for those wanting to use recreational drugs, in every way possible. Otherwise, it is thoroughly avoidable fare.