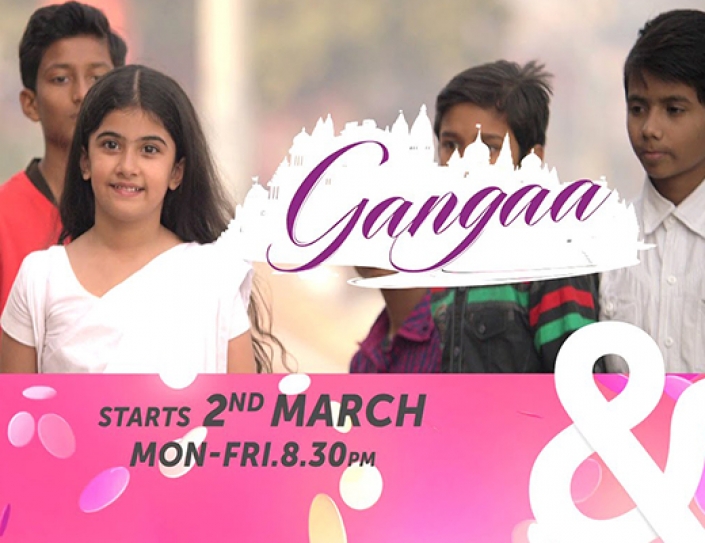 POWER TO THE LITTLE DIVAS
by Piroj Wadia
June 27 2015, 2:52 pm
Estimated Reading Time: 3 mins, 19 secs
Surfing channels during commercial breaks is when I discover new shows to follow. What it throws up is just not just new shows, but new talent, varied subjects, etc. A few production houses have a USP content-wise, and a cross channel presence e.g. Sphere Origins. They have Balika Vadhu on Colors as a flagship show with almost 2000 episodes. Priya Rangrez on Life OK, Gangaa on the newbie &TV and Mere Angan Mein on Star Plus. The latter you can well call the production house?s multi-starrer with actors like Kruttika Desai, Varun Badola, Ekta Kaul and Asheish Roy. Gangaa too has its star presence with ?Hiten Tejwani, Sushmita Mukhreji, Rakhi Tandon and Jaya Bhattacharya.
Gangaa caught my eye when I was switching channels. The protagonist is a child widow trapped in the severe austerity of a tradition clad city of Varanasi where widows are left to their fate ? beg or die.?? Gangaa, a feisty, tomboyish child bride, has come to Varanasi for her gaunaa, where she will meet her husband for the first time.? A victim of circumstances, a riot snatches away her only parent, her father and her husband who she has never even set eyes on. Her father- in- law disowns her and declares her dead. Niranjan Chaturvedi, an eminent citizen of Varanasi? and social worker is overseeing the aftermath of the rioting. He encounters Gangaa not knowing that it would be the beginning of a strong bond, he sends her to the orphanage.
With the orphanage full up, she is sent to the widows? ashram. Where the rigid code of austerity imposed by the ashram head Sudha doesn?t go well with Gangaa; she is traumatized by the inmates washing off her sindhoor and mehendi and divesting her of her sari, jewellery and the horrific practise of breaking the bangles. Her ultimate fight and banishment from the widows? shelter is when they take her to barber to shave off her thick hair. Niranjan comes to her rescue once again and takes her home.
Gangaa is the harsh face of reality wherein even in the 21st century; society refuses to look at a more progressive acceptance, rehabilitation and social? integration ?of widows, especially child and young widows. In Balika Vadhu, Sugna is subjected to the severity of widowhood by Dadisa, but is redeemed soon. The short sequence where a young girl who doesn?t understand what widowhood means and a victim of bal-vivaah? is a dehumanizing experience. The scene could have gone out of control, though vicious, it was controlled and gripping. Ruhana Khanna, who plays Gangaa,? is the? find of the season. Gangaa? is frank, earnest, yet feisty, street-smart and determined.
It?s surprising that in the last few years, content houses have taken on ?Prime Time slots in two ?General Entertainment Channels which not only? feature child protagonists, but a girl child is in the lead with boys lending support.? Colors ?led the way, with Balika Vadhu with? the child bride Anandi as the protagonist. The channel? has ?gone further ?with ?Gurudev Bhalla?s Udaan where Chakor, ?is in a perpetual quest of freedom from bonded labour and the cruel hand of the zamindars.? ?The newest channel to take flight &TV has taken a bold step with Gangaa, which takes on another social evil ? child widows.
Coming from Sphere Origins a quality conscious production house, Gangaa is set in Varanasi with its tiny alleys among which stand stately havelis. When Gangaa sees the Chaturvedi haveli, she cheekily remarks that the house of ?the ?sarpanch of her erstwhile village would be? a shame compared to it. The little actor fields her lines with a natural ease. About a 100 episodes old, the newbie serial has done well. It?s marked by a well written and paced out script and an ensemble star cast.
But what?s a marker is that it has made Prime Time the right time? for girl child stories. And given power ?to the little dsivas.