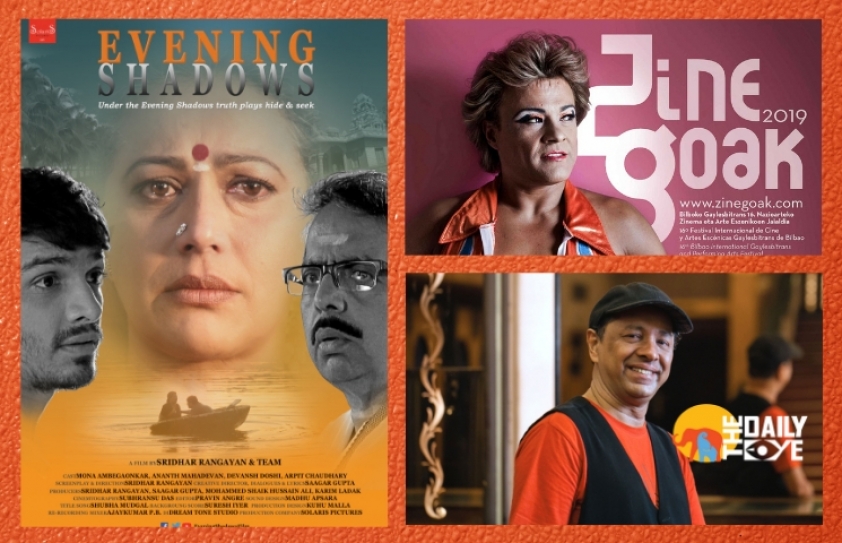 Sridhar Rangayan to be honoured at film festival in Spain
by The Daily Eye News Desk
February 15 2019, 8:54 pm
Estimated Reading Time: 2 mins, 11 secs
Sridhar Rangayan, filmmaker, gay activist and festival director of KASHISH Mumbai International Queer Film Festival, has been invited to Zinegoak Bilbao LGBT Film Festival in Spain to be presented the festival's highest honour on February 18th.
Zinegoak Honour Award is an acknowledgment of professionals in film and the performing arts, actors, actresses, directors, producers, screenwriters, festivals, etc. that stand out when it comes to talking and creating visibility for LGBTIQ realities and stories around the world.
Paul Guillén, festival director said, "We, at Zinegoak, believe that Sridhar Rangayan's tireless work, his leadership and his activist commitment, along with that of thousands of people in his country, have been key to this progress and we trust that these social and legal changes will serve as support for Sridhar to continue his work of dissemination and creation of works that are beautiful and moving but, above all, are necessary".
Zinegoak Bilbao LGBT Film Festival
Rangayan said he is humbled by this felicitation which has been in the past received by eminent directors, actors and activists from around the world. "I am proud and humbled to be the first Indian to be receiving this award. It recognizes the challenges in which we all continue to make LGBTQ cinema in India, despite lack of resources, censorship and very little support from mainstream industry", he said.
"My films are not only works of art, but also activist tools that informs and also impacts the Indian LGBTQ movement. In the post Sec 377 environment, a film like Evening Shadows will take the conversation beyond legal and political framework to begin conversations on love, dignity and social integration", he added.
Rangayan will also be presenting his multiple award-winning feature film Evening Shadows on February 17th at a special screening at the festival.
Currently attending the Berlinale – Berlin International Film Festival and the European Film Market, Rangayan said he is very excited by support pouring in from filmmakers and distributors to be part of the 10th anniversary edition of KASHISH which is to be held June 12-16th at Liberty Cinema, Mumbai.
He is also excited by the interest shown in his next feature film Songs of Eternal Love which he pitched at the queer programmers meet in Berlin. "India is the next destination for LGBTQ cinema and the world is keeping a keen watch on the interesting developments here after change in law", he added.
Evening Shadows has already won 16 international jury and audience awards and was released theatrically in India on January 11th 2019.