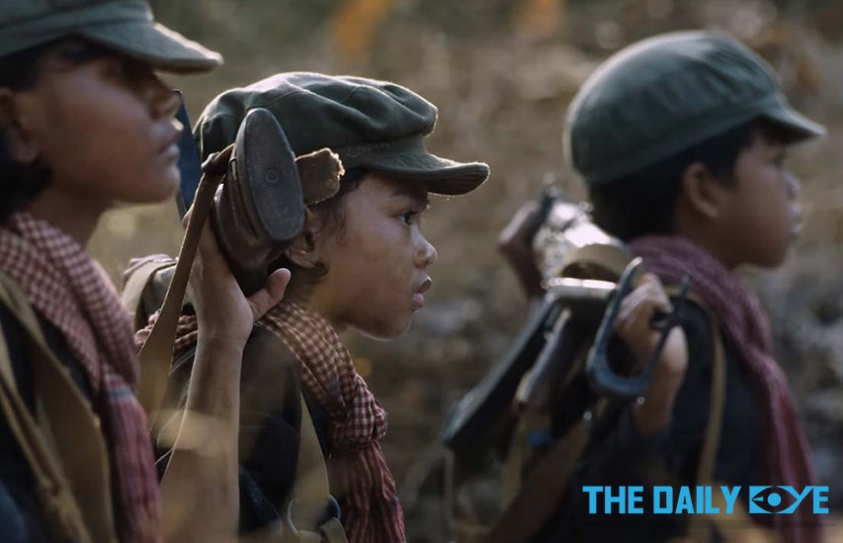 Jolie's Directorial Venture
by Revati Tongaonkar
September 16 2017, 9:17 pm
Actor-director Angelina Jolie's fourth directorial venture, "First They Killed My Father" based on Loung Ung's autobiographical novel of the same name screened at the Telluride Festival in Colorado this year.
The novel traces the story of Ung and her family, who had to escape their home in Phnom Penh in Cambodia during the Khmer regime, hiding their identity. Ung is the primary point-of-view character in the film, which follows her, as she grows up, running away from her village and joining as a child soldier in a camp. The film is a fine make, with vibrant, symbolic visuals, and told from an almost unreliable narrator's POV.
Jolie and Ung recently sat down with Variety magazine to talk about their creation, and Ung expressed her feelings, saying that she felt 'grateful' that the film got made, and by a person she trusted, a certain something to honour all the families. More than that, though, as a daughter, she is proud to have created a legacy that her future generations can look back on.
Jolie commented on the visual grammar of the film, and how she and cinematographer Anthony Dod Mantle used objective photography to approach a subjective view- a child's eyes and ears in the film. Talking about it, Jolie said "it's also how she looks at things and what she looks at and what she looks away from when she's five, and how that changes when she's nine. So our Steadicam operator, Bella, really had to feel it out." It was a challenge to create a reasonably aware child's sense of seeing the world. It wasn't, "Let's do a master shot and then two close-ups." the oscar-winning actress added. "We would talk about clues. We would say, "However we do it, when we're in her POV, she needs to notice these three things." At the checkpoint, for instance, she notices the western things, the pins, the money — these things are going to be taken. And Pa is going to be different and he's going to lie." She also mentioned the importance of the drone shots in the film, the juxtaposition of the state of the country and its people, as a backdrop to a little girl's story.
Jolie also wanted to convey exactly what Ung's feelings were, to get the audience to sympathise by gradually showing the shift in Ung's perspective, depicting her unawareness, until she realises what is happening. " We never say "Communism." We just see people cut their hair, or dye their clothes, lose some individualism. But we never label it." She said "The goal was if we're really doing it right, by the time she gets to the soldier camp, you're actually happy for her. If we can get the audience so indoctrinated and the characters are stripped and scared and starved and alone, but then she gets there and she's with friends and she has food — hopefully the feeling in the audience's head is to see how you get indoctrinated. We forget she's wearing the exact outfit of the people who killed her father. We're rooting for her, but she's switched sides. And it takes her a while to realize she's switched sides."
Ung remembered her time with the camp, adding that it was 'eerie' to watch it. And I was happy when I got to the soldier camp. I was given more food, and I felt kind of guilty to have it. And I felt very aware when they put a gun in my hands that it was half my height and a third of my weight. But it gave me power."
Jolie was also very particular about the palette she used- she depicts the colour and vibrancy in Cambodia in the 70s, with its dancing and bell-bottoms, but as the movie progresses in its narrative, the colour slowly fades away, working only with dull neutrals, with a focus on the reds.
What is admirable about the film is that every member of the cast and crew were someone affected by the war , in one way or another. "You would see grown men cry after a scene" Jolie mentioned. It was an added pressure, she said, but "There's a poetic justice to artists coming back and telling the story."
Source: http://variety.com/2017/film/in-contention/angelina-jolie-loung-ung-interview-telluride-first-they-killed-my-father-1202546490/Jolie's Directorial Venture