'I Am Woman' Award: An initiative to Celebrate Women
by Yash Saboo
May 8 2018, 2:12 pm
Estimated Reading Time: 2 mins, 30 secs
'I am Woman' Awards initiative is a movement that celebrates women and believes the fact that women are reservoirs of strength. On this platform every year, powerful women speak about their personal and professional life and inspire many others. The name is derived from a song which dates back to the 70s. 'I am a woman… hear me roar, in numbers too big to ignore. If I have to, I can do anything, I am strong, I am invincible, I am a woman.'
This initiative is the brainchild of Harvard Alumni Karan Gupta, the founder of Karan Gupta Education Foundation and the Managing Director of IE Business School. In its third edition, the I Am Woman awards, hosted by IE Business School and the Karan Gupta Education Foundation, celebrated and awarded women achievers for their extraordinary work, breaking the glass ceiling in their respective fields.
The event started with an introduction from Dr. Amber Wigmore, Head of Talent Management at IE Business School who also served as the compere for the evening. This was followed by a panel of women including IE alumna Leah Tata, Philanthropist and Artist Michelle Poonawalla, Entrepreneur Bhavna Jasra, and Designer and Entrepreneur Falguni Shane Peacock. The women spoke about the challenges that women face in business.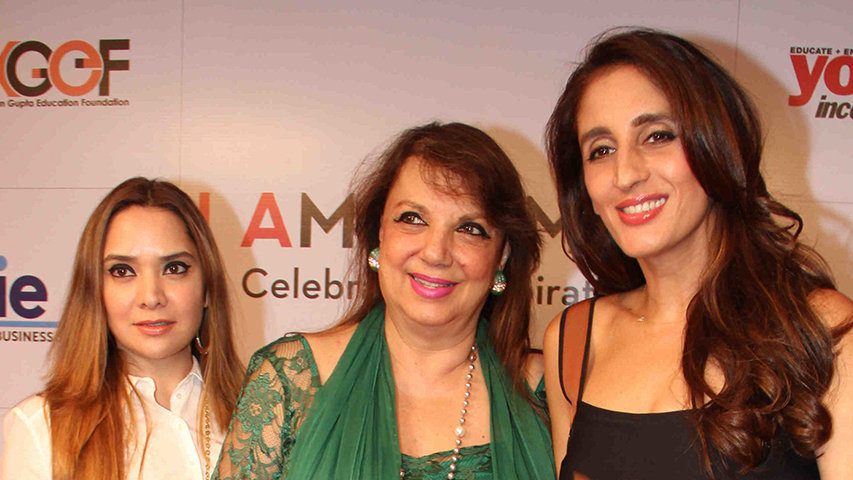 Source : Bollyworm
Awardees RJ Malishka Mendonsa and Advocate Abha Singh, both crusaders of justice in their own right had a strong discussion on social issues that women face today followed by a discussion on how the safety of women in our country needs to be paid more attention to.
Activists Jyoti Dhawale and Preethi Srinivasan moved the audience with their heart rendering stories. Both of these amazing women shared their personal stories of overcoming adversities and emerging victorious.
Sushmita Sen was the Chief Guest. She left the audience in awe with her charm and personality. What stood out the most was her belief that women do not need empowerment as they are already strong. They just need to be sure of themselves and do what they feel is right. Sushmita Sen was awarded the Woman of Substance award along with her adorable daughter Alisah. Upon receiving the award, Sen commended the work done by Dr. Karan Gupta and the KGEF team for impacting the lives of 92,000 children. "From slum children in Dharavi to just children who need the motivation to further their cause, KGEF has my salute for the effort they continue to put in, not just for women empowerment but for children in need," said Sen.
At the end of the event, all the women were bestowed with the I Am Woman women empowerment award.
In 2017, the I Am Woman award was given to Amruta Fadnavis, Laxmi Agarwal, Gauri Sawant, Farah Khan Ali, Malini Agarwal, Shaheen Mistry, and Krishika Lulla. In 2016, the award was given to Sonam Kapoor, Reshma Merchant, Maheka Mirpuri, Raunaq Roy, Kiran Bawa, Nisha Jamvwal, Devita Saraf, Amrita Raichand, Rouble Nagi, and Lucky Morani.