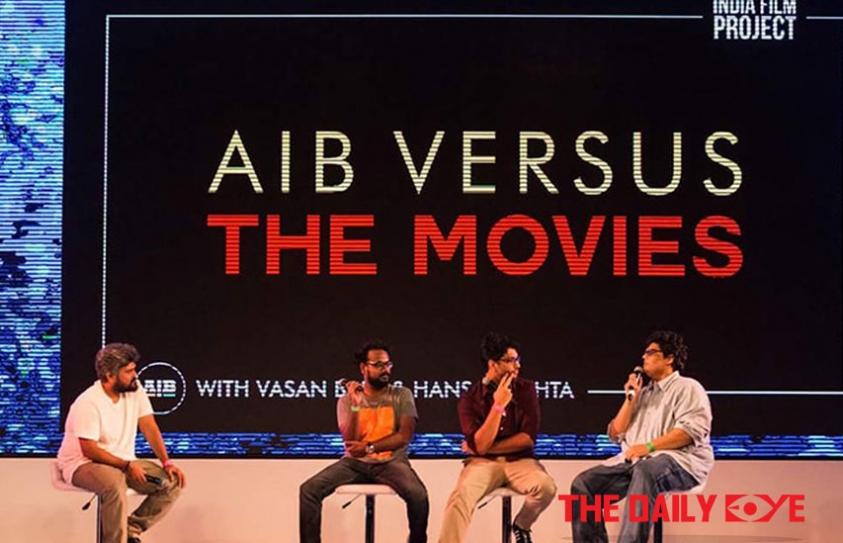 India Film Project - Asia's largest festival for content creators is here!
by The Daily Eye Team
September 23 2017, 7:13 am
Estimated Reading Time: 4 mins, 9 secs
Ashutosh Gowariker, Gauri Shinde, Devdutt Pattanaik, Tanmay Bhatt, JD Majethia and eminent personalities from the industry to be part of panel discussions

Launch of Best of Digital Awards

Contests, Discussions and Workshops to engage industry experts, enthusiasts & participants

Two-day Festival to be held this September end in the filmmaking capital-Mumbai
Mumbai, September 2017: Filmmakers and enthusiasts alike - be prepared to have your creative buds tantalized as the largest filmmaking challenge descends upon the city at the end of September! You guessed it- the India Film Project is back with a bang, even bigger and better than before!
Entering its seventh edition this year, the India Film Project festival is all set to set the stage on fire over two consecutive days from 30th September 2017 till 1st October 2017 at the NSCI in Worli, Mumbai. Over 35,000 filmmakers are expected to get together to create over 1700 films as a part of the festival. There are also workshops, screenings and talks by experts from the film and digital entertainment industry at the festival.

The INDIA FILM PROJECT festival is unique in the sense that it is the only festival for filmmakers where they can create rather than just consume video content. The festival will also witness India's first award for digital videos and content – BEST OF DIGITAL AWARDS. Over 5500 nominations have already been received under various award categories for the awards.
Content is at the heart of the festival thus attracting creators from across genres - travel, wedding, lifestyle, fashion, culinary arts, comedy and more. Some of the unique activities that filmmakers can look forward to during the festival are:
50 Hour Film-Making
This is INDIA FILM PROJECT's flagship competition where more than 35,000 filmmakers from over 300 cities across India and around the globe participate. Participants can register under categories - Professional Filmmaking, Amateur Filmmaking and Mobile Filmmaking. The theme for the contest is revealed at the beginning of the 50 hours. Teams are expected to script, shoot, edit and upload the films in the given time. Films are judged on the parameters like relevance to theme and genre, storyline, screenplay and technical aspects such as editing, cinematography and sound. The winning films will be screened at the end of the festival in addition to different festivals around the world.
Conversations at the Festival
INDIA FILM PROJECT 2017 will host varied conversations on topics like Taking Kitchen To Web, Music Taking Away The Traffic, How brands are infatuated to web, Shashank Khaitan, Gauri Shinde on Changing dynamics in the Bollywood industry, Millennials on the driver's seat, Conversation with Ashutosh Gowariker on content in Bollywood, 'Only Much Lovable' featuring entertainment professionals Tanmay Bhatt, Ajay Nair and Vijay Nair; 'Everyone Struggles' a conversation with renowned Indian mythology author Devdutt Pattanaik. Some other conversations would be 'Television 3.0' by Siddharth Jain and JD Majethia; and Saurabh Doshi discussing 'Social Media at 24FPS' and much more.
Ritam Bhatnagar, festival director, India Film Project said, "The INDIA FILM PROJECT festival is getting bigger and better with participants and attendees from all over the world becoming a part of it. There are several platforms for content consumers but we have tried to create opportunity for content creators to interact, learn and network". He adds, "With increased availability of mobile phones and internet, the way and amount of content people are creating and consuming has increased drastically. INDIA FILM PROJECT aims to encourage people to tell stories through their camera".
INDIA FILM PROJECT in last 6 years:
Community of over 6.5 lakh content creatorsfrom 300+ plus cities across India.

Around 4000+ films have been made by 40,000+ filmmakers in just 50 hours at the festival in the previous six editions of INDIA FILM PROJECT, which comes to 24000+ minutes of super high-quality films

INDIA FILM PROJECT 2016 saw 1220 teams comprising of 24,600 filmmakers. The teams were spread across 262 cities from India and another 17 countries namely US, UK, Dubai, Australia, Turkey, Pakistan, Bangladesh, Germany, Malaysia, France and many more.

Participants have joined from 262 cities and towns like Malegaon, Rishikesh to cities such as Bilaspur, Bhavnagar, Ranchi, Lucknow and Madurai to the four metros
Important Dates, Process and Fees:
Registration for the INDIA FILM PROJECT 2017 is open till September 14th September midnight via http://bit.ly/India Film Project17.

One has to choose a participating category which cannot be changed later, though details of team members can be edited

Each team can accommodate up to 20 members

The fee for Professional and Amateur Filmmaking category is Rs. 2500 per team and Rs. 1000 for Mobile filmmaking category

For eligibility in the Professional filmmaking category, the team leader must have worked in capacity of director or producer in 3 or more films, shorts, videos or ads

Amateur filmmaking is open to anyone who owns a DSLR camera while Mobile filmmaking is open to all
Social Media Links -