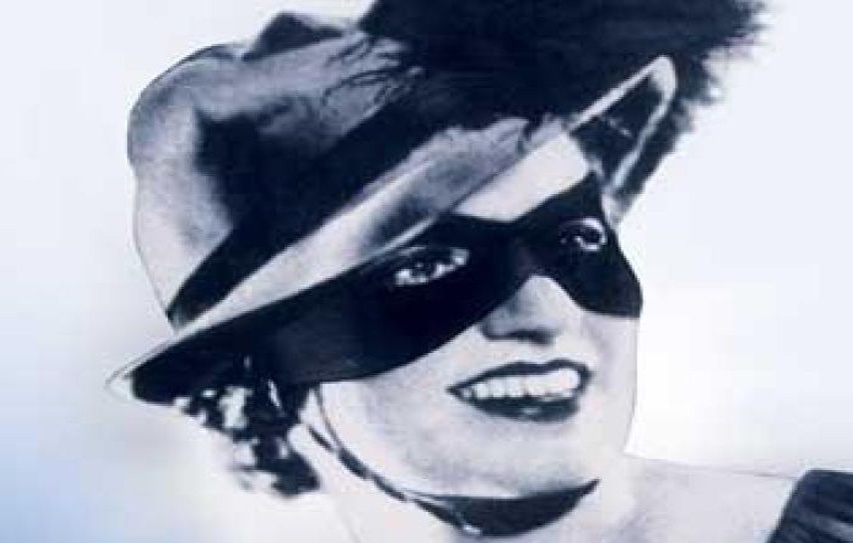 Celebrating, The Pioneers Of Stunt Films
by Piroj Wadia
February 6 2014, 1:03 pm
Estimated Reading Time: 4 mins, 45 secs
At the on going Kala Ghoda Festival, Vibhu Kapoor of Gallery Beyond is showing a selection of Wadia Movietone's films starring the Fearless Nadia (Diamond Queen, Jungle Princess, Miss Frontier Mail, plus Riyad's documentary Fearless). Roy Wadia, JBH Wadia's grandson, who compiled "a wide selection of Wadia Movietone films from the 1930s to the 1970s which include Diamond Queen, Jungle Princess, Miss Frontier Mail, plus Riyad's documentary Fearless, as well as a selection of my grandfather Jamshed (JBH) Wadia's wide-ranging approaches to cinema (social films, comedy capers, and such)." Roy adds, "These are not "works of art" on the scale of, say, Mother India, Pyaasa or other illustrious works that are always talked about. Rather, taken individually and collectively they are a very interesting commentary of the times that they were made in. They embody the themes that my grandfather believed in — women's empowerment, the freedom struggle, anti-corruption, and so on — all through entertainment."
Roy Wadia. JBH Wadia's grandson and Vibhu Kapoor connected when, " Roy came to our gallery looking for an appropriate space to celebrate the 10th death anniversary of his brother Riyad. I was looking for something appropriate and meaningful for the Kala Ghoda Art Festival where we had confirmed participation by showing films. Talking to Roy, getting to know about Wadia Movietone Productions, I hesitantly asked him if they would share this treasure house of films.
He agreed immediately. I thought it would be great for film buffs to see the first stunt films made in India and Nadia, of course was the clincher!" Vibhu adds, "Lots of viewers, unexpectedly from people in their 60's, 70's, make the effort of climbing up 40 steps!. I also hear some humming sometimes."
While the film industry celebrated the centenary of Indian Cinema, no one spared a glance at Wadia Movietone's contribution to cinema. Now in its 80th year, Wadia Movietone is synonymous as pioneers of the stunt genre in India. They gave Hindi film audiences their first and only stunt heroine – the Fearless Nadia in 1935 with Hunterwali, Hurricane Hansa, etc. These stunt films, however were not filled with mindless antics, but had a story and a strong social message. Soon Nadia and her co-star John Cawas were Wadia Movietone's blockbuster pair.
Jamshed Bomanji Hormasji (JBH) Wadia and his younger brother Homi Wadia made their first film in 1933. Two scions of the family of master shipbuilders set their own course, away from the dockyards and into the arc lights, studios and moving pictures. Their seminal films were those featuring their protégé Nadia. Of Australian-Greek parentage Mary Evans, adopted Nadia as her screen name and the persona of Hunterwali, a dare-devil the masked woman with a whip.
She was the star of the studio's action films that grabbed audiences. Hunterwali was a runaway hit and spawned an entire genre of daring stunt films, featuring the Robin Hood-like protagonist. Nadia performed her amazing action sequences herself, thereby endearing herself to the public. The character became a cult of sorts – whips, masks, shoes and belts with the Hunterwali logo were the rage.
In 1993, at the banner's 60th anniversary, I saw senior citizens making their way to the stage of a Bombay auditorium with copies of brochures in their hand and asking a svelte, but aged lady for autographs, I was taken back with the fan following that Fearless Nadia still commanded. More so, I was flummoxed by the whistles and applause that marked Nadia's entry for Diamond Queen and later for Muqabala. I watched both films 50 years after their first screenings. If audiences today are taken in by Sunny Deol's Dhai kilo ka haath, the first such arm that shot out on the screen was Nadia's in Diamond Queen. A seminal stunt film, the credit for Diamond Queen's technical finesse and thrills equally shared by both Nadia, and John Cawas for the daring stunt sequence, and RP Master's precision camera work. A heart pounding sequence, where John Cawas and Nadia fall into water fall, was shot by the actors themselves in a single take. No stuntmen and no retakes!
Few producers can boast of successfully spanning the silent era and the talkies; and to pioneer the stunt films genre in India. "I am the only surviving producer- director from the silent era," Homi Wadia had told this writer in an interview in 2001. The brothers had set up their own full fledged studio in their ancestral estate Lovji Castle in Parel, Bombay. "We made 60 pictures there, the last was Court Dancer which was in three languages — English (a first), Bengali and Hindi. It was the first picture to be screened in Metro, the Governor came, but it failed at the box office," recalled Homi Wadia. Raj Nartaki (The Court Dancer) was based on a Bengali play, a love story between a prince and a court dancer. Sadhona Bose starred as the dancer, and choreographed the dance sequences that remain unforgettable. The film was unfortunately a box-office failure. The Wadia brothers sold their studio to V Shantaram who established his Rajkamal Kalamandir on the very premises.