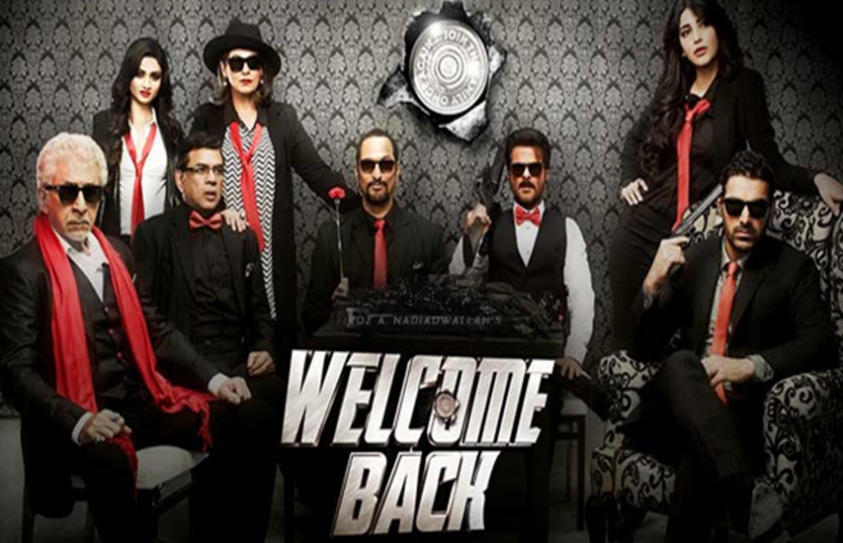 True Review Movie - Welcome Back
by Niharika Puri
September 6 2015, 3:01 pm
Estimated Reading Time: 2 mins, 36 secs
Critics rating: 1.5 Stars*
Cast: John Abraham, Nana Patekar, Anil Kapoor, Shruti Haasan, Shiney Ahuja, Paresh Rawal.
Direction: Anees Bazmee.
Produced: Firoz Nadiadwala.
Written: Anees Bazmee, Rajiv Kaul, Raj Shandaliya (Dialogue).
Genre: Action/Comedy.
Duration: 152 Mins.
We are welcomed back into the garish house of horrors where the characters reside with ridiculous gags and plot devices because a sequel necessitates having the same primary cast and a two-hour running time. One can be thankful for the former, while enduring the seemingly unending ordeal for the entirety of its 150-minute is a stretch.
Does the story matter? Even though the script seems written on the set or improvised as they went along, Welcome Back is supposed to be about Uday Shetty (Nana Patekar) and Majnu bhai (Anil Kapoor), who lament over their bachelorhood even as their sister from the previous film has been married off to Dr. Ghungroo's (Paresh Rawal) nephew.
The arrival of another sister, Ranjana (Shruti Haasan), means that they need to keep their collective courtship of Princess Chandni (newcomer Ankita Shrivastava) on the backburner until she is married off to another decent guy, as dictated by her mother Maharani Padmavati (Dimple Kapadia). However, Ranjana already has her sights set on Mumbaiya goon Ajju bhai (John Abraham), which does not go down well with Uday and Majnu, who have now turned 'shareef' and do not want a gangster for a brother-in-law. There is the additional complication of Wanted bhai (Naseeruddin Shah) and his love-struck son Honey (Shiney Ahuja), which is unnecessary and only there to fit the RDX template from the first film.
The film becomes an exercise for the sight and ears, delivering nothing more than flash cuts, swaggers and a lot of glitzy songs to distract from the lack of substance. All it leaves behind, in the back of the mind and the twitching eyes, is the feeling of déjà vu, of all the hammy shots in all the faux-comic farces that have hit the screens. This may seem like a typical serving from Bollywood, most notably after Humshakals, but the comedy genre did not look as bleak as it does after this film. A viewer who stepped out of the film shaking his head said to me: "They have not lowered the bar, they have buried it."
Still, Welcome Back will hold interest for fans of slapstick and of the Patekar-Kapoor camaraderie, which is the only bright spot in the film, even as talented actors like Dimple Kapadia and Rajpal Yadav lurk in the background of an endeavour that is well below their calibre. After a point, though, it gets boring and you sit resigned, watching the screen impassively, waiting for that moment which will rise above the script. But don't. It will not happen.
A thoroughly avoidable exercise in smug logic-defiance, Welcome Back is a grating test of patience. Keeping in mind the irreversibility of time and the unavailability of a tardis, your weekend will be better employed in searching for comedies that are kinder to your intellect.