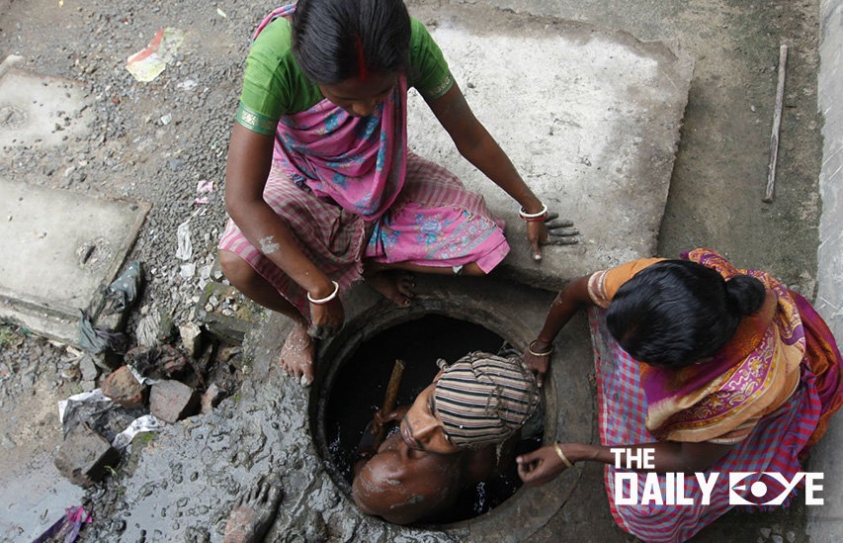 Women and Men who risk Death Everyday
by Yash Saboo
March 9 2018, 5:38 pm
Estimated Reading Time: 2 mins, 57 secs
Manual scavenging is one of deadliest occupations in the world, and starkest examples of the continuing blight of caste on millions of lives. Hundreds of thousands of Indians are still thought to make their living as scavengers, emptying dry toilets by hand, or cleaning septic tanks and sewers without protection.
They belong overwhelmingly to a single community: the Valmiki caste, regarded as the very bottom of the intricate system that still governs who most Indians marry, what they eat – and who unclogs their sewers.
Source : kenyatalk.com
This past year, more than 300 people are estimated to have died doing the work, including seven in the first seven days of 2018. "This is the most hazardous job," says Bezwada Wilson, the leader of Safai Karmachari Andolan, whose own parents were manual scavengers. "It is the most undignified job, an inhuman, barbaric practice. It is worse than slavery."
Do you know it is almost as risky for a person to step into a manhole to unclog sewer lines in urban India as it is for security personnel fighting insurgency in Jammu & Kashmir? Over the last eight years at least, the death toll among sewer workers has started to converge with that of security forces deployed in the beleaguered state.
According to the South Asia Terrorism Portal, which keeps tabs on terrorism-related casualties, 411 security personnel died in J&K between 2010 and Aug. 27, 2017. This means that since 2010, the insurgency in Kashmir has claimed, on average, 51 men in uniform every year.
Source : kenyatalk.com
Magsaysay award-winner Bezwada Wilson's Safai Karmachari Andolan has been collecting data on those who dive into putrid sewer lines only to be tragically fished out as corpses. Since 2010, there have been 356 such deaths, or about 44 every year. This annual average has already been outstripped in 2017—India's sewage system has killed 90 people so far. By contrast, 54 security personnel died combating militants.
Statistically then, it is safer to be a soldier serving in Kashmir than a sewer worker in India.
Tamil Nadu has reported 144 deaths, Punjab 18, Karnataka 57, UP 37 and Kerala 12. However, even these figures are not exhaustive and may be just the tip of the iceberg.
In 2013, a new law was passed by the Parliament that even spoke of compensating manual scavengers who had lost their jobs. But in Mumbai, for example, it has simply not been implemented. Every time a sewer is blocked, a worker has to descend down a manhole, immerse himself in liquid excreta and risk exposure to noxious gases to clean the sewer.
The flagship promise by the Narendra Modi government to build toilets for every Indian offers hope for liberating some scavengers. Robotic technology is also being tried in the state of Kerala to automate the work. Machines and equipment used routinely across the rest of the world have made no headway in India given the easy accessibility of entire castes designated as "sweepers".
But change comes in small ways, through organisations like Safai Karmachari Andolan, which struggles to eradicate manual scavenging and break the link imposed by caste system between birth and dehumanizing occupations. And also, through women like Ladkunwar from a small village called Rasulpur near Agra, who not just came out of the demeaning profession but also continued to encourage her sisters and other women to leave the profession and take up a new job. She says, it's a struggle to make an alternative living, but now she can see respect in the eyes of the other villagers.