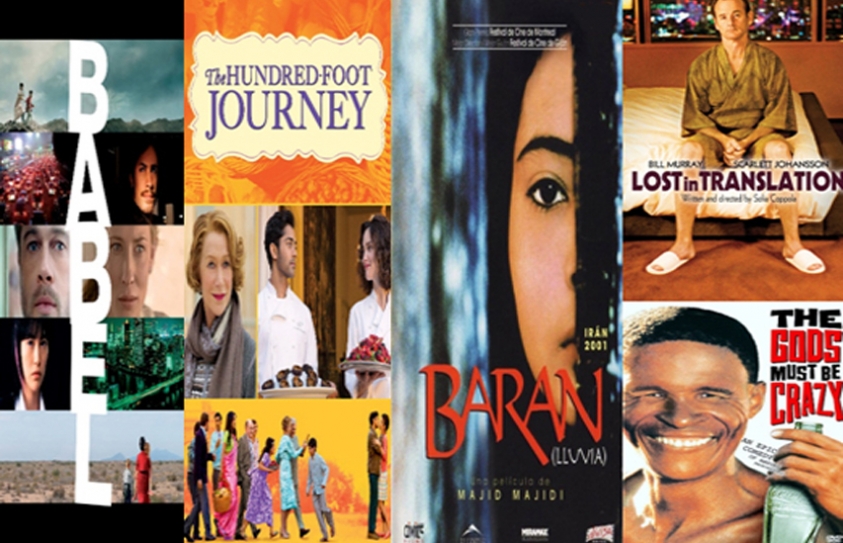 Diverse, not different
by Niharika Puri
February 28 2015, 3:39 pm
Estimated Reading Time: 3 mins, 45 secs
We live in a world spanning myriad landscapes that host a multitude of cultures within their boundaries. It is these borders that define and divide us. And it is often in the time of crises or when we recognise our essential humanity that we transcend these differences. Listed below are films that either touch upon this concept or place a character in the midst of unfamiliar environs which s/he navigates to fascinating effect.
Babel (2006, Alejandro González Iñárritu): Intense, gripping and with intersecting tracks, Babel depicts the cultural clashes between characters whilst illustrating its Biblical title. As the story goes, mankind, in its arrogance strove to build The Tower of Babel to the heavens.
God, in his displeasure, had the people scatter in different parts of the world, taking away their common language so that they could not understand each other. That is the case with Babel, the film. It is not so the perceived evil in a culture but the misconceptions and the resulting misunderstandingsthat ripples through the premise. All it takes is a near-fatal rifle shot from an unthinking child in Morocco to set in motion the plot's dynamo effect.
Baran (2001, Majid Majidi): Majid Majidi's quiet commentary on immigration politics and gender makes for an interesting backdrop to an endearing love story. Lateef (HosseinAbedini), a lazy tea boy at a construction site is consigned to hard labour after an injured worker's son takes over his kitchen sphere. Resentful, he tries to get even, only to discover that his rival is, in reality, a girl (Zahra Bahrami).
This sets in motion an understated bond of understanding and protectiveness between the two. Baran also highlights the plight of the Afghani immigrants who are compelled to flee the oppressive regime of their home country to Iran in the hope that their prospects would improve. This makes their need for betterment no different than Amelia (Adriana Barraza), the undocumented Mexican worker in Babel, who is trying to improve her lot in life.
The Gods Must Be Crazy (1980, Jamie Uys): This one is a true classic for all ages and all seasons. Xi, a Bushman in the Kalahari Desert is determined to return a mysterious entity that he believes God had sent to aid his tribe, but only in turn sowed seeds of discord. That said entity is a Coca-Cola bottle flung by a pilot out of his plane, is a concept lost on the Bushmen who are too far removed from modern civilizationto understand man-made objects.
Xi's mission to drop the bottle off the edge of the world converges with a socially awkward microbiologist, an attractive schoolteacher and a jeepful of unwashed terrorists. It's uproarious, slapstick and a must-watch if you haven't already seen it.
Lost in Translation (2003, Sofia Coppola): Language barriers, loneliness and an impeccableneon, sanitised Tokyo provide the perfect background for ageing actor Bob Harris (Bill Murray) and a young woman, Charlotte(Scarlett Johansson) to bond overdrinks.
They walk through the sights and sounds of the city, resigned to their respective marriages but a little less forlorn around each other. Expect the regular romance tropes to be subverted in favour of a relationship that seems more real and less contrived. A lot is left unsaid, but when it is said by Bob to Charlotte in the end, it is lost to the audience.
The Hundred Foot Journey (2014, Lasse Hallström): Based on Richard Morais' novel of the same name, this film is a foodies' delight while also dishing out a tantalising combination of family drama, romance and the importance of chasing your dreams. When the Kadam family patriarch (Om Puri) opens an Indian eatery opposite Madame Mallory's (Helen Mirren) upscale Michelin-starred restaurant, sparks and spices are set to fly.
The jolly romp of a story also depicts in places racial bias against the Kadams, who are striving to carve their own culinary niche within the stuffy circle of French elites. But it all has a happy ending, celebrating the zest for life and good food,which can help overcome the worst of times.
This list is by no means exhaustive and the top five films mentioned here are only the preferences of the columnist. These films beautifully represent the diversity of cultures without vilifying "the others" into an unsavoury mould. And it is this objectivity that brings out the sublime charm of each culture.