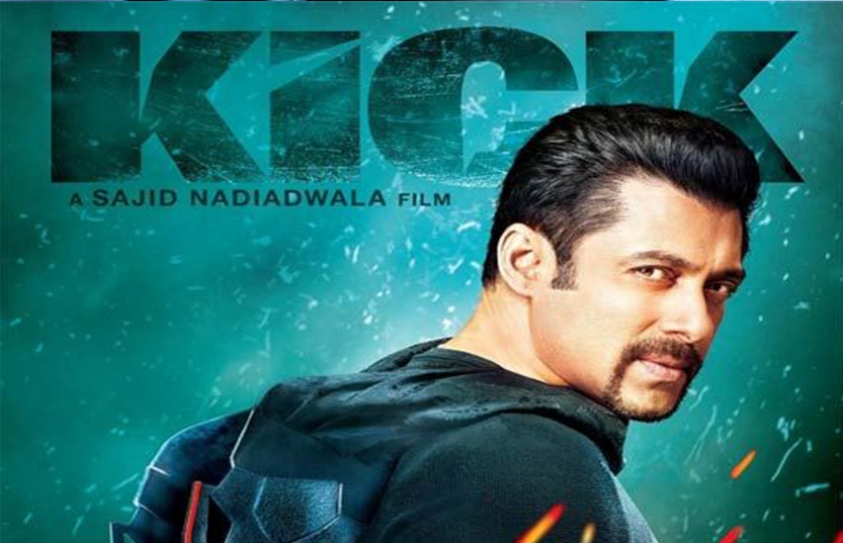 True Review: Kick
by Niharika Puri
July 25 2014, 12:59 pm
Estimated Reading Time: 3 mins, 41 secs
Critics Rating: 1 STARS*
CAST*: Salman Khan, Jacqueline Fernandez, Randeep Hooda, Nawazuddin Siddiqui,
Direction: Sajid Nadiadwala
Produced: Sajid Nadiadwala
Genre: Comedy, Action, Romance.
Screenplay: Chetan Bhagat, Rajat Arora, Sajid Nadiadwala, Keith Gomes
Duration: 150 Mins
This review will mean nothing in the larger scheme of things. Nothing will, in the face of The Bhai's Eid release. The Dabangg star is going to continue making films. Said films are going to set the box office on fire. Put this bit in a Salman Khan movie and that could be literal. Because the makers behind the film are capable of taking their love for OTT action and smashing cars too far. Now if only they paid better attention to special effects. Or the story. But we will get there later.
The plot, not that it matters in a film where Bhai is the whole and soul, is a remake of the Telugu film with the same name. Devi Lal Singh plays Bhai and vice versa, a man who is a bit of an adrenaline junkie. He can do anything to get his next 'Kick', a trait that could have been put to constructive use. But that sounds boring already. Enter pretty psychologist Shaina (Jacqueline Fernandez) who does nothing to either curb or aid his obsession.
She is probably better off with top cop Himanshu Tyagi (Randeep Hooda), who has his hands full pursuing a robber named 'Devil'. Who is the robber? Your guess is as good as ours. Which means it is a good guess. Yes, you thought correctly.
And thus follows a story of brash love, somersaulting cars, a megalomaniac villain (Nawazuddin Siddiqui, a moment of silence), a lot of self-referencing to Bhai's previous 'pichchurs' and the usual song-dance routine. Basically, every Salman Khan film ever made. And none of the recent films are complete without him hanging his sunglasses behind his collar. This one goes the extra mile by having him don the garb of Chulbul Pandey for a sequence. There is no missing the Being Human reference either.
The juvenility remains unchanged too. Shaina is 'Dr. Psycho' for our hero, who in turn is 'a headache' for her. His reply to that is: "Yeh headache nahi hai, pyaar ka hangover hai, jo tum bhi utaarnaa nahi chahogi." The 'Hangover' song that follows this punchline is just as bad.
You mourn for talented actors like Mithun Chakraborty and Archana Pooran Singh who have been shunted into their own stereotypical Punjabi moulds for this film. Even Nawazuddin with his evil villainous gasping laugh reminds one of a stray animal getting run over. Also, after Highway, Randeep Hooda deserved a much better screen outing.
It could have taken a good script and these very performers to take the film to a different level, one worthy of being a blockbuster. Unfortunately, the story-telling is not a team effort here but merely sequences of Salman Khan swaggering, fighting, dancing and stealing strung together. And none of these activities really give the Kick Devi Lal insists on getting.
Logical loopholes should not even be covered, but it is very jarring when you see state-of-the-art technology at the disposal of the Indian police like face-scanning to trace a person whereas the Polish police are ridiculously clumsy. A climactic fight requires our hero to plow through hordes of guards and not one of them is armed with even a baton, let's not talk guns.
If you pay attention, you will know that the 'phoren' action in the second half happens in Warsaw. However, our leading man is clearly shown driving a bus number 10 with Kings Cross written as the destination on top, which plies in London. Google and you shall find an elaborate route map of the same. The police cars in Poland, labelled 'Policia' promptly translate to 'Police' in this sequence.
For all its flaws, the lapses and the futility of reason, Kick is estimated to net a sizeable chunk in box office collections. One can only hope that better sense prevails. This film is only for die-hard Sallu fans, if they haven't already tired of the same-old tripe being doled out in each outing. Otherwise, this film is an embarrassment of excesses, an unpleasant 'hangover' that will take a while to shake off.