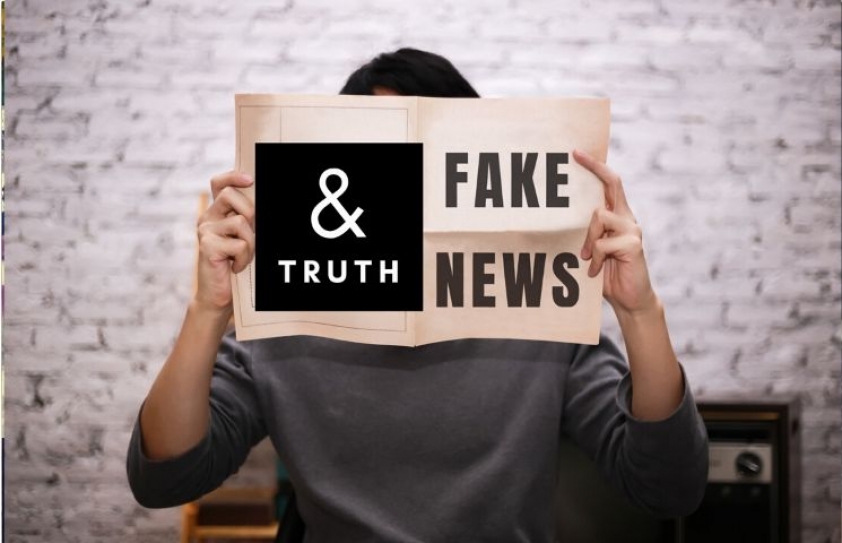 Between Fake News and Truth…
by The Daily Eye News Desk
May 24 2020, 1:46 pm
Estimated Reading Time: 3 mins, 58 secs
In these extraordinary times, like everywhere else in the world, fake news and misinformation are spreading like wildfire around Covid-19 and related issues.
Misinformation thrives most when times are uncertain. Fear and anxiety make a fertile breeding ground. People typically clutch at any information they can find - incorrect facts and figures, fabricated stories, misinterpretations of events and opinions - exacerbating confusion, fanning hatred and even violence. It is almost worse than the pandemic itself, growing to a point where it obscures all reason and humanity.
Every person with a smartphone in their hands is a potential transmitter of misinformation. One tap on the share button is all it takes to spread the contagion. BBC Media Action's film on fake news and misinformation builds on its editorial values and global experience in communication and media development.
"We wanted to create a speed bump between impulse and deliberation. The insight is 'counting to ten' – just like one does when one is angry. A pause in that moment gives you time to think and stops you from doing something that you might regret later or that can cause harm!" – says Radharani Mitra, Global Creative Advisor, BBC Media Action.
The 60-second 'Countdown' film builds on this insight and dramatises the separation between an impulse to share and actually doing it.
Watch the 'Countdown' film here:
The objective was to make the viewer feel more confident of doing the 'right' thing, without being preachy. What is more heroic? Skipping 50 times within 10 seconds or using one finger to delete the message, to #StopTheSpread, the tagline in the film.
Adds Mitra, "We didn't want to do a montage, which is what 99.9% of the films done during this global lockdown are, because that's doable. The challenge was to write a story that could be produced without violating any of the lockdown conditions. It's been an exciting process - from the concept to the script, from the casting to location to filming to post-production – a huge learning experience. We couldn't have done it without Baudhayan and his team at Little Lamb!"
Bauddhayan Mukherji of Little Lamb Films says, "This was unlike any film one would see in this lockdown phase. It is a story that needed 24 shots. Pulling this off was one of the biggest challenges in Little Lamb's filmmaking career. But I have always believed if you know your craft, you will come up with creative solutions. We did come up with some and the result is for the world to see."
Across Facebook and Twitter, Countdown has been watched over 370,000 times and shared or retweeted more than 4000 times. The film scored a high engagement rate from audiences and organisations, BBC News, Swachh Bharat Urban, NASSCOM Foundation, Centre for Social & Behaviour Change, Ashoka University, Internews and independent fact checking organizations such as SM Hoax Slayer, to name a few.
BBC Media Action
BBC Media Action is the independent international charity of the BBC which uses media to advance development worldwide. To achieve this, we partner with civil society, local media and others to produce creative programmes and content in multi-media formats which inform and engage audiences, and to strengthen the media sector through building professional capacity and infrastructure.
In India, BBC Media Action has been using media and communications to improve health, resilience and rights since 1999. The India portfolio includes ground-breaking mass media campaigns and programmes on HIV/AIDS awareness, condom normalisation, gender equality, bonded labour, tuberculosis, family health and sanitation.
The India office has produced the only 'condom ringtone' in the world and the TB superhero Bulgam Bhai. Its mHealth services Kilkari and Mobile Academy have been scaled up by the government nationally and they are now the largest health mobile messaging services in the world.
In the last two years, the India office has produced two TV dramas – AdhaFULL (gender and adolescence) and Navrangi Re! (urban sanitation) along with two successful, award-winning social media campaigns #BigdiHuiLadki (gender) and #FlushKeBaad (Faecal Sludge Management). To read and know more about our work in India, please visit:
https://www.bbc.co.uk/mediaaction/where-we-work/asia/india.
The above body of work has won several Indian and international awards at GoaFest, Digital Empowerment Foundation Awards, Cannes, GSMA Global Awards, Commonwealth Broadcasting Association Awards, Global Health Awards, Vodafone Mobile for Good Awards, South Asian Digital Media Awards, Exchange4Media Awards among others.
We are currently involved in Covid-19 response programming, and in implementing major projects across India to improve lives of waste pickers, urban and rural sanitation outcomes, and understand the digital drivers of women's economic outcomes.