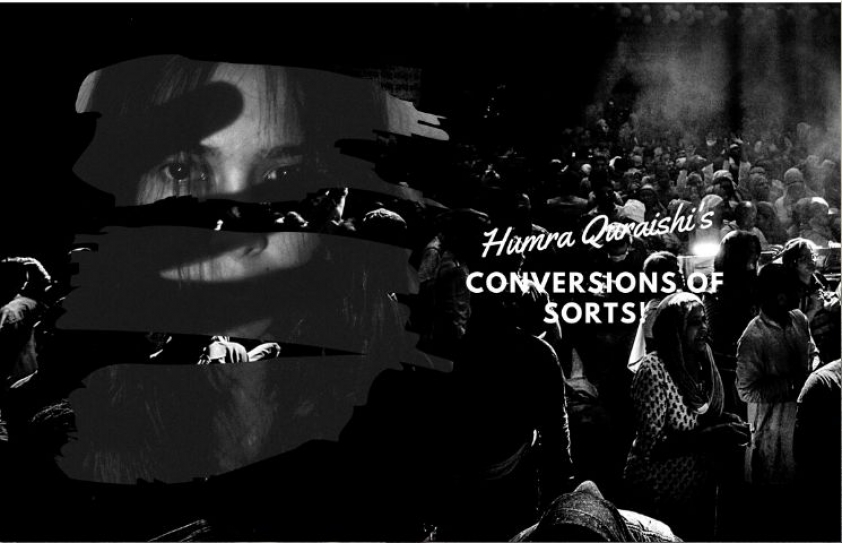 Conversion of sorts!
by HUMRA QURAISHI
May 8 2020, 4:48 pm
Estimated Reading Time: 13 mins, 14 secs
Nodding, I walked back, towards home… I opened the window to let in some fresh air but what came in the way were those dengue warnings flashing across the small screen, writes Humra Quraishi
As the evening shadows lengthened, that guilt would re-surface. I couldn't do a thing for my Alzheimer's stricken father except see traces of pain in his eyes and stare in disbelief at his dishevelled state - his frame hunched, his humour overtaken by a limp smile, his senses layered with confusing strains.
He would just about react when the word 'childhood' came up during any of our one-sided conversations. With that he would utter disjointed sentences along a set strain: how his mother darned his clothes or how she'd spend hours in the kitchen, cooking for the clan. In the midst of those offloads he'd look around impatiently, asking whether the tonga had arrived to carry him towards his ancestral haveli. As though in search of the tonga, he'd walk towards the front lawns, along the flower beds, plucking desi roses with ease as though they were chausaas, dassehris,, fajris, langras from the mango orchards, gently patting the plants and shrubs as though they were the heads or faces of his children, talking of his dead son who was buried in one of the graveyards of Jhansi.
He wanted to convey somewhat more but what was coming in the way was that restlessness. He'd look at the pale spot on his left wrist, as though aware that time was running out. Tears had continued to flow from his eyes, trickling down those long lashes. And it's that look of helplessness that had continued to haunt me. Never really leaving me from the day he'd passed away.
Now those images were more than hitting me, with the colony chowkidar telling me that Jaishree Das has converted the annexe of her home for her Alzheimer's stricken husband and for a nephew who was also suffering the same disorder.
'This could be your chance to lessen that guilt', my inner voice more than nudged me before charging ahead; intruding upon me like a bunch of silly socialites with plunging necklines, jutting right into conversations, propelling cleavages into the flow of words if not into anything else!
Unlocking the front gate, I headed towards the outer lane leading to the corner house where Jaishree lived with her husband Jayant. I had interacted with her at the usual places where middle-classes get every chance of seeing each other's haggard faces – next to mountains of vegetables, amidst dead dangling forms of meat at the butcher's or else at the tailor's… But this noon I wanted to meet her to ask how she was coping with the two patients at her place and if I could be of any help?
And there she was standing on the front lawns of her home, venting even before I could utter a word or two. 'Getting so difficult… this Jayant is refusing to bathe or shave or even brush!' Shrugging, 'What to do! Not getting any proper help! Filthy all… don't want Jayant scratching!'
'Nurse?'
'Can't afford… just can't.'
'Some helper boy?'
'Jayant still so crazy about cleanliness! This morning he threw away all the towels! Yelling and screaming that those dhobis have been washing them alongwith some bloody underwear! Getting too much for me… getting old. Can't cope with any of this everyday nonsense. No children to help out! How could I go producing them in this useless fucking marriage!' Adding, as a correction of sorts, 'Nah, no-fucking marriage!'
Looking haggard and harassed, tense and taut, not that she ever looked relaxed, it was rather apparent she wasn't on the best of terms with her husband. Yet she was not stopping to sham. Surviving with him under the same roof, in the same bedroom. On aligned beds or on separated ones? No, not mating, nor masturbating. Merely abating each other's urges. Or else, releasing surcharged wants, seeking satisfaction or dousing dissatisfaction in other locales. Or, not bothering to indulge in any of these formalities. For the sake of the so many, simply bypassing the ugly heap of mismatched backgrounders. Keeping the 'marriage-show' going?
Her husband's shrill cry coming through, sabotaging any further offloads. Fuming and muttering, before rushing inside, only to be back in the next ten minutes. 'Throwing up some more, he's vomiting… all over. Getting too much for me! And now this cousin's son is also here… he also has Alzheimer's. Didn't I tell you? I think I did, unless my memory's also going!'
'No you didn't tell me… this chowkidar just told me.'
'He reached here just this morning. He's on my head.'
'He's come with a servant or care-giver?'
'Nobody… One of his students travelled with him but has rushed back as news of rioting started coming in.'
'Rioting?'
'Yes, yes… curfew in several parts but railway station side is okay, they could manage to get a taxi from there.'
'Where's he… your nephew?
'In the annexe… settled it somewhat… My cousin is also reaching but after some days. Till then I've to take care of his eating, bathing, cleaning... too much!'
'His memory is completely gone?'
'He looking so lost… can't tell you! My cousins been telling me that from last winter this fellow's memory has been leaving him… deteriorating. This fellow was teaching English Literature, now he's muttering nursery rhymes!'
'What!'
'Memory seems gone. He looks baffled.'
'His wife or… ?'
'What wife! No wife. Didn't marry. My cousin doesn't talk much about it but this fellow was involved with some Musalmaan woman, but it didn't last. Which love story lasts? All end so terribly. Nothing lasts! Now memory is also lost! He's forgotten even his name.'
'He's here to show to some doctor?'
'Where's the treatment for memory loss! My cousin sent him here as she's fighting a divorce battle in her old age. Can you imagine, this cousin been in that beemaru shaadi for years but ending it now, after so many years. Don't know what's been happening to her in her old age! Says she's got to end it otherwise her soul wouldn't rest and she wouldn't be able die peacefully and what not rubbish, so madam is now, at this ripe old age, going in for a divorce. Kicking away the husband. Shifting the son all the way here.'
'But difficult for you to handle two patients?'
'Told her all that, but she's shifting here soon… Says its difficult looking after him in the midst of the divorce and packing… she should be here soon, definitely by next month. Till then where's the choice but to look after him.'
'He old or… '
'No, not that old. Must be around 56 or 57… not more. This cousin of mine is exactly my age, we were born the same day and same year. Would be celebrating my seventy eighth birthday tomorrow but nothing much to celebrate for me nor for her!'
'She's also in Uttar Pradesh?'
'Haan, haan… in Jhansi. She got married very young, rebelling and eloping. But terrible marriage. Only one child… this her son brilliant in English, was teaching there but now… '
'What! Jhansi! He was teaching English? What's his name?'
'What name! Forgotten all! Even his name, surname… can you imagine all's forgotten!'
'But does he say anything?'
'Just been muttering nursery rhymes for the last two hours! Jack and Jill! God knows what not!'
'Is his name... '
'Telling you even when I called him by his name or that blessed surname he didn't respond. Not one bit… His condition worse than I thought… this cousin should come soon, once over with her divorce and packing!'
'She'd be travelling in this rioting?'
'She'll somehow manage… she's very attached to this fellow, can't leave him for long in this deteriorating condition.'
'But these riots… could spread to our colony?'
'No, no… don't worry. We aren't living in some mohalla or ghetto! Safe here. Don't worry. I'm there… shift to my place if you feel scared, all alone. Don't worry so much.'
'I'd come to ask if I could be of some help… taking care of your patients or whatever else.'
'How can you look after two men! Got to find someone soon as their condition will only worsen. Let my cousin reach, will ask her if she can afford to hire full-time help. Her financial condition isn't great but giving her this annexe. Not going to charge anything… let her reach.' Suddenly looking more than hassled, 'been chatting for so long… should start cooking daal-chawal for lunch… and don't worry about rioting. Our area is safe. Call me or come over whenever you want to.'
Nodding, I walked back, towards home… I opened the window to let in some fresh air but what came in the way were those dengue warnings flashing across the small screen. Banging it shut again, crushing a silverfish and killing a couple of cockroaches, I flattened some mosquitoes till one of them spat my own blood on my flat chest before flying off to squat atop a curtain fold. I gave up, the sight of those dust-laden curtains repulsed me. I walked around the two rooms of my home and opening the almirah, to pull out an old album. I adjusted my spectacles, looking at those moments captured, searching for something that I'd lost somewhere along the way. That tinge of happiness hanging around the photographs of those growing years, fading by the time adulthood made way.
I sat back, wondering why my parents hadn't prepared us for pain. It was near forbidden to talk of death, be it that of a desire, of a relationship or even of the self. My father had almost fainted when I'd asked him who'd lower our bodies into gaping graves, if we lay trampled under the might of brigades of goons, raging over political dictates? Years later it was exactly this deadly lethal combination that had killed my brother. Deadened his body, bruised our psyches. Prematurely aged, we'd sat and cried and mourned, continued to do so all these years.
Tonight, as though still in mourning, I was sitting forlorn, alone. Not like in these photographs - on my mother's lap, in my father's arms, with my siblings standing by my side. Tonight, as though those in between years lay shrunk, bringing to the fore those memories, when surcharged goon brigades killed my brother in the midst of rioting in Jhansi. Those images re-surfaced, how the goons chased my brother, blood flowed from his nose and mouth. Dead he lay, killed by those goons who were going about pushing and pulling anyone coming in their way. Dragging the fleeing, the corpses, clawing, kicking, beating them before hitting the main road - vanishing in the darkness that was enveloping the town.
Our eyes were revolting, limbs were trembling. We were emerging from the shrubs along the way, staring at my brother's face, into those eyes. Still he lay. No sign of life.
Unmoving we'd sat there. Then walking again, till the graveyard for the burial of my brother. Then, going still further, being seated in our Baby Hindustan car, to shift far away from that town and its people, forever and forever.
So lost I sat wrapped in those thoughts of the bygones, that I didn't quite realize the darkness of night had paved way for the morning sunrays… and in between it all, the door -bell rang. Not once but several times.
Throwing a dupatta on my chest, rushing towards the door, certain the vegetable seller was there to collect yesterday's remaining payment of twenty rupees, I was more than surprised to see Jaishree standing right there. Not alone but with her husband and another man.
'Been pressing this bell… all well? My birthday… taking them to this local market… with great difficulty got them readied… why don't you also come along. Come… you know my husband and this is my nephew Aman.'
'Aman!' Is all I could barely mutter or utter. Staring at him in that ongoing way. Trying to see traces of the Aman I knew. But he looked all too changed… a far cry from the Aman I knew, from the Aman I was in love with, from the Aman I was so very close to… We were together in school, in college… teaching English Literature, till that sudden shift from Jhansi to Lucknow. With that my life changed all too drastically. Moving far away from him; not once did I get in touch with him to at least tell him my whereabouts… tell him that I was just about alive for the sake of being alive, for that day to day mundane existence.
I would have continued staring at him in that ongoing way, if Jaishree hadn't intruded with those inquisitive queries, 'Do you know him... but how… but when… how come?'
Before I could begin to detail that he's the man I loved, till rioting and killings and upheavals took me far away from that town and throttled and deadened all desire, Aman came nearer, stood somewhat close to me and looked at me as though he was seeing me for the very first time.
I stared back. Maybe, just maybe, he could recollect how passionately we'd kissed, hugged and clasped each other, but he looked all too blank and forlorn, with that faraway lost look on his face. Then, he mumbled, 'Shayad aap ko kaheen daikha hai.' Breaking into English, 'Maybe I've seen you somewhere… not sure.'
Somehow that sentence alone broke my heart. Converting my ongoing sorrow to that instant stab of pain.