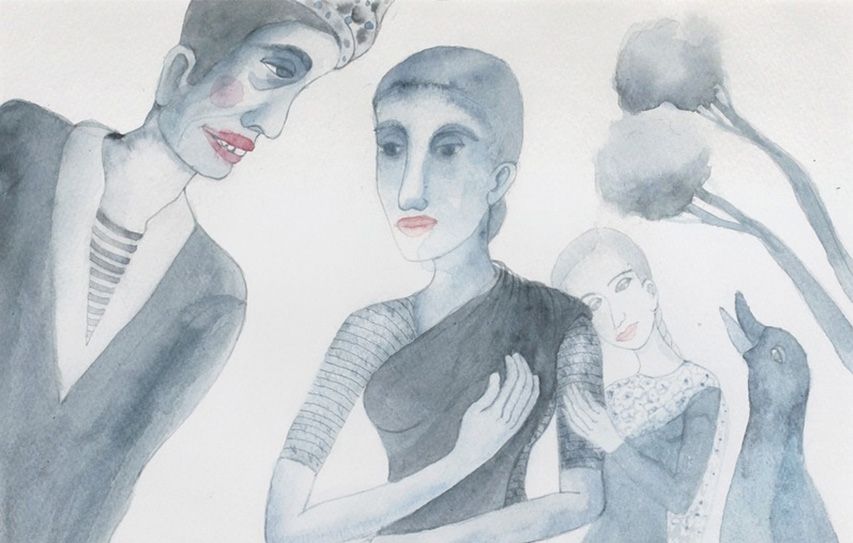 The Masque of Life
by Pratik Punjabi
January 21 2014, 3:45 pm
Estimated Reading Time: 2 mins, 11 secs
Lalitha Lajmi's latest collection "Masque of Life" is inspired by her belief in the statement "Life is a stage". Coming from a family of filmmakers she was curious to experiment with black and white and thus she chose restrict her colour palate. She was compelled to capture the spirit of a performer in this series and has depicted this through a series of characters.
Mrs. Lajmi has been fascinated by masques ever since she began pursuing the arts. While learning the art of printmaking and etchings at J.J School of Arts she came across her first masque and that moment had a lasting impression on her. Completely fascinated by the art form she started creating her own masque forms that slowly transcended to entire bodies and there began the Masque of Life.
Masque of Life portray us all as performers in the circus of life, juggling from one task to the next seeking some applause at the end of every act. The male and female characters in many paintings are inverted, offering a dual perspective to the viewer. Inverted, the paintings seem to speak through the male protagonists perspective, which is true to the artist here as she maybe choosing to depict her relation with the men in her life.
In parts of the series the metaphor of a clown is used to represent the human trait of hiding their frail thoughts deep inside them while displaying a farce of entertaining bravado to the outside world to convince and contrive their way to acceptance by society.
One painting depicts a mother in the making surrounded by storks. Painted in her solace the character is adorned by the child in her womb without the presence of a masque.
For those who are not well versed with Mrs Lajmi, she is a self taught artist, who was educated at J.J School of Arts for the purpose of sustaining herself through commercial arts like advertising. She was born in a middle class family in Calcutta in the suburbs of Baliganj. She is the sister of the immortal filmmaker Guru Dutt. Inspired by her uncle B.B. Benegal as a child of 5, Lalitha Lajmi took up painting. She was married as she graduated and the birth of her first child, filmmaker Kalpana Lajmi sparked her interest in paintings again. While nurturing her children Lalithaji started teaching art at prestigious schools like St.Anne's and Campion in the Colaba area. She hosted her first ever exhibition at Jehangir Art Gallery in 1976 through the persistence of Mr.Ara and her cousin Shyam Benegal.