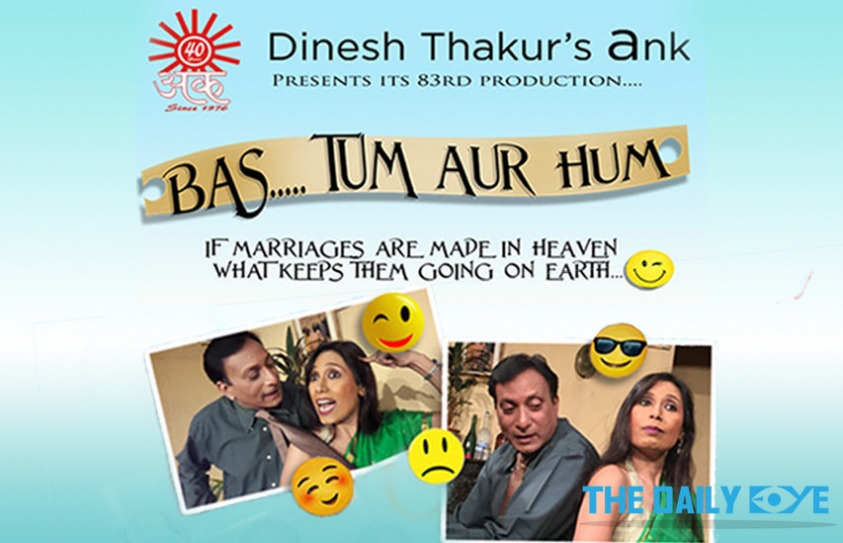 Is Love Enough?
by Deepa Gahlot
September 15 2017, 6:34 pm
The synopsis of the play Bas… Tum Aur Hum, asks a very important question: If marriages are made in heaven what is it that keeps them going on Earth?
The obvious answers are love, compatibility, fidelity, respect, trust, comfort, habit, children; but then many marriages last without love; so many happily married couples are incompatible and very often unfaithful. So there is no formula to why a couple stays together, years after love, sex and adventure have flown out of the window.
Bas...Tum Aur Hum is Ank's 83rd play and playwright-director Veena Bakshi's first. Preeta Mathur Thakur who has picked up the reins of Ank, picks more contemporary work, though she is also keeping the group's older plays like Jis Lahore Nahin Dekhya and Hai Mera Dil alive. However, to find a good two-hander is not always easy, but when one does come up, it is easier to stage and travel with, keeping in mind the lack of mid-sized venues in Mumbai.
The play is made up of about 15 scenes from the marriage of Shipra (Preeta Mathur Thakur) and Yash (Aman Gupta) over 22 odd years. It is made up mundane things—often as everyday as what to have for dinner or what to watch on TV, but one can see that the marriage survives over that period of time because of the honesty and humour of the exchanges. The 'bad' or serious bits are kept out and not even mentioned—no illnesses, accidents, failures, career frustrations, real or attempted infidelities, no anger or tears. Through the brief conversations the scenes are made up of, the viewer figures out that Yash is a journalist, Shipra is a banker and that they have three daughters. (What the director and the team have to work on, however, are the too-long blackouts between scenes. They interrupt the flow and distract the audience.)
Bakshi wrote the play from observations of married couples in her circle, and the way after many years of marriage, very often the excitement of young romance does end, but the comfort level between the husband and wife grows into a kind of unselfconscious, teasing friendship. The fact that the two actors have worked together for many years, have given them a sense of ease around each other, that brings out the warmth of the relationship.
Veena Bakshi wrote the play in English, Richa Sharad has done a fine Hindi translation, with the two characters speaking the casual Hindi that people speak in normal circumstances. Bas...Tum Aur Hum is not plot driven, it may have a clear beginning—a newly married couple reaching home after their wedding—but no definite end, because the playwright sees life go on.