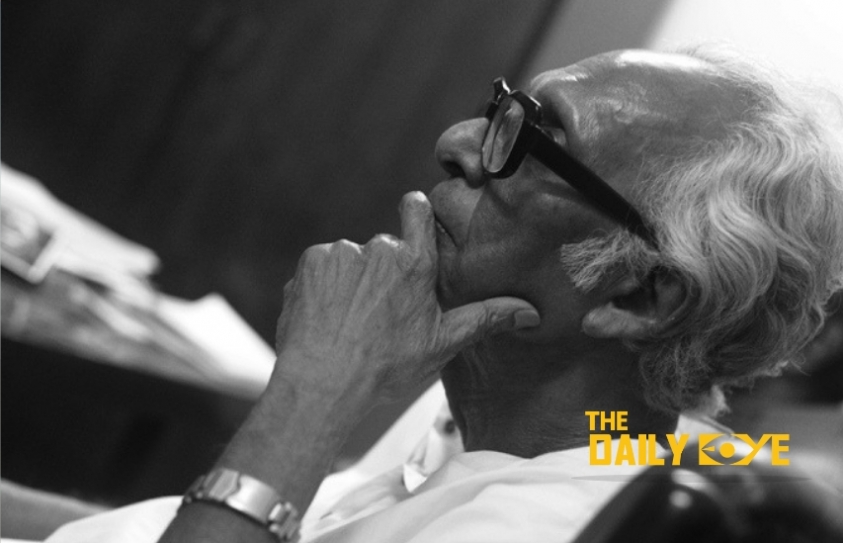 The Revolutionary Heart
by Khalid Mohamed
December 31 2018, 7:42 pm
Estimated Reading Time: 4 mins, 7 secs
There's a rare film which arouses you like a lover's first kiss. And it's the rare film-maker who can survive the test of time. Respect and regard for that kiss of life and cinema linger.
As a novice, just being weaned on the film society movement, there I was going rah-rah about Mrinal Sen's Bhuvan Shome (1969), which had made the crossover from the dreaded bridge of the 'artistic' to the 'commercially acceptable'. Today the inventive derring-do of the picture whooshes back, hard, grainy and in-the-face.
A stalwart on the film society circuit in Kolkata, Sen's films made in Kolkata in his peak black-and-white period are a legacy which draw a robust hurray.
Utpal Dutt in Bhuvan Shome.
I associate Mrinal Sen with a rambling talker, a raconteur of his own self-contradictions, a rebel who repeatedly announced that he wanted to pull his hair out of the roots and destruct all the ideological values he once found a flirtatious affinity with.
Leftist, socialist or humanist, he didn't like to be pigeonholed. He was a film-maker foremost, spinning stories which needed to told urgently for the societal good/awareness. His films were political critiques. If he tended to be didactic, it's because criticism has to be strongly argued, no sitting on the fence.
For a bit of off-duty sport, he could relentlessly snipe away at Satyajit Ray and Ritwik Ghatak, the legendary auteurs who have been idolised by disparate schools of cinephiles. Meanwhile, Sen inspired a school of followers, his own gurukul.
Journalistically, Sen was wont to express himself in print. His voluble interviews would attack the system of central and local governance, and political potentates of every ideological colour, including shades of red.
A still from Mrigayaa.
The obstacles in the way of creating an official cultural policy – which would welcome a thousand blooms rather than watering the wilted plants – infuriated him.
On occasion, if he would be recalcitrant about what he had ended up saying, in a fit of pique maybe, the interviewer had better protect himself against the sting.
Speaking purely out a personal experience, Sen had insisted that he was grossly misquoted in an interview conducted by me for 'The Times of India'. He had rained disappointment on Naseeruddin Shah with whom he had worked in Genesis (1986). When the actor reacted with invectives to Sen's statement, the film-maker alleged he had been "misquoted", complaining in no uncertain terms to the newspaper's editor at one of those Kolkata's Park Street cocktail evenings.
That didn't colour my estimation of Sen, no. Journalism entails taking such retractions in one's stride. The episode could never colour my appreciation of his best work, be it Akash Kusum (1965), Interview (1970), Miriggaya (1976), Ek Din Pratidin (1979), Kharij (1982), and the emotionally stirring Khandhar (1983).
Prejudice is the refuge of scoundrels, isn't it? In fact, there's no gainsaying that it would be more than worthwhile to re-see and re-appreciate his oeuvre in a retrospective that the filmmaker so justly deserves.
A lasting image conjured by his films as well as interviews and his writings (in a collection titled Montage: Life, Politics, Cinema) is that he wasn't afraid of looking at his refracted image in the mirror. He could see the warts and blemishes.
He would be self-deprecating about his days of debt at the local tea-shop, of returning to his birth-place Faridpur now in Bangladesh. He celebrated discussions, debates and arguments. He led a normal life only to a degree, bedeviled as he was by an incurable restlessness.
Sen's imperfections were more valuable than the perfections of many in his métier. "Even when I go outside my time, I cannot go outside history," he had stated. "I have seen history as a continuous, growing phenomenon, marching almost imperceptibly into the character of our own time.
Above everything else, I am committed to my own time." He'd entice cinephiles to walk miles to catch his new work being premiered at film society venues. In Mumbai, it was the Tarabai Hall that attracted serpentine queues for a film authored by Mrinal Sen. Tarabai Hall no longer functions. Even if it did, I'm not sure any more about the possibility of queues there.
His end, at the age of 95, compels you to remember the era of audacious film-making. You could disagree with Mrinal Sen, you could be exasperated by him. Still there was that element of the revolutionary heart and mind about him. You wanted to hear him out, because he was honest about his startling shifts and fluctuations of mood, temperament and convictions.
Mrinal Sen was an artist whose canvases have retained their colour and sub-textual draughtsmanship – full of sound and fury signifying something.