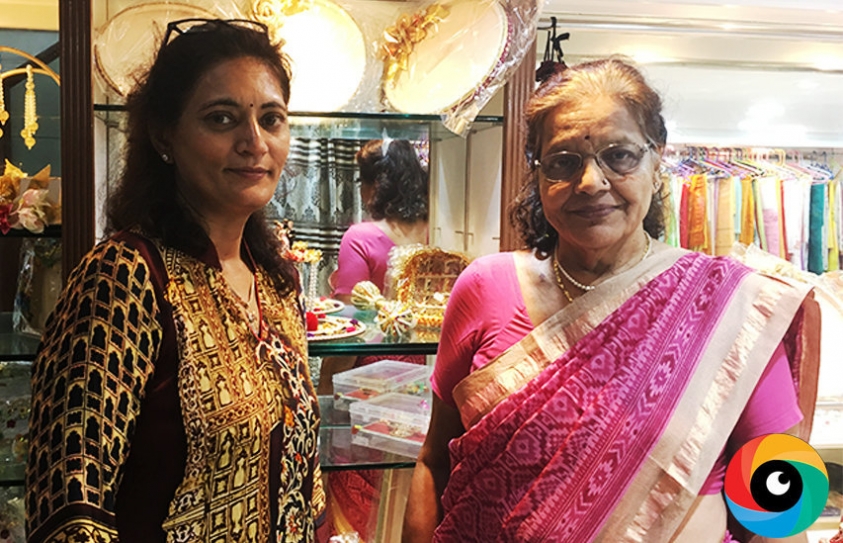 Artsy-craftsy Homemakers of Mumbai
by Denver Fernandes
July 25 2017, 5:32 pm
Artists who happen to be housewives are not something unheard of, but an artist mother-in-law-daughter-in-law combo is quite a rare dynamic. Vimla Soni (mother in law) and Reshma Soni (daughter in law) recently launched a vibrant art exhibition named Devika Art Point at Mahalaxmi, for all things handmade.
Vimla began making handicrafts 40 years ago with no formal training, just trial and error at her beck and call. On the other hand, Reshma's artistic side matured from applying mehendi during her childhood. She later attended various art workshops and the desire to make a change grew even more. In an interview with this duo, I learned about their inspirations and how two housewives want to make a mark on the world.
Vimla's grandmother once told her that a woman should be perfect and know everything. She lives by these words and strives for perfection with every design. Each bead and design of every rakhi and necklace is perfectly aligned. She started off by watching her father paint and learning embroidery from her mother. She said, "You will always see me with a needle or a paintbrush in my hand when I'm at home". In her mid-thirties, she began to help various organizations and underprivileged artisans find their calling but she never openly took credit for it. For years her art and craft has been taking it's rounds in the city, un-credited. After her daughter-in-law showed interest and a knack for the creative, they took a collective decision to make their presence known.
Vimla's husband has a businessman's mindset and did not pay much heed to her arty endeavors. She said, "My husband never had an objection to my art. As long as I'm at home and not going out, he was ok." She also went on to mention that her husband wasn't very forthcoming when it came to helping her talents flourish.
Reshma's husband on the contrary was very supportive of their business venture and helped with the rent for the exhibition stall. He also helped in cutting and stitching the flowers for the handicrafts. Reshma loves origami and all related to craft. She asserts that each item in their inventory takes one day on average to make and every item is different from the other in terms of design. They began their initial sales by giving out their products to local retailers and asking family members to check it out. Slowly after wide appeal and many complements they decided to start a business.
Both women emphasized on how they wanted to stand on their own feet. Reshma mentioned that social media presence is important and she wants to build a strong customer base. Vimla with a heavy heart said, "Once you get married and are done looking after your family and children, then you should do something for yourself, something creative. Pursue it, because unless and until you can support yourself financially you cannot be confident, you will stand when your family asks you to and sit when they tell you to." Her dream was to be a fashion designer but due to financial constraints and lack of a formal education her dream was cut short. Moreover, due to the misguided thinking of society that housewives cannot work, they were unable to gain a solid business partner. Furthermore, storeowners refused to put their brand logo or even their names on their products. Thus the two decided to go against naysayers and began to market their artworks themselves. Although they just started out, they have a steady following on social media. The artists soon want to start a delivery system for their products as well. When asked what their family members have to say about their business venture, Reshma said, "Our family is very proud and supportive of our creative endeavors and our aim is to launch a store and start a full time business in the near future".
Devika Art Point has also been a part of many museum sales and small stalls during festive seasons. According to them, their products do exceptionally well a week before Diwali and Rakshabandhan. Both women added and stressed upon how they really don't care about fame and just want to showcase their creativity through their work. The enthusiastic daughter-in-law said, "I just want other housewives to showcase their creativity and know that we are no less than men."
Both women want to prove to themselves and the world that housewives can make a difference. I think that with their creativity and leadership abilities, they are a force to be reckoned with.