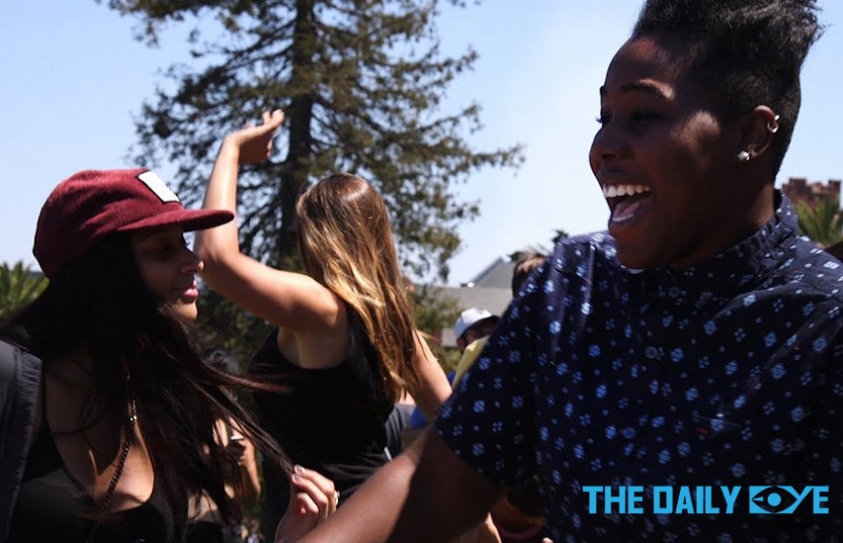 A Dance of Protest
by Revati Tongaonkar
September 16 2017, 9:19 pm
Estimated Reading Time: 2 mins, 37 secs
Hundreds of protestors gathered in San Francisco to protest against a scheduled hate rally in the city on the 25th of August 2017.
The so-called 'hate rally' was a scheduled gathering at Crissy Field by the rightist organization Patriot Prayer. This was subsequently cancelled following the march of the protestors, and Patriot Prayer decided to hold a conference in Alamo Square Park instead.
This comes at a time when, barely a month ago a similar white supremacist rally in Charlottesville, Virginia turned violent, and resulted in deaths; and the police force were on guard, bracing themselves for a possible conflict. However, the people of San Francisco gave a surprisingly different, and heart-warming when they protested.
They danced.
Hundreds of citizens walked the streets of San Francisco for the 'freedom rally, carrying pro-love and diversity signs, protesting by celebrating. They chanted messages of love, held impromptu dance-offs, and even attended musical performances- with Michael Franti at the microphone, speaking out, mutely, that presence is power, and that we do not need weapons or violence to win.
San Francisco has always been a haven for the misfits and immigrants, becoming a sort of cesspool into which all the neglects of other cities have been welcomed into, and the city has always been one of the most forward-thinking and liberal cities in the States. The protestors, apart from the supremacist rally, were also condemning the ban on transgender recruits in the military, and the infamous pardon of Arizona Sheriff Joe Arpaio merely a few days before the protest. Arpaio, who styles himself as the 'toughest sheriff in America' has been very outspoken against illegal immigration in the country, and is known for investigating President Obama's birth certificate, and claiming it to be false. He also has long-standing charges against him of abuse of power, neglect of duty, and racial profiling and discrimination and various types of police misconduct, and several civil rights lawsuits. He was recently pardoned by President Trump for criminal contempt of court, a move that was condemned across the nation.
The demonstrators in the rally were people speaking out against the white supremacist 'Nazi' mentality that has begun to be vocal against immigrants, the LGBTQ community and people of color; and the people who gathered were a colourful bunch- drags queens and musicians, dancers and artists. ...as drag performer Juanita More addressed the rally at (appropriately) the city's Harvey Milk Plaza, saying "I am looking at all of you, and this is power. This is love. You guys are love."
The protestors who gathered to 'fight the hate' in the city, proved by their act how much they meant it. The protest was no marching crowd threateningly walking down streets, or even silent protestors with candles and signs- it was a celebration, an easy claiming back of the city, and the spirit of the city, celebrating San Francisco.
Source:
https://ww2.kqed.org/arts/2017/08/26/video-dancers-and-artists-stand-up-to-bigotry-in-san-francisco/?utm_medium=Email&utm_source=ExactTarget&utm_campaign=20170831Arts&mc_key=00Q1Y00001kZC24UAG
http://sanfrancisco.cbslocal.com/2017/08/25/people-dance-against-hate-in-san-francisco-ahead-of-rallies/
http://www.foxnews.com/us/2017/08/25/latest-hundreds-dance-against-hate-in-san-francisco.html