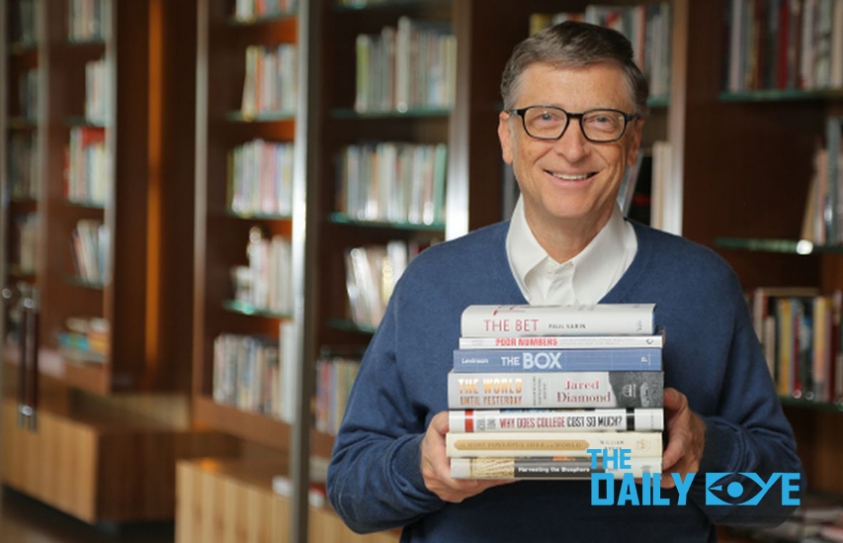 The Books on top of Bill Gates' List
by Yash Saboo
March 8 2018, 4:11 pm
Estimated Reading Time: 3 mins, 9 secs
Apart from being one of the world's richest person and a philanthropist, Bill Gates is also an avid reader. He tears through around 50 books per year and prioritizes reading over other hobbies, even if it means missing out on certain cultural touchstones. During an AMA session on Reddit, when a questioner asked Gates about the best book he'd read so far this year, Gates named two:
"There are two amazing books. One is Enlightenment Now by Steven Pinker and another is Factfulness by Hans Rosling," Gates wrote. "They are both very readable and explain that the world is getting better."
Apart from this he also wrote: "There is so much good stuff to watch now that people tell me great things that I never get around to, like Game of Thrones," he writes on Reddit. "Partly, I leave a lot of time to read so my video allocation is less than most people."
"For years, I've been saying Steven Pinker's The Better Angels of Our Nature was the best book I'd read in a decade. If I could recommend just one book for anyone to pick up, that was it. Pinker uses meticulous research to argue that we are living in the most peaceful time in human history. I'd never seen such a clear explanation of progress," Gates wrote on his blog.
I'm going to stop talking up Better Angels so much, because Pinker has managed to top himself. His new book, Enlightenment Now, is even better," he adds.
Let's dive deeper into these two books.
According to Gates, Enlightenment Now: The Case for Reason, Science, Humanism, and Progress, takes the approach Pinker uses in Better Angels to track violence throughout history and applies it to 15 different measures of progress (like quality of life, knowledge, and safety). The result is a holistic picture of how and why the world is getting better. It's like Better Angels on steroids.
Source : Penguin Books Australia
"Pinker was generous enough to send me an early copy, even though Enlightenment Now won't be released until the end of February. I read the book slowly since I loved it so much, but I think most people will find it a quick and accessible read. He manages to share a ton of information in a way that's compelling, memorable, and easy to digest. It opens with an argument in favour of returning to the ideals of the Enlightenment—an era when reason, science, and humanism were touted as the highest virtues," writes Gates.
The second of Gates' two recommendations is being released April 3 and can be pre-ordered now. Gates got an early copy to write a blurb for it, and if his enthusiastic initial impression is any indication, this is one you'll definitely want to read.
Factfulness: Ten Reasons We're Wrong About the World–and Why Things Are Better Than You Think, has lofty aims: It wants to reveal the mechanics of how we think, and how that shapes our view of the world.
Source : Amazon
The gist of Factfulness is that things are getting better, progress is being made, and a lot of the divisions between people are based on instincts and assumptions — which can be dismantled if we know about them and acknowledge them head-on. Gates called it "one of the most important books I've ever read—an indispensable guide to thinking clearly about the world." This book is liked not only by Bill but Melinda Gates too. In a blurb, she wrote, "[It] explains why progress is so often secret and silent and teaches readers how to see it clearly."