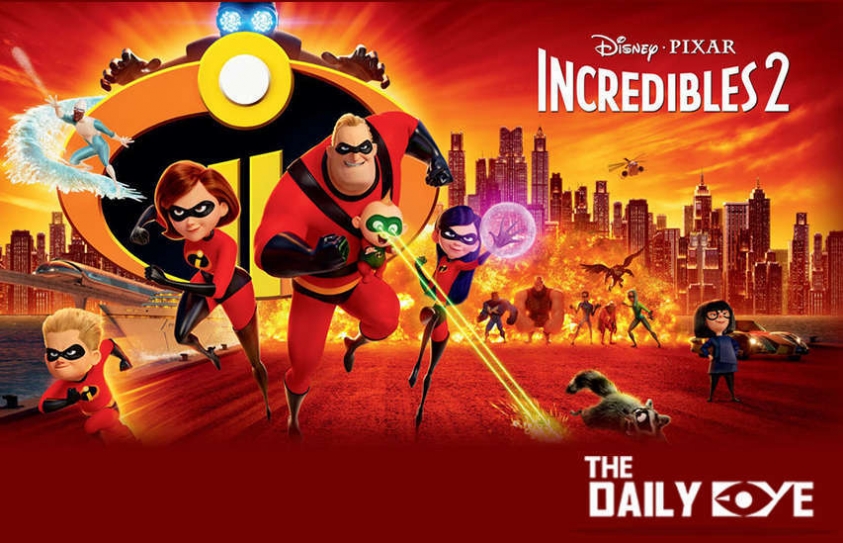 A Super Family Movie
by Denver Fernandes
June 22 2018, 5:21 pm
Estimated Reading Time: 2 mins, 24 secs
Cast: Craig T. Nelson, Holly Hunter, Sarah Vowell, Huck Milner, Samuel L. Jackson
Direction: Brad Bird
Producer: John Walker, Nicole Paradis Grindle
Writer: Brad Bird
Genre: Animation / Super hero
Duration:118 Mins*
The Incredibles (2004) is one of my favorite Pixar movies of all time. I was mesmerized by the visuals and the storytelling of the superhero family so much so that I went to watch the movie multiple times in the theatre back in 2004. For 14 years I've been waiting to see the next chapter in this superhero story and its finally here. Incredibles 2 kicks off right after the events of the previous movie and right from the opening sequence I was hooked. It brought back all the reasons I fell in love with the first movie. Brad Bird returns in the directors and somehow he's made a movie that's similar yet different.
The Incredibles revolved around Bob/Mr. Incredible voiced by Craig T. Nelson, his family and how he's having a mid life crisis of sorts. But Incredibles 2 deals with feminism, what it means to be a stay-at-home dad and a working mother among other things. Besides the movie is set in the fictitious 80's where superheroes are banned and feminism is a growing movement. It's Pixar and they are known to make animated movies that have something for the whole family and not just for kids. I mean a stay-at-home dad is an original angle and it's quite a bold move. Usually one portrays stay-at-home dads as haphazard but in this case it's quite the opposite. Yes, Bob has hard times but there's nothing he can't handle. In a way the movie helped normalize it.
Other than the apparent normalization, feminism played a big role in this film. Elastigirl (voiced by Holly Hunter) is another strong female character that happens to be a caring mother too. She's not a damsel in distress and she's the breadwinner in the family. There's a moment in the film where she mentions that she is as good as the male superheroes, if not better. The idea of a campaign with a female superhero to change the law banning supers is something that's a pure 'Big Idea' in advertising terms. The kids were good too. It was wonderful to see Jack-Jack's powers explored and Violets adolescent mannerisms too.
Overall the film felt like it went over a similar narrative structure of the original but the story and characters seemed fresh and it felt like the family has evolved as a whole. The action sequences were top notch and the social message was relevant. This movie gets a big thumbs-up from me. Pixar has done it again. Incredibles 2 is best enjoyed with your family.