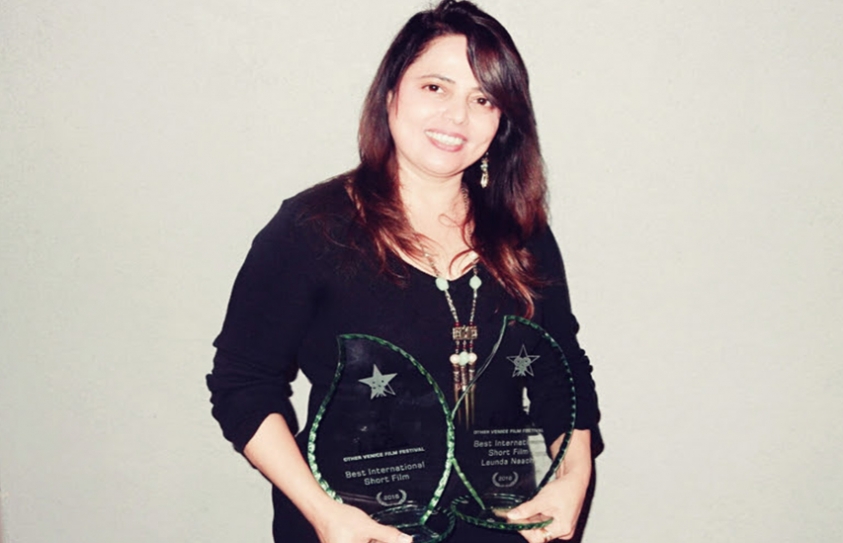 "The Fun Is When Despite All Odds You Are Able To Tell Your Story" - Shafaq Khan, Filmmaker Of Launda Naach, Shares Her Journey.
by The Daily Eye Team
March 28 2017, 3:46 pm
Shafaq Khan, director of Launda Naach, chatted with Kopal Khanna, Head of communications at Asian Center for Entertainment Education, and spoke about her passions, background, latest film and exciting new projects. She highlights the challenges in the independent cinema space and what's it like to work with low budgets and no connections in Bollywood.
Tell us a little about your background and why you chose filmmaking as a profession?
After graduating in Psychology at AMU University where I stayed in the hostel for five years I came back home to Mumbai to study law. I soon realised that I didn't want to pursue law, I was a lost person as far as my career was concerned. To sustain myself I started taking tuitions part time and joined quite a few occupations on and off, finally I landed a job at Firoz Nadiadwala's office as a receptionist, though his wife Afreen always felt that I was way too qualified for the job. That's where I saw all the action of filmmaking happening.
Later, I joined Karan Johar's Office as Yash Johar's' secretary. I had directed a lot of plays back in my college days which were highly appreciated, so when I was working for both Nadiadwala and Dharma production I realised that direction is what I wanted to do and since I finally knew what I wanted, I had to learn this craft. Karan Johar had already made his team and had no space for a total newcomer like me in his new project. Here I met a friend who said that Vinta Nanda was starting a new show called Papa and was looking for assistant directors, and that I could try my luck but a newcomer like me won't be paid much, now that was a worry for me as I had to take care of my family and was paid decently at Dharma Productions, I had to take a decision and I decided to meet her. I called her office and my meeting with her was fixed for next day. I met her and before she could even ask me anything, I very honestly told her that I don't know anything about direction, but wanted to learn the craft, I assured her that I would work hard but I wanted to be paid well. I don't know (I still don't know) what made her appoint me as an assistant while also paying me as much as the others were. That's how my journey into direction began...and I have to thank Vinta Nanda for trusting me ... I learnt a lot by just looking at her.
How did you come across the subject of your film 'Launda Nach'?
I knew nothing about Launda's till my writer Manish Singh brought this story to me. He had visited a function in Jharkhand where he saw the plight of these Launda Dancers. When he narrated the story it moved me so much that I knew I had to shoot it.
In terms of research, did you interact with members of the 'launda' community? What kind of secondary research did you do?
I read a lot about Launda's. My writer and few actors from that area where Launda Dance is still practiced gave me a lot of information about them. I also saw a lot of videos of Launda's performing. The way they dressed and behaved.
How was the experience of shooting the entire film in two days?
It was very hectic and challenging to shoot the film in two days including the songs, but I had no choice due to limited fund. We worked very hard before the shoot with the rehearsals and readings. It was a great team work which made it possible.
Could you give us insight into some of the challenges you faced making this film?
It's always challenging to shoot in a small budget.
Was the reaction of audiences what you expected?
The reaction of the audience was beyond my expectation, especially getting some great reviews from the people in LA who came for the screening. The highlight was when one lady walked up to me after the screening and asked for my autograph on the flyer of Launda Nach. And what she said would always remain with me. I Quote her, "this film has touched my heart and want to take your autograph to remember that I had an honour to meet the director of this movie" It was an award for me and made all the hard work worth it.
You've got a lot of attention from film festivals. Could you elaborate on that and tell us how it felt?
All I can say is that it is an overwhelming experience when your film is appreciated, especially outside your country. It's like all your hard work is paid when your film is selected but it's a different high when you win against some fine films from different countries. You feel great when you represent your country and come out as a winner.
Could you tell us about your journey in independent cinema and your opinion on independent cinema in India?
It's never so easy for an independent filmmaker especially here in India where you need big names and budgets for everything right from getting known actors to selling the film, but the fun part is when despite of all the odds you are able to tell your story... It's like winning a battle which inspires you to take a bigger and bolder steps.
What should we expect from you next?
Next i am working on a film based in Banaras and places around, other than that I am also working on a Marathi script and I am very excited about both.