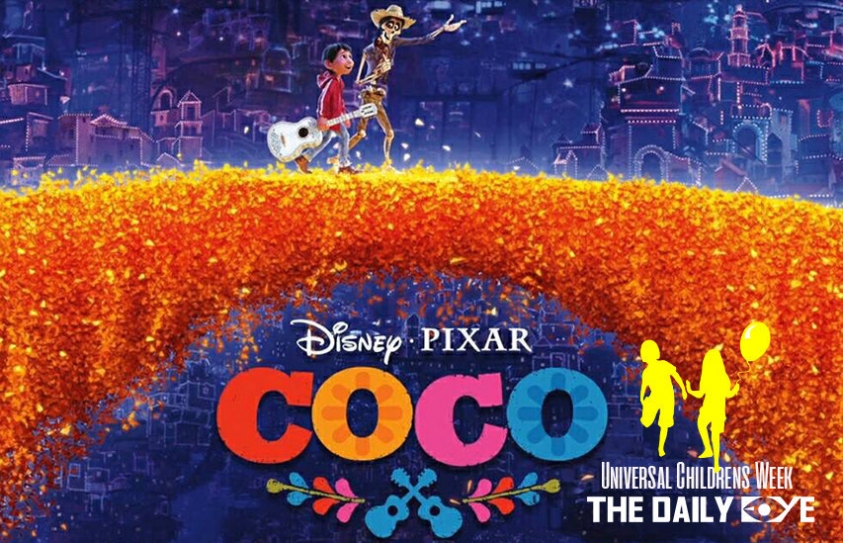 COCO
by Aakanksha Solanki
November 25 2017, 6:50 pm
Estimated Reading Time: 2 mins, 29 secs
Cast: Anthony Gonzalez, Gael García Bernal, Benjamin Bratt, Renée Victor, Ana Ofelia Murguia, Alanna Ubach, Jaime Camil, Sofía Espinosa, Selene Luna, Alfonso Arau, Edward James Olmos
Direction: Lee Unkrich
Producer: Darla K. Anderson
Writer: Lee Unkrich, Adrian Molina, Jason Katz, Matthew Aldrich
Genre: Animation
Duration:109 Min
Well the ideas of having a kid walk through Land of the Dead not so kid-friendly, right?
But not when Pixar puts it up! The first thing that just struck me was the spectacular visuals. And apart from that the all-Mexican voice cast! So glad the novelty was there. Coco is the movie that can make you all go a little teary-eyed.
Coco is about a young Mexican boy Miguel who is an aspiring musician in a family that has banned music after his great great grandfather goes on to become a renowned musician. He went on to become a great legend. Even after his death, people would still not get enough of him. But Miguel can't get enough of both music and the legend of his relative and will not cease trying to fulfil his dreams or to be like him.
Then comes the day, Dia de Los Muertos (Day of the Dead) wherein the ancestors visit us and be with us in our families. And also on the same day, Miguel ends up falling into a magical loophole. Where he gets to travel into the after-death life and meet his ancestors.
It's captivating; Miguel's long gone family in the land of the Dead looks really adorable! They're definitely not covered with skin, but the skeletons and the big round eyes, and most importantly the en forma de corazón (Heart-shaped noses)!
Not to forget there's a point where Frida Kahlo the famous Mexican painter is shown by keeping every minute detail in mind. Her pet monkey and she's painting her own portrait. Well, she was the selfie-queen of the early 1900s.
The beauty of Mexican culture that they've showcased is just perfection! The way they've shown their 'Abuela', which is the grandmother in Spanish. The angriest and loving at the same time, a perfect example of a Mexican grandmother! Also, the women of the Mexican culture don't get so much importance but the directors Lee Unkrich and Adrian Molina took that up too!
Coco is not just an animated movie but has so much depth to it! Well, isn't that what Pixar has always excelled at? But Coco is certainly not exactly the same. The protagonist is the 12-13 years old boy, and he doesn't grow up and do something extraordinary! But it also talks about how every child needs to be given at least a chance to live his or her dreams! Don't kill the aspiration. You never know what he or she might become one day!