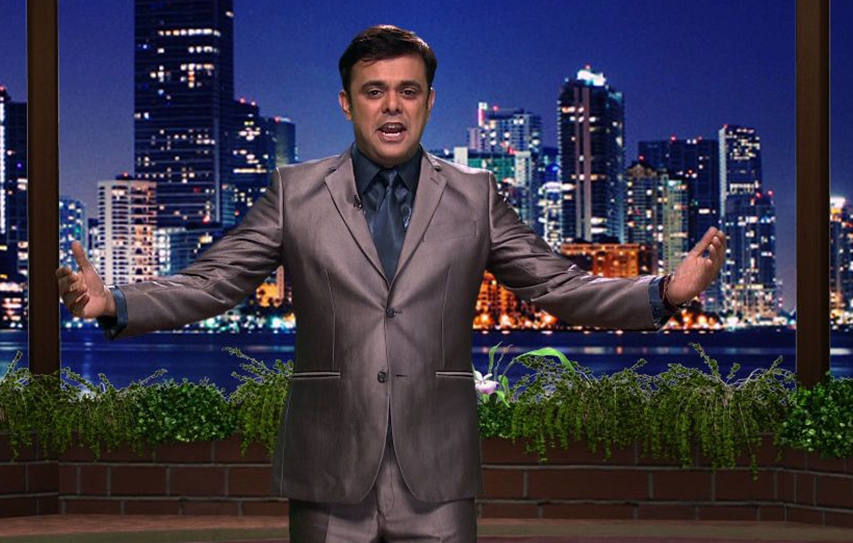 True Review Television - Sumit Raghavan: India's Consumate Actor
by Piroj Wadia
May 21 2016, 10:39 am
Estimated Reading Time: 2 mins, 50 secs
Sumit Raghavan is one of television's most underrated actors. In early 2000, Dilip Joshi, Sumit Raghavan and Amit Mistry did a sitcom Shubh Mangal Savdhan for Sahara TV. The trio's comic timing and bonding had them do a play Bapu Tame Kamaal Kari. While Dilip Joshi became the face of Jethalal Gada in Taarak Mehta Ka Oolta Chashma, Sumit Raghavan showcased his talent in Sarabhai Vs, Sarabhai as the hapless husband of Rupa Ganguly and son of upwardly mobile Gujarati parents Ratna Pathak Shah and Satish Shah. What has catapulted Sumit Raghavan again into the spotlight is Badi Door Se Aaye Hai where he plays Vasant Ghotala, the head of a family of aliens who take on human avatars and identities. On air since 2014, the Ghotalas live up to their name with foibles each episode, leaving no dull moment.
In all the gadbad-ghotala, Sumit Raghavan has showcased his talent as a consummate actor. The fine comic timing he has been displaying is well enhanced with his ability to dance and sing. During a reality show, the actor pulled out his vocal talent from the hat. Once again, we have sampled it in Badi Door Se Aaye Hai as he has sung in innumerable episodes, Sumit Raghavan has time and again mimicked Bollywood actors and his neighbours of Sunshine Colony. Each time doing so with impeccable finesse.
Just when we thought Sumit Raghavan and the show's scriptwriters had done it all, last week viewers were in for a real treat. A woman lands up in Sunshine Colony looking for Vasant Ghotala, She claims she's his wife. Varsha, his wife is at daggers drawn as Sumit can't explain his absence. Manav knows something about multiple persons with the same name and face. He includes Sharad and Anna in his search. In the process, we see multiple versions of Vasant Ghotala – from a fashion designer in drag, a farmer in Maharashtra, a South Indian action hero facing a career crisis, etc. Each impersonation even more accurate than the other. My pick was the fashion designer in drag.
While Taarak Mehta Ka Ooltah Chashma has Dilip Joshi as its face, Bade Door Se Aaye Hai has Sumit Raghavan as its front man. Both shows are SAB TV's primetime sitcoms grabbing eyeballs and are hard to replace. While Asit Kumar Modi's Taarak Mehta Ka Ooltah Chashma is the channel driver and set the bench mark as the longest running sitcom, Jamnadas Majethia and Aatish Kapadia's Badi Door Se Aaye Hai is a setting standards of its own, thanks to Sumit Raghavan's excellent performance and the show's alien fantasy track.
In the meanwhile, Star Plus' Tamanna is something of a trendsetter – launched in mid-February and about 110 episodes old -- it has shown that a serial could be gripping and fast moving; it is marked by a well written narrative, shot with austerity and crisply edited. The makers didn't waste any time dwelling on Dhara's failed marriage, pausing the narrative at a few crucial junctures and then they just moved on. This finite show, we are told, is getting an extension.
Coming back to Sumit Raghavan. His turn at Bade Door Se Aaye Hai is a well deserved and earned slot as one of India's consummate entertainers.