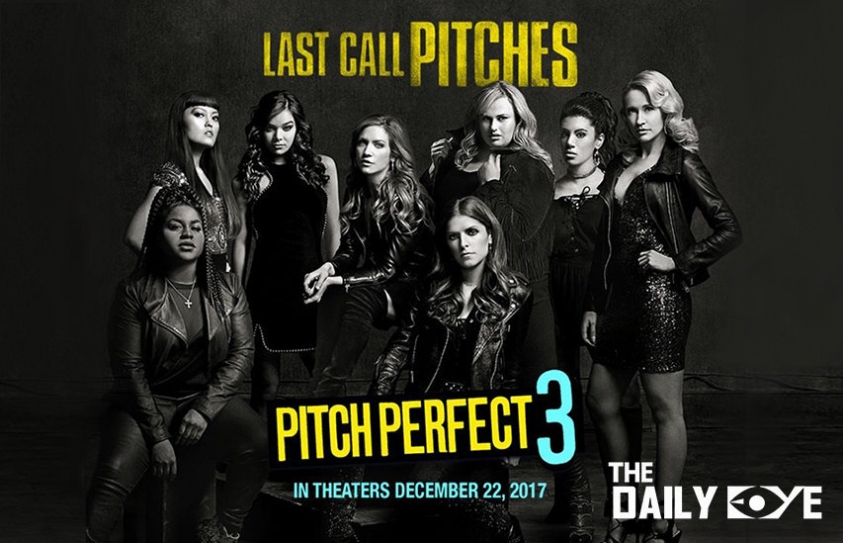 Pitch Perfect-3
by Denver Fernandes
January 6 2018, 3:45 am
Estimated Reading Time: 2 mins, 19 secs
Cast: Anna Kendrick, Rebel Wilson, Anna Camp, Brittany Snow, Hailee Steinfeld, Hana Mae Lee, Ester Dean, Alexis Knapp, Chrissie Fit, Shelley Regner, Kelley Jakle, John Michael Higgins, Elizabeth Banks
Direction: Trish Sie
Producer: Elizabeth Banks, Paul Brooks, Max Handelman
Writer: Kay Cannon
Genre: Comedy/ Musical
Duration:93 Mins*
The Bellas are back and this time they are facing midlife crisis and not some singing competition. Oh wait, there is a singing competition too. This movie is not life changing to say the least but it's not that bad either. Not as good as the first movie but on par with the second one in my opinion. Frankly I'm not a big fan of accapella but this franchise intrigued me. Unfortunately the Bellas didn't in this instalment.
The movie starts off with the reunion of the Bellas which leads to an extremely convenient opportunity to ignore real life and go out and sing. So each member of the group faces problems in their actual jobs and really just want to sing because college days were so much better. The long lost father plot with Fat Amy (Rebel Wilson) was a big let-down. John Lithgow tried his best to stand his ground but there's only so much you can do with this sinking yacht of a movie. The one thing that was really cool had nothing remotely to do with accapella. Ruby Rose plays the leader of an all-girl rock band named 'ever moist'. All the scenes she was in were pretty darn cool. The opening sequence with the accapella version of Britney Spears- 'Toxic' really got my hopes high but in the end it was effort in futility. DJ Khaled's in this movie and he brings literally nothing to the table. He plays himself, an extremely uninterested version of himself.

OnSet-Hollywood.Com
Pitch Perfect 3 deals with father-daughter issues, growing up and midlife crisis. But it fails at nailing even one of these ideas. The story is packed with clichés and often the characters appear shallow. Sure Fat Amy delivers some hilarious lines and laugh out loud moments but many jokes just don't land. Feminism is addressed in many jokes and scenes but they never really dive into it.

The Nicholls Worth
Overall I think the movie is fun but not fun enough. People don't really like this franchise because of the story. They go to just have fun but with a good story you actually care about what's happening in the movie. The first scene in the movie gives away a key part in the third act so there's literally no stakes. I think the accabellas and acca-done, at least for a while.