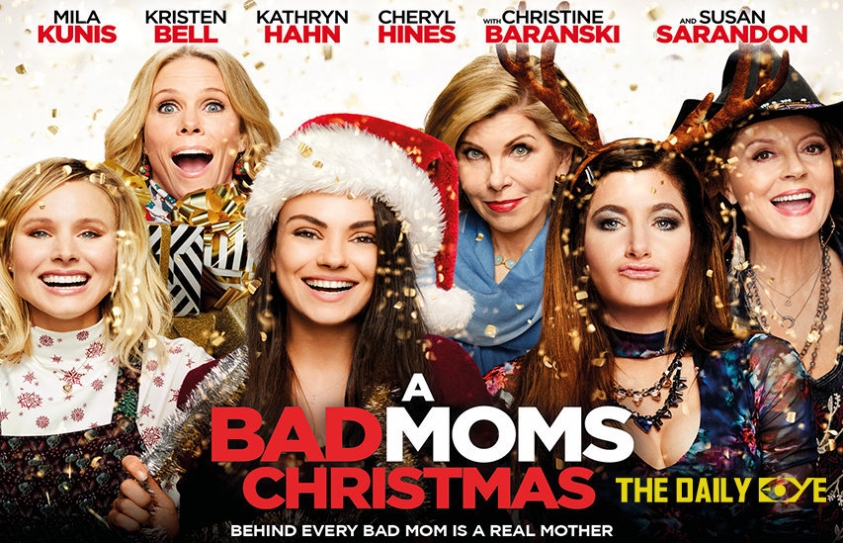 A Bad Moms Christmas
by Aakanksha Solanki
November 10 2017, 5:00 pm
Estimated Reading Time: 3 mins, 12 secs
Cast: Mila Kunis, Kristen Bell, Kathryn Hahn, Cheryl Hines, Christine Baranski, Susan Sarandon
Direction: Scott Moore, Jon Lucas
Producer: Suzanne Todd, Bill Block, Mark Kamine
Writer: Scott Moore, Jon Lucas
Genre: Comedy
Duration:104 Min*
First was Bad Moms and now is Bad Moms Christmas. And in between were our expectations from Bad Moms Christmas.
Bad Moms was astonishingly a great movie and Bad Moms Christmas was something that we already had seen coming with some new additions.
Bad Moms Christmas is slender and inane and cannot have shot in the darkness twice. It's stretched with overlong runtime and few laughs, may be some giggles. It's just the same Bad Moms being the bad moms again with Christmas because it's November and everyone around the world is going crazy about Christmas around the corner. Hence, A Bad Moms Christmas!
A Bad Moms Christmas made comeback with the same belief of comedy in filmmaking, and i.e. picking the same pace where they left off and amplifying it. Double the moms, too many of the silly set pieces and two appealing men instead of one! But if we surely did miss someone was Christina Applegate who was the honored PTA President of the moms group, she just comes for a walk-on.
The story here this time is that Amy (Mila Kunis) is having distress in about how things should be for Christmas this year. Whereas, Kiki (Kristen Bell) and Carla (Kathryn Hahn) aren't there to help her around because things are different with the kids now. In addition to that they have their mothers come in to entangle the situation causing it into a wreck!
Amy's mom is Christine Baranski, Ruth. She's like a condemnatory judge always there to deride Amy and, her father Hank (Peter Gallagher) is more of scared cat. And she also acknowledges Jesse by acting as if he doesn't understand English – and yells at him, asks him to take her bags) and multiple times doesn't remember his name. Ruth made sure that Amy's idea of having a mellow Christmas is just happening till the time she's there.
Sandy (Cheryl Hines), Kiki's mother comes in putting on a t-shirt with Kiki's face on it. She has the same haircut and gets it styled to look Kiki's. She invades Kiki's privacy and space and does it steadily! Which, of course drives her nuts! And then there's Isis, Carla's mother. She's a complete blow. A gambler, druggie and not an ideal model of parental responsibility. She visits Carla only when she needs money. Not even aware that she's visiting her this time on Christmas. Carla is just more of sick with her job of waxing job with women, but there's a twist when a guy named Tie (Justin Hartley) shows up to get himself waxed, as he's a contestant of 'Sexy Santa' they feel affectionate about each other!
A Bad Moms Christmas is apparently about the moms who are so over it. Ultimately, everyone takes up their roles as mothers depending upon the circumstances they've been put in. And not really but either is be Ruth's domineering parenting or Sandy's unendurable role as a mother and Isis's complete lack of interest on parenting at all. All the three daughters have their own styles in raising their kids and somewhere may be their mothers, they've influenced it.
A Bad Moms Christmas is all about how moms are humans too, and deserve to receive joy and not just give joy! And not just automated to accomplish their family's impulses.