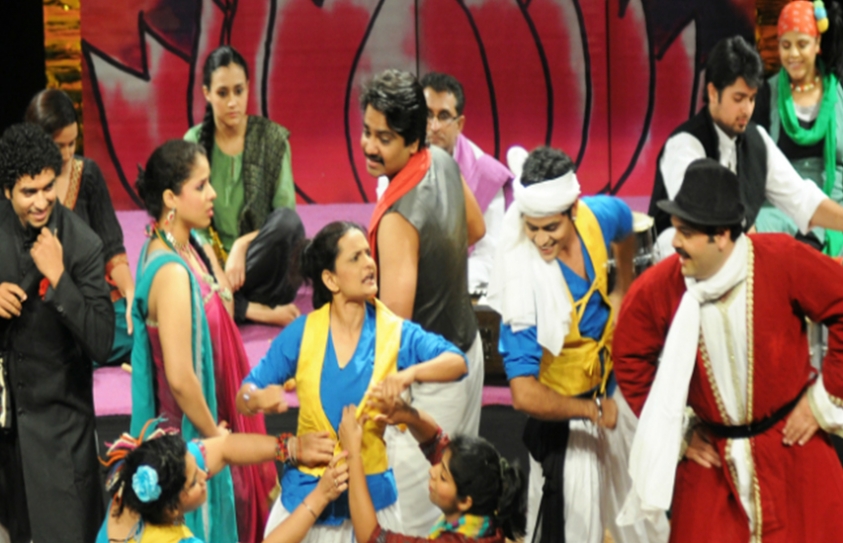 Kaleidoscope : Springtime For Gujarati Theatre
by Deepa Gahlot
March 25 2016, 1:10 pm
Estimated Reading Time: 4 mins, 21 secs
There is a growing demand for experimental work in Gujarati theatre, particularly if a younger audience is to be tapped, the demographic not attracted by the domestic dramas that make up a bulk of current productions.
The Vasant Gujarati Theatre Festival at the NCPA, attempts to give a break to groups from Gujarat – both amateur and professional – to bring their work to audiences in Mumbai, who are open to watching new content. The first year had an unusual mix, including a sci-fi play called Koi Bhinte Thi Aaina Utaro, about the repercussions of a brain transplant; Vishwamanvi, a tribute to Gujarati literary great Umashankar Joshi by Ahmedabad-based Nem Arts; and a colourful children's play called Sutarfeni, written by popular writer Dhiruben Patel.
The following year, the focus was on youth, with two plays Truth and Dare and Come On Aditya – the first about a group of college kids who go on a trip and are forced to confront some ugly realities; the second about a young boy who dreams of becoming a boxer, even though all odds are stacked against him.
In 2013, Manoj Shah's Karl Marx in Kalbadevi premiered at Vasant, and proved, if proof was needed, that audiences were truly ready for a revolution. Written by senior Gujarati playwright Uttam Gada and performed by Satchit Puranik, the play was about Marx visiting, Kalbadevi, Mumbai's commercial hub, to clear his name, because he discovers that socialism and communism have become dirty words. In Mumbai, no one has the time or the inclination to discuss economics, politics and philosophy. Still, he gets a chance to talk about his family and friends, his opus Das Capital and the enormous thali he had at the area's culinary landmark Bhagat Tarachand. A Gujarati audience, mostly staunch and unashamedly capitalist, filled up the auditorium and lauded the play, even the dry historical bits, and it went on to become a hit.
In 2014, Ahmedabad group Darpana Arts Academy joined the Vasant caravan, with Haji Ek Varta. This was a series of pieces based on stories penned by renowned authors of Gujarati literature – Moti Prakash, Ahmad Nadeem Kazmi, Jyotindra Dave, Saroj Pathak and others, encompassing a variety of subjects from love and friendship to family bonds and communal amity. Groups from Surat (with Encounter, based on the Dario Fo original), Navsari (with Chhello Parsi) and Ahmedabad (with Shukdan based on Cyrano de Bergerac) brought with them energy and variety.
If some plays performed at Vasant have been written for the festival, such as Nimesh Diliprai's Happy Anniversary, Mihir Bhuta's Bahot Nachyo Gopal or Sejal Ponda's Kesariyo Phaagann, Gujarati productions have also done wonderful adaptations of plays – Satish Alekar's classic Mahanirvani and Mahesh Elkunchwar's Holi, have been staged at Vasant.
Minal Dixit's novel Adhraat Madhraat has been adapted as Saptapadi No Athmo Phero by Neeta Reshamiya– the story of a woman's re-evaluation of her marriage, a subject not often tackled in mainstream theatre that prefers to tip-toe around marital issues for fear of offending conservatives.
The latest edition of Vasant Gujarati Natya Utsav has a mix of offbeat plays, some written especially for the festival. Pritesh Sodha's I Love Shah Rukh, directed by Kamlesh Mota, is a charming story of a girl who is crazy about the Bollywood star. Mota is also directing stage star Amee Trivedi in a one-woman show about Draupadi, written by Suren Thakar 'Mehul'. Manoj Shah, who experiments with literary and spiritual themes, is doing Kanti Patel's Gathariya, based on the life and work of famous Gujarati poet, writer, dramatist C. C. Mehta, known as Chanchi or Chandamama. Dharmendra Gohil directs Prayag Dave's Colours about seven people named after colours – Shweta, Neil, Shyam, Hari Singh, Laal Bai, Pilu Master and Kesar– and the emotional shades in their lives. Abhinay Banker returns with his new play, the award-winning Unbroken Wings, about the survivor of a road accident and her efforts to take her fate into her own hands, when her family and friends abandon her.
The festival helped fire the imaginations of young writers and directors – names such as Dharmendra Gohil, Sneha Desai, Pritesh Sodha, Hussaini Dawawala, Sejal Ponda, Neeta Reshammiya have been associated with Vasant and have gained the confidence to do
experimental work. Their plays have infused freshness into the Gujarati theatre scene.
(Disclaimer: The writer works with the NCPA, but the views expressed are her own)