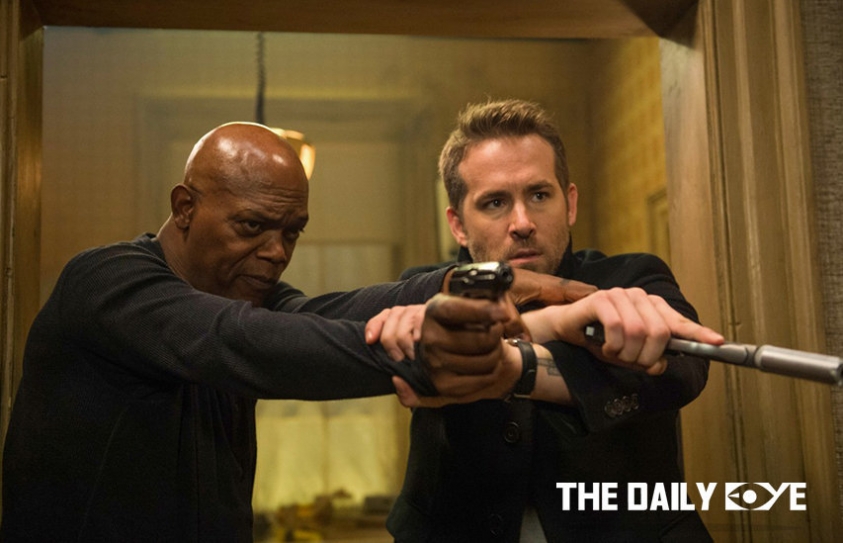 Hitman's Bodyguard.
by Aakanksha Solanki
August 25 2017, 8:31 pm
Cast: Ryan Reynolds, Samuel L. Jackson, Gary Oldman, Salma Hayek, Élodie Yung, Joaquim de Almeida, Kirsty Mitchell, Richard E. Grant

Direction : Patrick Hughes

Genre : Action, Comedy

Duration : 1 hour 58 minutes
Hitman's Bodyguard is all about explosions and bullets flying expeditiously in a all the directions. Men with guns, bombs and RPG's or Bazookas. All the components which are just right to deliver a bombastic film. Having Ryan Reynolds and Samuel L. Jackson who're both considered as ingenious actors put together in one screen, you know pretty much what to expect.
Micheal Bryce (Ryan Reynolds) is the world's top most AAA Executive Protection Officer most of the play-it-by-the-book kinda guy . And Darius Kincade is the world's top most Assassin. Both kill men for different purposes. It's more of the buddy action comedy. They're nemesis turned into disinclined allies.
'Hitman's Bodyguard' takes you to the nostalgic buddy action comedy that been much famous in 90's. Bringing it back from the absence this genre is quite refreshing. Typical match of Ryan and Jackson, one as the rebellion and one as the most conventional type of guy. Both Bryce and Kincade are both together so that Kincade can testify against the savage European dictator Vladislav Dukhovich (Garry Oldman). Well the movie has been proving all your anticipations right, it get tiresome with the exact run-of-the-mill scenario.
With all the car crashes and walloping punches, the highly impossible jumps from buildings where later there would be no sign of survival. All over the normality didn't propagate disdain. The Expendables 3 director Patrick Hughes wouldn't leave such a huge fan base in disillusion.
The women in the movie do deliver a promising performance. Salma Hayek's presence came out to be platitudinous and Élodie Yung was the authoritative Interpol lady.
It definitely works upto a certain extent, but there are times when some scenes stretch on longer than they should. The same problem arises with the action sequences, that get a little tedious after a while. In fact, the boat action sequence could have stopped. it looks like that it's trying a little too hard and becomes highly strung. It's mainly because the movie doesn't know when a certain sequence needs to pause. The violence seems to be so much veridical from the comedy in the movie. For example most the scenes performed by Gary Oldman, who is struggling to get you in image of the bad guy and is adjuring to be taken more seriously than he has to be. Whereas you have Ryan Reynolds and Samuel L. Jackson doing their natural improvised and better version of themselves.
The latter part of the movie is so much foreseeable, people now-a-days have been looking something beyond conventional stuff. May be a jaw dropper.