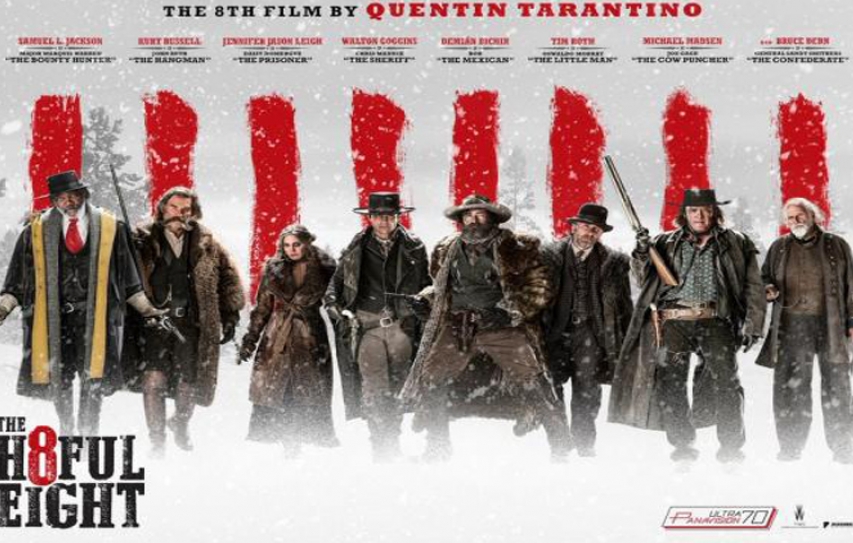 True Review Movie – English: The Hateful Eight
by Niharika Puri
January 16 2016, 5:38 pm
Estimated Reading Time: 2 mins, 16 secs
Critics rating: 2.5 Stars.
Cast: Samuel L. Jackson, Kurt Russell, Jennifer Jason Leigh, Walton Goggins, Demián Bichir, Tim Roth, Michael Madsen, Bruce Dern.
Direction: Quentin Tarantino.
Produced: Richard N. Gladstein, Shannon McIntosh, Stacey Sher.
Written: Quentin Tarantino.
Genre: Thriller
Duration: 168 Mins
A crucified Christ is ominously half-covered in snow which forms a crucial backdrop to the six-horse stagecoach headed towards Red Rock (or more specifically, the doomed Minnie's Haberdashery). Bounty hunter John Ruth (Kurt Russell) has murderer Daisy Domergue (Jennifer Jason Leigh) captive and is hell-bent to make her hang and collect the bounty of $10,000. Daisy is a handful, receiving the worst of the blows to silence that coarse mouth on her. Major Marquis Warren (Samuel L. Jackson), a war hero who shares his vocation with Ruth, hitches a ride.
Chris Mannix (Walton Goggins), who is the to-be Sheriff of Red Rock hops on too. The weather has greater resolve than their horses, which is why they must halt at Minnie's Haberdashery to tide over the blinding blizzard. The place is strewn with an assorted bunch – a Confederate General Sanford "Sandy" Smithers (Bruce Dern), the hangman Oswaldo Mobray (Tim Roth), traveller Joe Gage (Michael Madsen) and the caretaker Bob (Demián Bichir).
In his suspicion (or 'paranoia' as Warren calls it), Ruth announces his antecedents and intentions with his lady prisoner, warning the others to back away. He certainly has the attention of listening parties, some more absorbed than the others. The blizzard will take its time to die down but the tensions on arrival already begin to simmer to a slow-burn.
The Hateful Eight pays its homages to the great Westerns, with none other than Ennio Morricone composing the original soundtrack for the film. There are traces of Agatha Christie in there along with nods to his previous work. Some political commentary too.
What stands out the most is Tarantino's self-indulgence, working to memorable effect in his earlier films and derailing the narrative pace. The characters communicate in unhurried, tense deliberation. The bloodbath must happen in spurts, but there is excessive verbosity which goes an hour longer than the audience's patience while exceeding the necessity to, in the story. The shoddy censoring of the brutal bits interferes with the gory pay-off a Tarantino outing warrants.
Go for the eccentricity, sigh at the longevity. The Hateful Eight may have its share of the director's signature moments and quirks but stops a long way short of being an enthralling tale of violence and vengeance. Only the cinematography (Robert Richardson) and the performances keep The Hateful Eight from becoming a wasteful trip.