ASHA workers can play a Significant Role in managing Non-communicable Diseases
by Yash Saboo
September 25 2018, 4:24 pm
Estimated Reading Time: 3 mins, 6 secs
India is a country where quality health care remains a privilege of the rich and influential. But a silent army of women, clad in pink sarees, work tirelessly and selflessly to make basic healthcare facilities accessible to those who live on the margins of the growing Indian economy, particularly in the country's vast rural areas.
They are the backbone of the primary health care in India's 600,000 villages, providing a connection between the community and the inadequate public health system. These are the trained female community health activists -- called Accredited Social Health Activists (ASHA) -- under the National Rural Health Mission (NRHM) of the Indian government.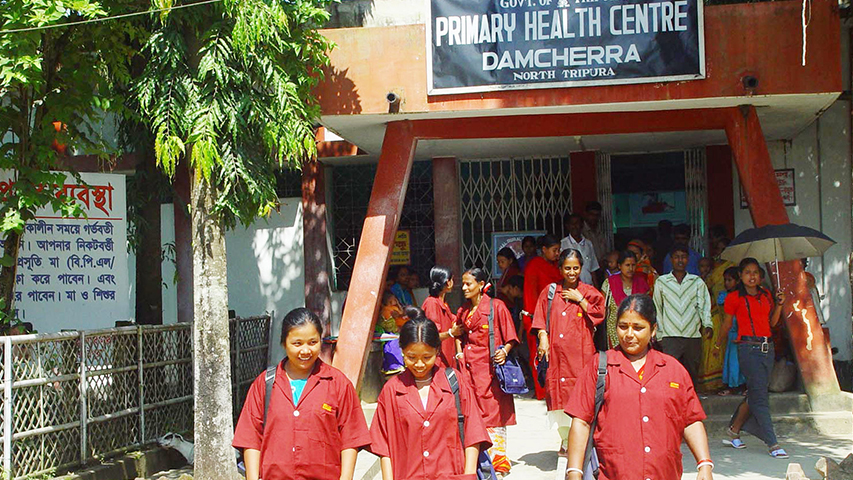 ASHA workers in Damchherra villages in Tripura, India (Digital Journal)Indiawest.com
Instrumental in bringing down the infant mortality rate from over 50 deaths per 1,000 live births in 2005 (when ASHA was launched) to 34 deaths in 2016, these women provide information to people in rural areas about health, sanitation, and nutrition; conduct ante-natal and post-natal check-ups; assist women during their deliveries, deliver polio vaccines and conduct health surveys.
With many of them mothers themselves, they often take along their children to the clinics at unearthly hours because they can't leave them behind at home, writes The News Minute.
There's a new and emerging role for ASHA workers now. They could be used to identify and control high blood pressure in the community, a recent study led by researchers from the George Institute for Global Health found. It also found they could be trained to lead community-based group educational discussions, and support community members in the management of high blood pressure reported Devex.
Godavari Anil Rathore, a worker, has helped over 100 women in her district in delivering healthy babies over the last three years that she has been working as an ASHA. "It makes me extremely happy looking at women living in the remotest parts of the country with not much money to focus on their health giving birth to healthy children", she says.
The 800,000-strong workforce of ASHA doesn't receive a salary but instead gets small cash incentives for their work.
"Even though it means that we work an average of 12 hours each day, taking health surveys, carrying out polio drives, assisting pregnant women from the district I live in -- right from medical check-ups during pregnancy, to the delivery, then getting the baby all the vaccinations, and in the end receiving only about Rs 1,500 for a month," Rathore adds.
A group of ASHAs in southern India learned strategies in how to manage hypertension, measure blood pressure and weight, in addition to facilitating patient-community meetings during a five-day training.
The study is part of a broader pilot by India's National Programme for Prevention and Control of Cancer, Diabetes, Cardiovascular Disease, and Stroke to train ASHAs to prevent and manage chronic diseases and their risk factors.
Some also question the skills of these workers, to which Gauri Singh, principal secretary for public health and family welfare in the northern Indian state of Madhya Pradesh replies, "we need to understand that ASHAs were never meant to be a service provider. [They were] always meant to be a social mobilizer. It's not something you want to have an ASHA do since she can come up with all kinds of results."
The lack of trained doctors in India who were willing to work in rural and remote areas has fuelled the discussion around the need for ASHAs to fill the gap. Each of the ASHAs is working hard despite severe hardships (low pay – for instance) and have some moving stories to tell, but they don't hesitate to make any sacrifice in building a healthier country.