The Doctors who changed the Face of Healthcare in Maharashtra
by Yash Saboo
June 19 2018, 4:08 pm
Estimated Reading Time: 3 mins, 6 secs
Dr. Rani Bang and Dr. Abhay Bang are a doctor couple who were recently awarded the Padma Shri for their revolutionizing work in healthcare in the Naxal-hit parts of Maharashtra. The duo has changed the face of healthcare in Maharashtra as co-founders of the Society for Education, Action and Research in Community Health (SEARCH).
Rural health care in India faces a crisis unmatched by any other sector of the economy. To mention just one dramatic fact, rural medical practitioners (RMPs), who provide 80% of outpatient care, have no formal qualifications for it. They sometimes lack even a high school diploma. Even though the government is putting strenuous efforts in enhancing the current health care systems by opening health centers and helping poor people through free medical facilities, yet the qualitative and quantitative availability of primary health care services is very less in remote areas. Far away from the hustle of city life, somewhere in a rural area people suffer from the brutality of life due to poor medical facilities. The adults, especially women, as well as children, face a life of uncertainty.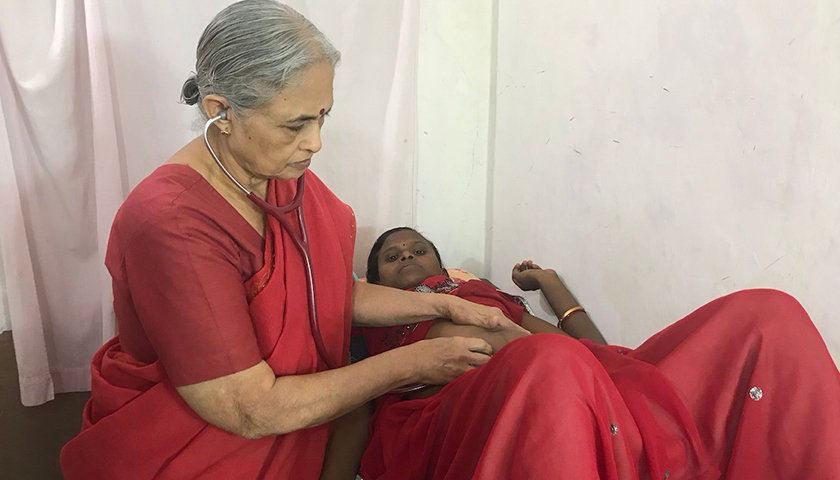 Source: India Development
When Dr. Bang started working in Gadchiroli, she was the only gynaecologist in the district. She was the first woman ever to do a research on women's fertility. "I wanted to first understand what the women themselves felt. I talked to several women from different villages in the district. When I asked them what their common health problems were, they listed many. So, I asked them to list these problems in the order of seriousness. To my surprise, all of them put obstructed labour and infertility in the most serious category", she said in an interview with India Development Review.
"My study in the region revealed that nearly 92 percent of the women had gynaecological problems—and these were not just related to pregnancy and childbirth. There were menstrual problems, reproductive tract infections, sexually transmitted diseases (STDs) and so on. Criminal abortions by quacks were rampant, despite India having one of the most progressive laws for medical termination of pregnancy."
She then took the results of the study to global platforms, including the UN, and argued that women have a lot of health issues that need to be addressed urgently. Until then, the UN focused more on maternal health than women's health. Rani Bang wanted to change that.
Dr Bang's study was impactful. The results were published in The Lancet in 1989 and were taken up by many women's groups around the world. She was also invited to conferences and meetings to present the findings.
She was invited to the World Health Assembly back in 1992, followed by a UN meeting in Cairo in 1994. The World Health Assembly was attended by ministers from various countries and governmental health staff. Dr Bang was the only non-government worker there. She presented her study and received the appreciation of representatives from all over the world.
In 1994, at a UN meeting in Cairo, there was a consensus on adopting WCH (Women Child Health) in place of Maternal Child Health. Thus, a study conducted in two villages in India changed the level of discussion internationally.
She also spoke at the UN Assembly in Nairobi, where she talked about family planning.
"Women's reproductive health is the most neglected thing in our society. When I started working with the communities, women's health was equated with only childbirth and family planning, which was an important agenda of the national health programme at that time. The situation is not very different even today," says Dr. Bang. She adds that the "missing linkages in our health care policies, programmes, and implementation are still a cause for concern."