2020 In One Word: What's Yours?
by Dr. Sandeep Goyal
December 23 2020, 8:00 am
Estimated Reading Time: 5 mins, 58 secs
Dr Sandeep Goyal views the year 2020 as the time that has introduced us to the "new" normal.
Forget 2020. What is my single word for 2021? "Normalcy"? The usual, as usual - but is it really so? "Normalcy" is also subjective.
Twitter's official handle recently asked its followers to describe the year 2020 in one word. The feedback was really interesting. Some answers were sincere; some were creative and quotable; some epic. In fact, responses from the corporate world were mostly clever and witty, with a pro-active attempt to connect the word to their brand or category.
Zoom called 2020 "unstable" while YouTube wanted to "unsubscribe" the year and Messenger wanted to "unsend" it. Subway said the year was "long". Viber wanted to "mute" it. Grammarly wanted to "edit" it.
IBM's answer of 01110011 01101011 01101001 01110000 was long (like the year) and incomprehensible to most (again like the year). Well the longish 0-1 code actually stands for "skip". Lego simply described 2020 as "ouch".
Microsoft Windows said "delete" to 2020. Microsoft Edge described it as "404", symbolic of an error. Adobe's take on the year was a unilateral and unhesitating "Ctrl+Z". Netflix was more dramatic, asking, "Whyyyyyyyyyyyyy?" – while OnePlus said 2020 was "unsmooth". Xiaomi wanted the year to "reboot". Vivo wanted to "uninstall" 2020. Sennheiser said the year was all "noise".
The Guardian of UK chose "doomscrolling" as its word-of-the-year and it seem to have hit the bull's eye with its choice because the initial months of the pandemic were consumed in most of us browsing (nay, devouring) all the negative news that was overwhelming us from all around. We wanted somehow to know, and know more, and yet more.
On a slightly different note, this year has seen so many seismic events that Oxford Dictionaries has expanded its Word of the Year to encompass several "Words of an Unprecedented Year". Its words this year is chosen to reflect 2020's "ethos, mood, or preoccupations". Use of the word "pandemic", for example, itself has increased by more than 57,000% this year. The word "coronavirus", by the way, dates back to the 1960s - and previously "mainly used by scientific and medical specialists".
But has this year become totally mainstream. Similarly, 'work-from-home" though three words, has become part of our everyday lingo as "WFH". Use of words "remote" and "remotely" has also gone up manifolds. "Workcation" (up by 500%) - a holiday that you also work during - and "staycation" (up 380%) - a holiday at home, or, in your home country is also up on the usage.
"Social distancing" too is a new addition to the lexicon this year, and now used across languages as common parlance. The mask received its share of attention no less. "Mask-up", "anti-mask", "anti-masker" and "mask-shaming" were among the words reflecting attitudes towards the issue of mask wearing, which was contentious in itself. "Superspreader", a word dating back to the 70s, spiked in October when coronavirus cases spread in the White House. Even the word "frontliners" is mainly a 2020 coinage. "Lockdown" as a word got last used a hundred years ago in the previous pandemic. And the "zoom" call has now become generic.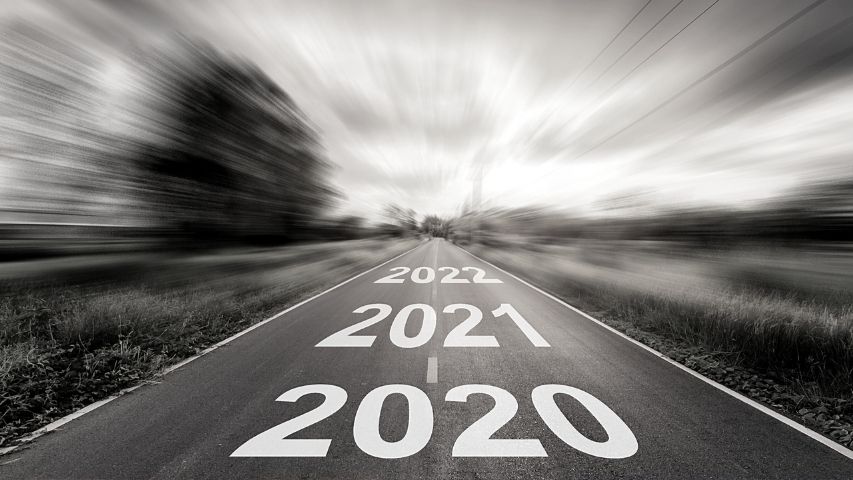 A fresh new entry to our vocabulary is the word "anthropause", referring to "the global slowdown of travel and other human activity as well as the subsequent welcome consequences, such as a decrease in light and noise pollution".
Back to the one word to describe the year: My circle of friends and family had their own choices. "Lonely" was a pre-eminent choice. But it got contrasted with "togetherness". To each his own, I suppose. Interestingly, "silence" found a place on many lists. Many used the word "re-set" too.
Testing, trying, torturous, terrifying, trepidation, tumult, terrible - the words may have been varied, the intent and spirit was largely common - all "dark".
To me, all the words are expressive and indicative of what we have been through this year - a lot of uncertainty, a lot of pain, a lot of restrictions, a lot of fear, a lot of personal sacrifices and a lot of economic woes. But the year also saw many firsts. I have not spent so much time together with my grown-up daughter as much as we spent during the lockdowns. We chatted. We discussed. We debated. We bonded. We argued. We disagreed. We fought. But then we hugged.
In so many years, with our study and work schedules at complete variance, we just never got the time to be together. The year 2020, actually afforded that. My wife and I listened to music together, we watched Netflix with a vengeance, we cooked, we discussed our future plans, we talked and we talked. Hadn't actually done that in years. We were ever so busy.
The year 2020 was not that bad, after all. My only sibling, my sister, is a doctor. She lives in Delhi, and I live in Mumbai. We have always been very close but it was only during the prolonged containment at home that we started chatting on Zoom every day - about us. Our parents. Our families. Our professions. Our hobbies. Our shared memories - and we laughed, and laughed. The many years of living and leading separate lives kind of melted away, forging new warmth. It all happened in 2020.
Forget 2020. What is my single word for 2021? "Normalcy"? The usual, as usual but is it really so?
"Normalcy" is also subjective. 2020 introduced us to the "new" normal. Study from home was normal, work from home was normal, shopping from home was normal, getting food delivered home was normal, being entertained at home was normal - even praying from home was normal. We got used to a "new" normal. We are human.
Is "vaccine" the one word uppermost in our minds for 2021? Most would say yes to that. The vaccine is seen to be the one hope that will bring the world back to its earlier keel, an even keel. But will it? Will the vaccine work? Will everyone who needs the vaccine most get it? Will the vaccine be an all time cure? Maybe - maybe not?
I wrote Future Shock, a book on what next, during the pandemic months. My take for 2021 is simply that the pandemic is not yet over. I may not have words to describe what the year ahead, therefore, may look like. But what will surely help us through our journey in the days ahead is patience, positivity, purpose and prayer.
Source: Business World