Avijatrik: The Wanderlust of Apu
by Shantanu Ray Chaudhuri
April 12 2021, 12:00 am
Estimated Reading Time: 17 mins, 23 secs
It is to the credit of Subhrajit Mitra and his creative and technical team that Avijatrik manages to trace its own path, writes Shantanu Ray Chaudhuri
And it does so with a surefootedness that's admirable, given the lineage it is expected to live up to as a sequel to Satyajit Ray's Apu Trilogy. A train runs diagonally across the frame - the soundtrack alive with the sound of the sitar and the flute. Apu stands at its door, lights a cigarette, looks out at the landscape bathed in a full moon glow - the haunting strains of Apu's flute theme, before the camera comes to rest on his melancholic face half lit by the moonlight. A nondescript station, one of the many that dot Indian hinterland, a lamp light burns pale next to a lonesome bench, Apu, wrapped in a shawl, takes a drag of his cigarette, strains of the flute… his face, as he looks up at the moon draped in folds of cloud, an unforgettable image of wistfulness…
Avijatrik begins with a series of sequences that are not only a throwback to the tenor of its illustrious predecessors (Satyajit Ray's Apu Trilogy) but also provide a template for its own elegiac journey. There's stillness about these, a quiet resonance that breaks through the frames and speaks to you with an emotional power that's quietly overwhelming. I found myself moved like I have seldom been in a film in recent times.
Director Subhrajit Mitra acknowledges the immensity of the task at hand with an epigraph attributed to French philosopher and scholar Bernard of Chartres or even earlier to Priscianus Caesariensis, and most popularly to Isaac Newton: '…on the shoulders of giants.' And the filmmaker is literally doing that here - Bibhutibhushan Bandyopadhyay, Satyajit Ray, Soumitra Chatterjee, Ravi Shankar, Bansi Chandragupta, Subrata Mitra - over sixty years after the last film in the Apu Trilogy was made, viewers and scholars recall almost every sequence from those films even today. Time has not dimmed their potency or emotional and artistic vigor one bit and Avijatrik is up against that. And of course, one of the most iconic closing shots in the history of cinema: Kajol on Apu's shoulder. Yet Subhrajit is clearly not overawed.
The episodic film, unfolding over five 'chapters', starts with Apu and his son Kajol on the way to Dumalgarh Estate where Apu has landed a job as school headmaster, making a stopover at Kashi, before returning to Kolkata, and then to Nischindipur and from thereon embarking on the final one that will take him beyond the confines of the country. In each station of the journey, Apu encounters a character from his past that either becomes a conduit to his memories or propels him to his next stop, fuelling his restlessness and wanderlust. The film, like its protagonist, exists in this nebulous world in-between the past and the future, a project greatly enabled by the quiet dignity and power of Arjun Chakraborty's performance. For, at the heart of Avijatrik, despite its many technical accomplishments, lies what Arjun brings to his Apu.
Soumitra Chatterjee and Apu have been synonymous for generations. So deeply entwined with each other are the two in our imagination that envisaging someone else as Apu is not only impossible but also blasphemous. And therein lies Arjun's triumph and one of Avijatrik's many. Time and again, I was riveted by the aeons of sorrow that he manages to convey with his eyes and the hope that suffuses his voice. Just watch him in conversation with Ranu-di (Sreelekha Mitra in one of the film's two achingly eloquent cameos) in a room in Nischindipur, talking about all familiar faces that are now forever lost. This is the one sequence that for me defines the film and the extent to which Arjun makes Apu all his own. It's he who underscores the stillness and silence at the heart of the film, so much so that when he bursts out singing Tagore's 'Akash bhora' at the end, it strikes the only false note in the film - I was so engrossed in the subtle nuances of Arjun's Apu that it seems a tad out of character for him.
A final word for Supratim Bhol and Bickram Ghosh – both their accomplishments here deserve detailed full-fledged exploration. Cinema is meant for the big-screen experience, I believe, but what Supratim has created in Avijatrik can never be fully appreciated unless one is watching it in a theatre. With his work here, Supratim lays claim to being among the finest cinematographers in the country at the moment. From his choice of the monochrome tone for the film, which harks back to the originals and yet is unique to this film, to that of the aspect ratio, to the way he frames his shots, it's a virtuoso act. Consider, for example, the sequence I have discussed between Apu and Ranu-di in the room in Nischindipur and contrast that with the sequence between Leela (Arpita Chatterjee, in the film's other telling cameo) and Apu in the train compartment. Both are shot in closed spaces and yet look how each stands out in tonality from the other, not to mention that first look of Kashi - a gorgeous top shot of the ghats. In this, he is aided immensely by the meticulous art/production design that creates the era, and of course the work of that other maestro: Bickram Ghosh, who seems to find just the perfect cue for every bit of music in the frames that Supratim conjures.
The music of the Apu Trilogy is as much a character in the films, driving the narrative, and Bickram's score becomes one in Avijatrik. It may have been tempting to try and outdo the original but it's a tribute to his caliber as a composer and testament to his mastery of the art of film music that the score wears its brilliance lightly, unobtrusively. He knows just how much to emphasize to enhance a mood. Take, for example, Apu asking Leela about her old love of painting. The poignancy of the moment in the compartment is subtly underlined by a strain of the sitar, which then segues heartbreakingly to Leela philosophizing: 'In each of us a child has lived and a child has died, a child of promise, who never grew up.' It's a fine example of two pieces of conversation finding the right bridge in music. And Bickram's work here abounds in such nuances.
Subhrajit Mitra's biggest achievement with Avijatrik lies in the way he orchestrates each of these aspects to create a world that echoes and yet is distinct from what he takes off from. And he does it in a manner that is at ease with its pace. He knows that the inward and outward journey of Apu cannot be rushed. Jurgen Muller's introduction to The Best Movies of the 90s (Taschen) is very interestingly titled '20 Camera Shots for 6 Seconds of Film'. We have come a long way from the 1990s, to an era where camera shots per second of film have multiplied, often needlessly so, and the viewer is attuned to a certain narrative pace. It is to Subhrajit's credit that in Avijatrik he dares to go against the grain, letting the narrative dictate the film's pace, and thus giving us the leisure to savor the journey of its protagonist, 'a child of promise, who never grew up'.
Interview with Subhrajit Mitra
You told me in an interaction that the films you have made before this were in preparation for Avijatrik - the kind of film you wanted to make. Could you elaborate on that? How did they prepare you for this film?
The making of Avijatrik, preparing for it, took me almost ten years. I debuted with Mon Amour (inspired by Tagore's Shesher Kobita) in 2008. I started shooting for Avijatrik in 2019. In between, I made five more films: Agunpakhi, three films based on Sunil Ganguly's Kakababu stories and Chorabali, which was based on Agatha Christie's Cards on the Table.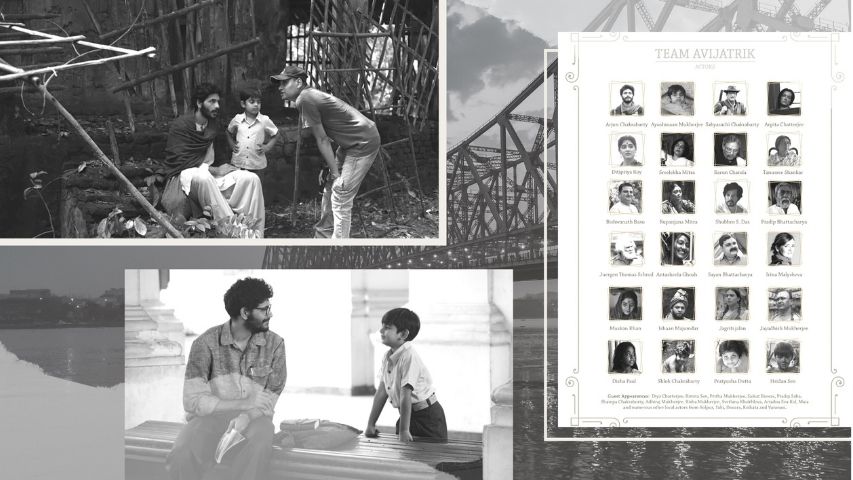 Avijatrik is unlike any of these, apart from that fact that all my films, barring Agunpakhi, are based on or influenced by literary works. I have a fondness for literature-based period pieces. But for a newcomer with no godfather in the industry, it's all about developing connections, building networks and establishing a rapport with a whole spectrum of people to be able to make a film of this magnitude. And it's not just about making the film - there's publicity, distribution, the works. That takes time. Though I conceived the idea for Avijatrik more than a decade back, it took time to prepare myself as a director - after all, I was attempting a sequel to one of the finest trilogies in world cinema. I could not afford to goof-up. I did not want to make a film just for the sake of making one. It had to be a fitting homage to those masters.
The earlier films, the ten years it took me to hone my craft and art, helped me build my core team. A director is as good as his team. I can visualize, conceptualize the most awesome subject, but without my generals, it amounts to nothing. These ten years and six films that went before were also about getting around you people who are technically and aesthetically equal to the task and can share your vision. These films prepared me for not just Avijatrik per se but also trained me aesthetically, technically to make a 'world' film, to expand my vision beyond Bengal and the country.
Were you ever daunted by the fact that you were following up on three films that have never gone out of our collective memory in over sixty years?
I was aware of the importance of these films and the people associated with them. If you are even remotely connected with cinema, there is no way you can escape the weight these films carry. But I was not daunted. I did not want to get intimidated. I was inspired by their work, I studied their work extensively, I have combed the literature closely, prepared myself, and tried to impart my vision to the other technical departments of the film. That was the primary challenge. Hopefully, my vision stands out as an individual one, distinct from all the masters.
Take us through the challenges of bringing Avijatrik to fruition.
I read the novel almost fifteen years back. It struck me that the last third of the novel had not been filmed. I studied all the literature associated with it as also Bibhutibhushan's work extensively to know the finer nuances of his character building and description. To mount a big-scale period piece like this, that too as a sequel to a masterpiece, was challenging. My experiences as a documentary filmmaker helped. I wrote the script in one go, in about a month's time, but the preparation for it took a lot of time. It involved extensive research, as I wanted to incorporate many historical references.
After I wrote the script, I contacted Tathagata Bandyopadhyay, a close acquaintance of mine, and the grandson of Bibhutibhushan. He is a professor of English in a very reputed college in Kolkata. I narrated the script to him. Because he was part of the legacy - his father was also a famous author, Taradas Bandyopadhyay, who actually wrote the sequel to Aparajito, the journey of Kajol. He grew up with the emotions I had scripted. He was overwhelmed and gave me permission to shoot the film. He actually pointed out one thing to me - the particular cigarette brand that Apu prefers. He was very forthcoming with his views and suggestions. I don't want to divulge much about our discussion because that will take away certain elements I want the viewer to experience.
After acquiring the rights, I approached a number of producers. I have had a long association with Gaurang Films. I was casually discussing the idea of the film with Mr. Jalan and it excited him enough to come on board as a producer. Then Madhur Bhandarkar came on board as a presenter as he was a close friend of Mr. Jalan, and also felt positive about my script and narration. It was a huge challenge to recreate the 1940s and we - my art director, my cinematographer, costume designer, VFX designer - had to plan everything to the T from the recce stage. What feels nice about the journey is that I think I have been true to the vision with which I embarked upon it, as a tribute to the masters.
What were the reasons for some of the key creative decisions that you took - like shooting it in monochrome, using Ditipriya Ray in an interesting mode as Apu's wife, or having passages in monologues to convey a mood for a sequence?
As the director, all key creative decisions were my responsibility. Only the director knows the shape of the film in his head well before he starts shooting. Making the film in monochrome was the first thing I decided. When I was visualizing the scenes, I could not see it in color. First, the film is set in 1940 - when you see the visuals of that era, the still photographs, stock footage, subconsciously, one associates the era with black and white. Second, I wanted this to be a continuation of the same imagery, the same visual nuances of the Apu Trilogy, so that it didn't stand out. The one thing we decided to change was the aspect ratio. The original films were in what is called the Academy aspect ratio while we shot in cinemascope because of the visual scale.
As far as casting Ditipriya is concerned, we all know that Aparna dies in Apur Sansar. But she continues to be very much a presence in Apu's life. I felt that without her, the curve of Apu's character would be incomplete. So, it was a creative decision to include her, and yet do so in a surreal manner. I wanted a 'young bride' look and I found that in Ditipriya, a fabulous actor, whose eyes speak volumes and whose silences convey a whole world of meaning. She has what we in Bengali call 'maya' - mukher moddhe ekta maya ache.
Regarding the monologues, Apu is a writer and philosopher. Through his writing he expresses his ideas of life and death. This is for him as much a journey outside as it is within. To convey those aspects, it was a creative decision I took instinctively. I approach the writing from the heart, and what works for me from that emotional point of view. All the calculations of the mind come in during the pre-production and post-production, not during the scripting or actual shoot, which for me is intensely intuitive.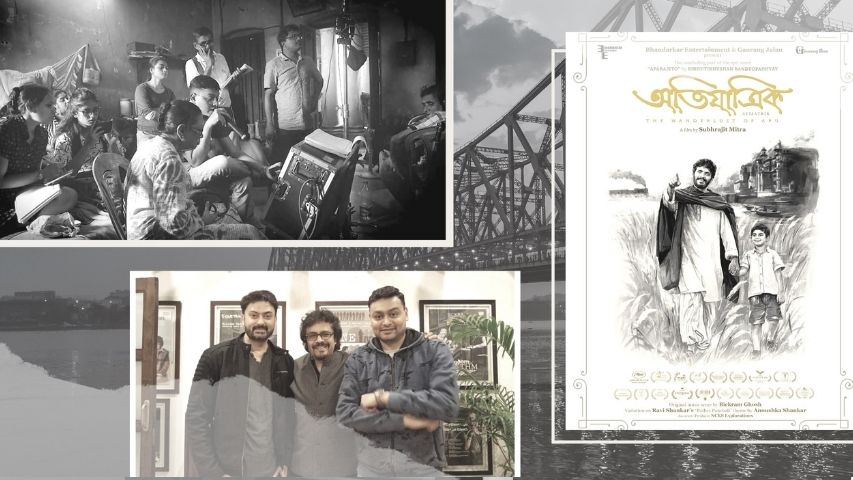 What were the specific challenges of creating Kolkata and Banaras of the era today?
It was a humongous task. During pre-production, I researched every single detail. Every little detail you see in every frame was sourced on the basis of my research, from visual references. Then these were shared with the various departments - cinematography, art, visual effects, costume. Costumes were a special challenge - to create the fashion of the era, the cuts of the dresses, the texture - since this was to be a black and white film, everything had to be back-calculated, the color scheme, rather the grey-scale scheme.
Three things stood out for me - the cinematography, the music and Arjun's performance. Could you speak about you as a director underlining these, for example, Arjun's face and eyes conveying a world of pathos and hope at the same time, your inputs and collaboration with him, Bickram and Supratim?
I collaborated with Supratim in Chorabali in 2015. We interacted regularly and he was part of my conceptualization of Avijatrik right from that time. It will not be an exaggeration to say that we had so many interactions - he knew every frame by heart. It's a phenomenal job. And it shows on the screen. His aesthetic sense, his take on lighting every frame contributed immensely to the look I wanted. This will go down as not only one of his best works but also one of the best in Bengali films as well.
Regarding the music, what can I say about Bickram-da? He is an institution by himself. Among the first things that came to mind when I decided to make the film was to have him compose the music. And it was through him that Anoushka Shankar came on board and played her tribute to her father. We all know what an important part the music plays in the Apu Trilogy and I think only a Bickram-da could do justice to that. He brings with him a very profound understanding of film music. I ended up learning so much about music during the making of the film. I had very specific ideas about the mood I wanted to convey, the sound and the instruments I wanted to hear. I shot the film with that in mind. After he watched the film without the music, I asked him to tell me the in and out point of each music piece. I had it in my mind all right but I asked him nevertheless to judge myself. Had I been able to convey the emotion through my frames, my visuals? Interestingly, Bickram-da pointed out the same sequences and points that I had in mind. His humility, his openness to suggestions, despite his stature as a maestro floored me. To say that his contribution enhanced the film will be an understatement.
And about Arjun's performance, I simply cannot say enough - Bickram-da and Sohag-di (Sohag Sen) played an important part in his casting. They asked me to meet him. He was clean-shaven at the time. He had a boyish charm about him. I asked him to grow a beard; he came for the screen test. I was convinced that he could pull off Apu look-wise. It was at the workshop Sohag-di conducted that I realized that he could actually transform into the Apu I had in mind. The workshop helped him get to the core of the character keeping in mind the period, the body language, the way people spoke in that era; he had to acquire those qualities. You make a valid point about the look in his eyes; we paid great attention to those aspects for every sequence in the film - the way he would cast a glance, the way he would react. He added his own inputs in terms of his understanding of the character. Then it was up to the editor to build on those moments.
Were you ever worried about the film's pacing running against the grain of today's audience? It works beautifully and you have found the perfect pace and rhythm but are you worried about today's generation warming up to the leisured pace?
I won't say I am unduly worried about the film's pace and whether this generation will have the patience. I believe that if you have the conviction and you are truthful to your art, if you make the film with passion and honesty, it reflects on the screen. There are people who will appreciate a good film, good art, who will connect through you, to you, irrespective of the generation. I made the film with all my heart, and I think all my technical and creative associates approached the film with the same kind of passion. And I think I have succeeded in conveying the underlying emotions the way I wanted.
A work like this is bound to change its maker in many ways - how has the experience changed you?
This has been a very personal journey, with a lot of changes in my approach to life and films. I lost my father during the journey. He knew I was making the film but he could not see it. We lost Soumitra kaku too - I could not show the film to him. These are certain personal regrets. But like Apu, we keep journeying through life.