FLASHBACK TO FORWARD
by Aparajita Krishna
July 1 2022, 12:00 am
Estimated Reading Time: 20 mins, 51 secs
Today Aparajita Krishna is under the spell of stories of the past and present of Producer, Director Vinod Pande, Thespian MK Raina, Cinematographer Dharam Gulati, Radio Jockey and Lyricist Vijay Akela and Actor Manasi Racch.
Then & Now! This article is an account from five noted professionals from the field of Indian cinema, television, theatre, modelling. It gives a peep into their earliest, past works and the one in the making, or, just completed. Each tells us of recall-flashback and also of the present work just completed or engaged in.
VINOD PANDE - Producer, Sirector, Writer, Author
Then (August-September, 1978, London-Bombay): If Murphy's Law had gotten a grip over me, so had God's conspiracy to pull me out of each moment of my distress, and often drop me into a crucible of creativity. After trying various sources for well over a year to help me with money to make my first feature film, Ek Baar Phir, I had reconciled to take a plunge on my own with my meagre savings. Since each penny mattered, I was very thrifty with my spending.
In August 1978 I was in Bombay recording the songs of my film under Raghunath Seth Ji's baton. I was also on the lookout for the main actors. I had come in contact with Farooq Shaikh who had suggested two names for the role of Kalpana. First, I met Smita Patil, who seemed a little reticent about doing the reading as perhaps she was already doing a few films. I suspect that it was for almost a total absence of my credentials, being a greenhorn myself.
The following day, Deepti Naval came to meet me. My heart raced as soon as I saw her. She seemed to step out of the pages of my script. When I asked her for the reading, she agreed for it right then. She ended up reading and performing almost all key scenes one after another. But I didn't say the word even then. I was to dine at the leading film star Rajendra Kumar Ji's place and she too was going back to her pad in the suburb. I suggested that we could travel in the taxi together and perhaps she might like to say a 'Hi' to Rajendra Ji and his wife. She agreed. Actually, it was a ploy on my part to obtain their reaction about her candidacy. I also wanted to obtain another opinion from my composer, Raghunath Seth Ji, and his wife who lived down the hill in Worli. Their reaction was palpable. They whispered to me unequivocally in the other room, "Vinod Bhai, yeh hee hai… yeh hee hai."
Though Rajendra Ji and his wife seemed less certain, as their mind was more about glamor, I had made up my mind. But, while I took my time in conveying it to Deepti, she wouldn't let her enthusiasm about the project diminish even a little bit. Each morning she would call me, enquiring as to what was my plan for the day for Ek Baar Phir related work. She helped me almost like an assistant in meeting various actors for other parts.
For film star Mahendra's role, Kanwaljit Singh had come to meet me, but had expressed his inability because he was expecting to be launched by the duo of Salim-Javed in a big film. He suggested Suresh Oberoi. On the telephone, Suresh said that perhaps he won't fit my requirements because he doesn't look like a star at all. That intrigued me and I said, I'd like to meet him nevertheless. Next day in the afternoon we saw a couple of commercials and a short student film of his that he had done for the FTII, Pune. Both Deepti and I were hugely taken in by his cool performance. I arranged to do a reading with him the following day. It turned out to be the same experience as was with Deepti. One after the other we ended up reading almost the entire script and he performed to the 'T'. The next day I declared to him that he was on.
For Vimal's role, the choice was proving to be tricky. Though Farooq Shaikh had come to meet me, he had apologized at the outset for he was on an exclusive contract with Mr. Yash Chopra for first doing his film Noori. Deepti had taken me to meet Naseeruddin Shah, who was much in the news at the time, but he seemed rather indifferent. Somewhere, I was counting on an aspirant who had come to meet me in London. I wanted to economize and was keen to take someone in London itself. But my 2nd test with him proved convincingly that he was not Vimal.
By this time Deepti had come to London. She had charmed me even more by offering to bring a suitcase full of new sarees and salwar-suits, of her newly married elder sister, for her costumes in the film. She had also brought from Bombay the photographs of another FTII graduate Pradeep Verma, who to her seemed perfect. To me the pictures told a different story. He seemed a glamor-stricken swashbuckling chap, all wrong to what I had envisioned as a simple unassuming character. Deepti said in real life he was exactly that.
I ended up doing a sort of telephone test with Pradeep on a long-distance international call. The amusing apology of a test lasted some half an hour. At the end I asked whether he had a passport with him. He did not, but offered to get it in two, three days' time. I half-heartedly asked whether he can travel to London within a week. Promptly, he said "Yes". I told him to contact Rahi Masoom Reza to pick up his air ticket. Rahi Saheb had become my honorary point person because I had already selected another FTII graduate as my cinematographer, Nadeem Khan - his son, an invaluable asset for my film. He had already come to London for a recce etc. and had also recommended Pradeep who was to become yet another asset for Ek Baar Phir.
In October/November 1978 when we were shooting the film in London, the date for the picturization of the song "Yaad unki dil se jaati nahi hai, jane yeh mujhko kya ho raha hai…!" (in Bhupinder's haunting voice) got postponed at least three times, all because I had visualized a vast span of Hyde Park covered with fog. But the fog was not showing up. We could not afford the artificial fog machine. On the planning of the fourth date, when I said that we should check the weather for the following day, Richard Green, the young South African Production Manager, lost his shirt on me and barked, "Vinod, if you cancel this time, I am not going to fix it thereafter, not unless you arrange for the money for fog machines."
Later when all my colleagues had gone and I was alone in the middle of the night in my small pad, I started screaming and crying on top of my voice. I cursed God. Couldn't he favor me with a small request, to send fog for us! Early next morning I was woken by Richard Green who whispered in a cryptic voice, "Vinod, just peer out of your window." Gosh! It was unbelievable. The entire London was covered by a thick blanket of fog.
Now, there was a scramble to get to Hyde Park the fastest. The technicians and actors were pulled out of their beds to rush to the location. It was a race, but we completed our filming. The fact that I could not take the last few close ups and had to settle with the master shot for the last action of Deepti Naval coming up to Pradeep Verma, became a blessing in disguise. The long master shot has that poetically lingering quality that comes rarely. All because of the outstanding actors I had and the camera was handled by the highly gifted Nadeem Khan who has a masterly hand for zoom.
Now: My flirtation with setbacks was never to end. All through the forty years after settling back in Bombay (now Mumbai) and making a dozen movies, a few TV serials and short films, authoring three novels, launching a network etc., impediments, lean periods, denials and despair were a constant. That brings a certain obstinacy in many, especially those who have to cradle their own projects financially. I was a veteran of making at least five feature films on my rainy-day money, hence the habit was not alien. What I was not familiar with was the thickets of the marketing and distribution jungle. Thus, I found myself high and dry to carry the can with my latest completed film, Undertaker (2021). With no star names and no studio to back it, I was really in the cold this time. But as they say, 'Neccesity is the mother of invention.' The waning madness with the subscription-based OTT modules was already showing green shoots elsewhere. Though an extremely primitive space right now, the Video On Demand (VOD) module seemed to be a glimmer of light at the other end of a very dark tunnel.
The ennui due to the glut of sameness on most of the OTT outlets was hinting at an opportunity to experiment with my other quest; to create a cooperative platform for indie-filmmakers for thought-provoking self-financed films. One thing that I had learnt was that no solicitation for money works when you are in a lean period, hence the only mantra is, 'don't whisper a word, just shoot'. We have already launched our own small on-line theatre, saajhacinema.com – a Vinod Pande Entertainment Organization initiative. Pay Rs. 49/- online to buy a ticket and the film is yours for 72 hrs.
M K RAINA (Theatre Director, Film and Television Thespian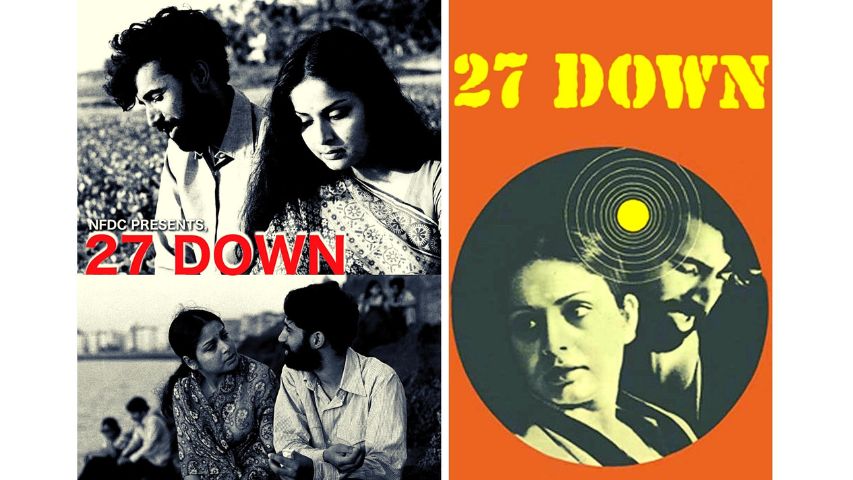 Then: 27 Down, a 1974 film by Awtar Krishna Kaul, was my first feature film as an actor. This was after graduating from the National School of Drama, Delhi. That was the period when parallel cinema in India took big steps. There was state support, though limited, and people did make meaningful films with the tiny budgets given by the Film Finance Corporation of India (FFC).
I was in Delhi doing theatre when suddenly I was introduced to Awtar by Ramesh Bakshi, the Hindi writer of a novel by the name of Athara Sooraj Ke Paudhe. Awtar was making his first film with the support of FFC. It became famous by the name of 27 Down. Meeting Awtar was meeting a very educated person who was equally interested in theatre and cinema. He had seen the best of the world of theatre, music and films while studying cinema in New York University.
Opposite me was Rakhee, a film star of Hindi cinema. Most of us were working on the first film in our lives except Rakhee. We all wanted to give our soul in the making of this film. For almost two months we were travelling in trains and shooting scenes. 27 Down was actually the name of the train plying from Bombay to Varanasi. A metaphor of the theme -travelling from a highly commercial Bombay to a spiritual space that was Varanasi, an ancient city of faith and of Indian philosophy. A travel from living a mechanized life to the space of liberation of mind. A travel where the tracks are already laid for you and they cannot be changed or altered by customs, tradition and duty. Sanjay, my character, is caught in this world of already laid tracks. His personal desires of love and art are crushed in this life of travelling across the signals only.
We shot in the Bombay slums of Bhayander, Benaras etc. Working with a film star in my first film was a bit tense at the beginning, but I was soon relaxed. Rakhee traveled and shot in the running local trains with the unit. What I remember is the determination of Awtar Kaul in the making of this film. There was no question of any compromise. He seemed possessed with completing the film, which he did. But unfortunately on the evening of the national awards announcement he met with a sea accident and lost his life.
The film received national and international awards without its maker being present to receive them. The evening the film got the national award he had left the world. He had written me perhaps his last letter. He wrote that the government is not giving him an air ticket to travel to the Locarno Film Festival. 'My film will be there like an orphan'. Ironically exactly that happened. The film received the Locarno Award, but nobody was there to receive it. I remember him advising me to keep doing my theater and that when he makes some money he will fund my plays. After his passing away I have not been able to make a relationship with Bollywood. I come, do my work and leave immediately for Delhi and I continue doing my theatre.
Now: My present work is Tanaav which will stream on OTT. It is directed by Sudhir Mishra. Then there is a feature film directed by Rajat Kapoor. I cannot write about these as we have signed confidentiality in our contracts.
My last film was Exchange Offer (2020). It was a short film that won a large number of international awards. It was directed by Saunak Mitra. My last play was in 2019, The Great Trail, based on the sedition case of Gandhi during the British times under 124A act. It was designed and directed by me. Ironically the Act is still being applied in India on all kinds of people, like the human rights activists and social workers etc. Gandhi read out a statement then in the court, which is considered a great piece of legal defense ever. Every LLB student is supposed to study it. This play I did before COVID; after that theaters were closed. Now recently theaters have opened for public performances. So I'm planning a new production soon.
DHARM GULATI – FTII Alumni, Cinematographer
Then: Kahkashan, a serial on poets, was directed by Jalal Agha and shot by me. It was telecast on Doordarshan in 1991-1992. The poets whose names featured and who were profiled were the likes of Majaz, Firaq Gorakhpuri, Maqdoom, Jigar Moradabadi, Josh Malihabadi. Jagjit Singh gave the music and sang most of the ghazals. There are two CDs of ghazals released. Jagjit Singh's son died in that unfortunate accident just before he was to record Maqdoom's ghazals. We were going to Hyderabad to shoot the first episode of the serial. We had to cancel our shoot as we did not have the songs. When Jagjit recovered a bit from the trauma, he recorded the first song. But he did not sound like the original Jagjit. That song is there on the CD. Slowly he came to terms with that loss and got his voice back.
Irrfan Khan played Maqdoom, Farooq Sheikh played Hazrat Mohani, Parikshit Sahni played Josh, Zutsi played Jigar Moradabadi, Manohar Singh played Firaq Gorakhpuri, Rakesh Pandey played Majaz. It was a period setting so I used a lot of low-key lighting. We had a party after the Hyderabad schedule and Jalal invited the local lighting crew. Jalal asked them about my work and they replied 'candle light cameraman sir'. There were very intricate scenes shot with candle lights and lanterns. I took it as a compliment. It felt really nice. We used a lot of slow zooms and trolley movements while shooting the songs as the pace and the mood was always somber. It is available on YouTube in parts. We shot on Highband Umatic. It came out pretty well even with the limitations of Umatic's dynamic range.
On Ketan Mehta's film Aar Ya Paar (1997) I was the DOP (director of photography) and for Ramesh Sippy's period television serial Gatha. For the film Road to Sangam (2010) I was the DOP and the associate director.
Now: My latest work is the film Sehar, to be released soon. I am the DOP and associate director. Pankaj Kapoor is playing the protagonist. The subject is about a Kashmiri Hindu Pundit trying to save the Urdu language, which is going out of the college syllabus. He has done brilliant work. It was difficult to shoot on the roads of Lucknow with a known face like Pankaj. We shot in an old printing press, which was deep inside the narrow lanes of old Lucknow. It was difficult to take the generator inside. I managed to shoot using ordinary bulbs and a minimum number of lights.
I have written a script now. Looking for a producer.
VIJAY AKELA - Radio Jockey, Lyricist, Poet, Writer, Journalist
Then: As a college student in Patna, I was trying my utmost to get connected with films as a professional. My curriculum also included listening to film songs, watching films. One ran the risk of being a butt of jokes if one were to openly declare one's secret ambition. It was a social dilemma. To get connected with theatre seemed a more respectable choice.
No one in my large family was even remotely connected with theater or the arts. They were engineers and doctors. My paternal grandfather was a farmer. He would from time-to-time hum songs that would be written by him. As a child I would wonder how he makes up his songs. As it happened, I got caught cheating while giving my college graduation exams (1986-1987) and got rusticated. I straightaway landed at my college professor Dr Shankar Prasad's residence. He was our Hindi professor and associated with the reputed theater group Madhyam. I told him I did not intend doing further studies and instead wanted to join his theater group. He told me to get onto the battlefield and join the rehearsals underway.
I got a small role in a play directed by Dr Harendra Prasad Sinha. My legs would shake, I'd stumble into making that small appearance. That was the first step. In two years I grasped acting and became confident. Soon enough Dr Harendra Prasad Sinha was appointed as the director of the art-and-culture department by the Bihar government. In 1988-1989 he recommended me for a workshop in Patna University. I also got selected from Patna University to partake in the youth festival.
I got further associated with nukkad-natak - with the plays of Safdar Hashmi, the works of Premchand, Makhdoom, Faiz, with protest theater and activities like Patna-bund/strike. They showed me the way ahead and I became more and more distanced from my family. The thought of going to Bombay, my goal, goaded me. Just then in 1989 Prakash Jha ji (film, television director-producer) came to his home-state with the intention of establishing a local film industry. He held his first meeting with around 5-6 people and I was included.
On my scooter I would go all around Nalanda and distribute pamphlets regarding the upcoming cultural convention. It was very successful. Later Prakash Jha made a tele-film. Vidroh, in which I acted. I was the location-in charge. He had groomed me and others for 5-6 months. That included attending the film appreciation course at FTII Pune. In the meantime, I got admission in Bombay University to study literature. I informed Prakash Jha ji. He was taken aback. He wanted me to help and be a pillar of strength in his endeavour of setting up the film industry in Patna. I was looking out for a new sky and horizon. I landed up in Bombay university.
The poems of Sarveshwar Dayal Saxena and Pash gave my young and turbulent life a new direction. I did the play 'Dono Maare Jayenge' by Asghar Wajahat and then Aurat. Those were troubled times in Bombay. Communal tension was in the air. The university vice-chancellor did not approve of my cultural activities and seized my books and clothes. I then started doing film journalism. My articles would get published every day. People would be surprised at my film knowledge. Once while sitting in Laxmikant Pyaarelal ji's music-room I recalled all the songs, lyricists of the film-trophies that were displayed there. By now Aamir Khan had become a friend. I was instinctively gravitating towards lyricists, music directors, singers. Soon veterans like Kaifi Azmi, Anjaan, Indivar, Majrooh Saheb, Anand Bakshi, Javed Akhtar Saheb all started to recognize me. I also realized that the poet in me was now assertive.
There were days when there would be petrol worth just ten rupees in my motorbike and not a penny in my pocket. And I would be pursuing love and romance! The Bombay monsoon rains camouflage your heart-break-tears. No one can tell if your eyes are crying tears or the monsoon is shedding rain. Ishq sisakta hai pehlu mein//Hasrat roti rehti hai/Jaane kaisa shehar hai Mumbai/Baarish hoti rehti hai.
It was during this spell of my life that I lifted my pen to write poetry. I met a guru in the form of Arshi Hyderabadi. I became a poet. I had a friend working in the radio, Shehnaz, who would later become my wife. She suggested that since I had a good voice I should try radio broadcasting. In my first attempt with AIR, which had just one FM, I became an RJ. I undertook countless interviews of personalities like Asha Bhosleji, Lata Mangeshkarji, Gulzar Saheb, Aamir Khan, Sonali Bhendre, Javed Akhtar Saheb. I also got a job with Dubai Radio, but to continue staying there did not suit me.
In 1998 as a radio-jockey I interviewed Rajesh Roshan at his home. A lyricist was writing at the music session taking place. Later in confidence I mentioned to Rajeshji that if this is called song-writing then I too know the art. He gave me the tune of Ek pal ka jeena. I wrote the lyrics on the tune. The film was Kaho Na Pyaar Hai.
Now: In the present I am working on three projects. One is my own film that I am progressing with. I think after the monsoon of 2022 I will be able to start the shooting. The film is titled 'Ye duniya agar mil bhi jaaye toh kya hai'. As a lyricist I am in meetings everyday with Jatin (Jatin-Lalit) Saheb. We are making songs for new films. My latest song playing on the channels is 'Daure siyasat daure jam/hothon pe allah shriram'. Sayed Ahmed is the singer. It is for the film An Idiot And A Beautiful Liar. It will be released soon. Asha Bhosle ji has sung a mujra. Time has taught me that the real hero is not the actor, but the writer.
MANASI RACHH - Actor, Model
Then: My first proper advertisement was for McDonalds. Nitish Tiwari, the Dangal fame director, was shooting it. We were shooting a night shift during winter in Mumbai in Ballard Pier, one of those very few times when it gets quite cold in Mumbai. In the advertisement film it was supposed to be raining. So, they had got rain-machines. We kept getting soaked at the shoot. At one point I remember my mouth was quivering. But it actually worked for the film. The act was when this boy asked me out on our first date, and the quivering felt like I was coy and nervous about that. Nitish really liked it and he even retained it in the advertisement.
Now: Sometime ago I wrapped up shooting for a web-series in Lucknow. Rangbaaz, season 3. One of the schedules was in December, when it was extremely cold again. This time we did not have any rain-machine luckily. While we were saying our dialogues, there would be smoke coming out of our mouths. The entire crew was in jackets, sweaters, mufflers and even gloves. And as luck would have it, it was supposed to be summer in the web-series. So, I was given a thin cotton salwar-kameez with open chappals. Needless to say, I started shivering again. Although I have realised over the period of time that sometimes when you are totally immersed in the scene and not focusing on how cold it is, the body starts regulating itself and so I would stop shivering. As soon as the director would say 'Cut', my focus would shift back to the cold, and I would start again. Lol! I think like they say, It's all in the mind eh!
And thus their past and present walk and work into the future…