Journey of a Passionate Tale-Spinner
by Janaky Sreedharan
February 15 2021, 12:00 am
Estimated Reading Time: 6 mins, 52 secs
Janaky Sreedharan presents Nabanita Deshmukh, a storyteller who follows a unique process to engage with children.
The last I saw her was in Jawaharlal Nehru University, New Delhi as my neighbor in the Godavari hostel, as a brilliant student of French in the School of Languages, as a competent athlete and a person of remarkable integrity. Today, more than thirty years later, Nabanita Deshmukh is a compelling storyteller for children and a passionate trainer of schoolteachers. As an erstwhile schoolteacher with twenty years of experience, she has drawn creative energy from her students, impelling them to soar on the wings of stories to learn more joyfully. Like many a children's writer her art of weaving a long yarn was honed as a mother to appease a son ever hungry for tales. But storytelling skills became a natural ally when as a teacher she could transform a 'dry' fact-ridden subject like Geography into a live, pulsating story of this earth.
Her book The Disappearing Beach is a striking example of how a skillful narration can fire the imagination of upper primary children to relate to this green planet in more wondrous ways than ever. In the days to come Nabanita's tales will be the lifeline of an ecosystem sinking under sheer human vandalism.
A child's wisdom shapes the arc of her story. "Children are simple and practical. Oh yes! They look at pollution for example and do not question how it came about, they see it exist and want to know how it will go away." Being a teacher helps her to resonate with their modes of perception, thinking and sensitivity. You cannot wish away their questions. Nabanita continues: "They ask, 'If I walk to school will pollution decrease? Or, if I throw garbage into bins, will the river beside my school remain clean?' I am always surprised at the way they see things and want to help." So the process is open ended, reciprocal and an evolving one.
Her stories have come out in magazines as varied as Chandamama, Bal Vihar, Minnaminni, Children's World, Children's Digest, Teacher Plus etc. and in almost all the prominent English dailies in India. Recently she published her stories in eight books through Children's Book Trust, Pratham books and Teri.
Interestingly, the narrators are often mothers who blend cooking and home teaching while clearing the little ones' doubts on volcanoes and garbage issues. You can feel the mythical resonances in these stories even as archetypal figures like monsters are given a contemporary makeover in our eco-challenged times. Familiar and strange worlds are interwoven to keep the curiosity quotient alive even as new horizons of knowledge open one by one. Retelling how paper is recycled through the tale of Pappy the Paper Sheet or narrating the story of the Barren Island in the Andamans as a dragon mountain speaks of her resourceful mixing of genres to transfigure a world of information into a saga of adventure. She introduces the criminal world of poaching through the sleuthing journey of two young boys who end up nabbing the looters in the story "The Missing Hornbill Feathers".
Her stories turn our human-centered logic on its head by bringing in an interplay between humans and animals, in the age-old rhythm of cohabitation, which we lost somewhere along the way much to our own peril. Delightfully humorous, witty and naughty, the telling is richly lit up with the colorfully magical illustrations, which have always been the soul of children's books. Those lush pictures will take you back to the visuals you still cherish from the tiny books you curled up with in those early days of reading. In her hands even grammar can become pure fun as in the story 'The Neglected Semi-colon' where the identity crisis of a sad semicolon is told so imaginatively.
Of late this writer has moved from writing for the young to penning fiction for teenagers, which has proved to be quite demanding. "I literally had to get into their skins, read the books they are reading, listen to conversations they are having, diplomatically ask them to fill up questionnaires in class to gauge their comprehension, reading levels and interests." That might not be too hard for Nabanita, herself being educated in Sri Aurobindo International Centre of Education and trained early on in life "to think out of the box and create original work."
What sets her apart is that she is a writer always on the move. She gathers tales through her sojourns and work among the tribal children in the North eastern parts of India, especially in Arunachal Pradesh; in schools like Intaya Public School, Roing, Arunachal Shiksha Valley School Dibrugarh Assam and Anu Shiksha Seva Trust (Asset) schools Wakro, Arunachal Pradesh. This experience has broadened the terrain of her stories from urban and rural to the forest regions of India. It has also alerted her to the dangers of story erosion among the tribal communities, which is a grievous cultural amnesia. It has been her mission to retell their stories in English, give them back to the tribal students and make them feel proud of the precious legacy they have inherited. "My idea is to put myself in the background and make the story important so that it pulls kids and readers back to their own heritage."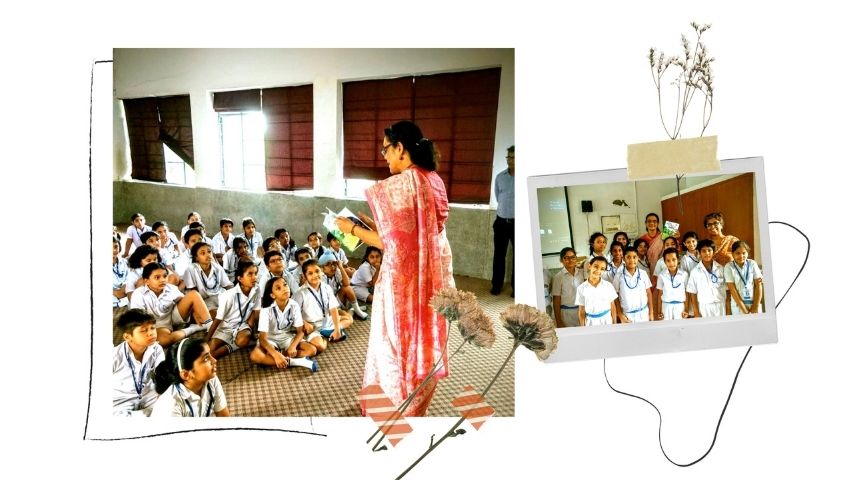 A lot of earnest thought goes into the making of children's literature in India today, as the publishers do not confine their reach to English language alone. Nabanita elaborates: "Once the kids see these stories in print with beautiful illustrations, they use and adapt them by doing skits, retelling the stories in their own words. My publishers ensure that the stories are also translated into numerous languages, so that children can understand the overall meaning." This recovery of indigenous wisdom is surely a two way process: "I have learned different modes of storytelling because the communities we deal with use an oral mode of storytelling. There are communities that use sounds more, while others use movements, mimes. a few storytellers use twigs, grass and other objects specific to their village, clan or location. There were people who used face paints to represent different characters."
Nabnita's storytelling mission has been collaborating with library projects, imaginatively conceived by a person like Sathyanarayanan Mundayoor, known as the father of Library Movement in Arunachal Pradesh. Revitalizing library spaces can be rejuvenating in a digital age. Relationship with books is not cerebral, but kinaesthetic. "The smell of paper, the fluttering of pages, the pride in owning or borrowing a book from a library create a unique reading experience and we strive to nurture and maintain a reading environment that would get children to books or vice versa." And we live in a country where there still are limits to digital learning. "We work in remote areas with erratic power and signal problems. These push kids naturally to books, which is a good sign."
Nabnita is particularly happy with the enthusiastic feedback from the parents of her young readers. And in the interactive sessions in schools, which also double as book launches she is energized with new ideas and thoughts from children. There was a time when readers rooted for books from the west, but she is confident that the scene is looking up for Indian authors. The growing quality of printing and illustrations is winning over more book lovers and the publishers are going for innovative moves like using recycled paper, giving minute attention to book production. Children's literature in India is more vibrant than ever with the social media also pitching in to promote authors and their latest work faster than before. But for Nabnita, writing and travelling for tales is more than anything a story of her personal growth. As she puts it most tellingly: "Travelling to remote areas of the northeast, the Himalayas and the jungles of western Odisha has broadened my horizons and made me a better person. More humble. I have gained more empathy and tolerance.."