The Joy of Photography
by Khalid Mohamed
April 23 2021, 12:00 am
Estimated Reading Time: 7 mins, 12 secs
Khalid Mohamed in conversation with multi-media professional, indie-filmmaker and still photographer Arin Paul on how to see through the naked eye and grab the moment.
Quite impulsively, some two months ago I initiated a Let's Celebrate Photography group on Facebook. Scores of such groups -international and Indian - devoted to the art of image making, proliferate Facebook, which has been a learning experience for me, especially in the domains of street and experimental photography.
Thrilled with the images, which are a such a welcome respite during the ongoing stay-at-home days of the pandemic, they transport you to the everyday lives of the city and rural people, unseen vistas, besides exposing me to the ways of seeing by different lensperons, which I wouldn't have otherwise been privy to during this lifetime.
The posts of Arin Paul, who just turned 41, made an instantaneous connect, taking me to diverse parts of India. The work of the multimedia professional and indie filmmaker now anchored in Mumbai, struck me as raw and real as it gets. Ergo, I extended our cyberspace interaction to make contact over the phone. Over, then, to excerpts from a parlez-nous with the clickster:
You are a multi-media professional - involved in ads, shortfilms, documentaries and even made a feature film 10:10 - featuring Soumitra Chatterjee as an ageing mafia don - as an independent filmmaker. Is there any specific source which inspires your still photography?
My father, Abhoy Paul, was a photographer. I guess it was inborn or as said, in the blood. He had his own photo studio and lab in Shillong.
Also my maternal grandfather, Dr Atanu Bihari Goswami, was a photo enthusiast. Though he was the Director of the Geological Survey of India (GSI) he was very passionate about photography and cameras. He owned a beauty named 'Iloca', a Pentax, the now vintage Kodak box camera and a Comet 22 Super 8mm camera. He used to travel extensively, often in my winter school holidays, the length and breadth of the country. So I guess photography comes naturally to me, devices have never mattered. If a shot looks good through the naked eye it can be captured.
Also, being a filmmaker helped me going to places where usually as a tourist I might have never gone. That helped me capture some raw beauty, be it people or nature.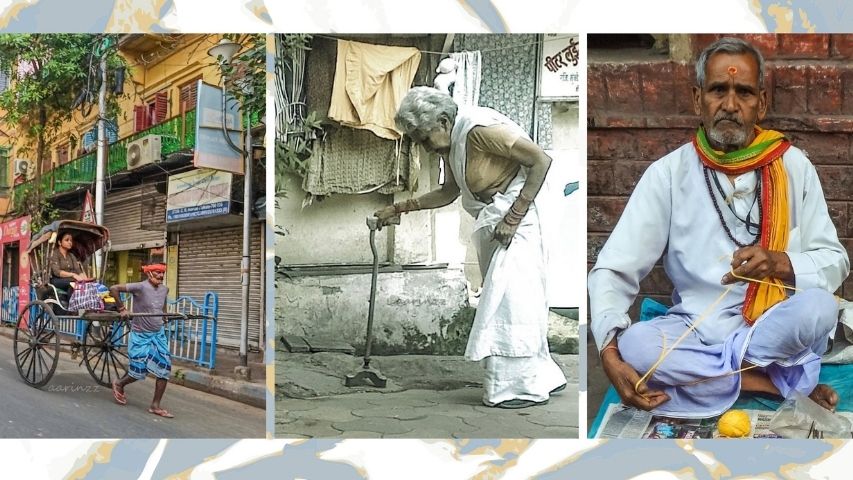 You've lived in Kolkata, NOIDA and now Mumbai? Which city have you found the most fascinating to photograph and why?
Shillong also. I spent my early years in Shillong. It's difficult to pick one city as the most fascinating. Every city has a personality. Kolkata, particularly North Kolkata, gives you an amazing perspective on the old days: the architecture, the trams, the alleys, the aristocratic mansions with vintage windows and large pillars. The piers (ghats) too are such beauties along with the Kumortuli where traditional potters manufacture idols. The people, the markets, the maidan… the list is endless.
Mumbai, is given an absolutely different canvas. It has a distinctive ensemble of Victorian and Art Deco buildings, beaches, people, caves, forts and so, so many others. Similarly, Delhi too has its allure. But what I find most interesting is capturing the expressions, people, moments, objects. These bring a smile to my face.
Would concentrating just on photography keep you financially secure?
I have never concentrated on photography as a profession. I have been capturing photos mostly out of a natural instinct.
Could you tell me about 10:10 and why haven't you made a feature film since?
That is my debut feature film in Bengali. Before that, I had made another film, Sabdhan Pancha Ashche (Beware, Pancha is Coming), which remains unreleased. After 10:10, I was working on a number of film projects that just didn't materialise. So, I moved to TV, short films, documentaries, web series and advertisements, keeping myself open to opportunities whatever the medium be.
Isn't it frustrating to upload most of your shorts, documentaries on YouTube?
See, short films have given me freedom of expression and creative satisfaction. No one can intervene or change what I want to portray. Uploading my short films and documentaries on YouTube and other social media isn't frustrating, at least not for me. Also, these days with the advent of OTT platforms, avenues for short films and documentaries have expanded. Earlier I wouldn't even enter them at film festivals but gradually I started to and the response has been overwhelming.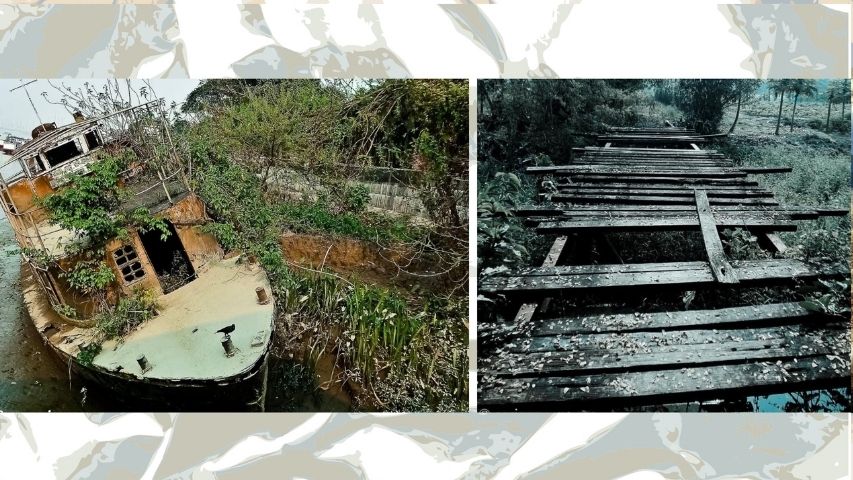 I'm particularly fascinated by your image of the man with the gun and a woman besides him… where and when how were these shots taken? Were your subjects okay about being photographed?
Around December 2012, in Kolkata we had a photography group on Facebook. Those images were clicked during the group's first in and around New Market (Sir Stuart Hogg Market). There are a couple of gun shops in the Dalhousie area, a little distance away from the market. I saw this couple travel in the iconic hand-pulled rickshaw - the man was holding that gun with much pride, which instantly hit me. I had a Sony Cyber Shot DSC-WX7 Point & Shoot Camera back then. There was quite a lot of traffic on the road. Initially, when I started clicking them, the man smiled and looked quite happy. All it took was two or three minutes. After the first click they seemed comfortable and didn't raise any objections.
Which genre of still photography is the toughest and most creative?
If someone is deep into any genre of photography then it does not remain tough, rather it becomes challenging. I feel Wildlife photography (including Bird photography) is one of the toughest because it requires loads of patience and time. I would also rate Photo-Journalism and War Photography in the same bracket. Portraits, Fashion, Sports. Macro (close-ups of small objects and living organisms) and Food photography, I feel are the most creative. As for, Street Photography it can be quite iffy or chancy, in just a split second one can lose a great moment.
Your images make the strongest impact in your photography - how do you catch the moment?
This happens to me all the time when I am on the road or shooting or even eating. It sometimes also annoys the people. It's basically 'observation'. The more you observe things and moments out there the more you get your images and stories. It applies to filmmaking also. Observing people helps you build varied characters on screen.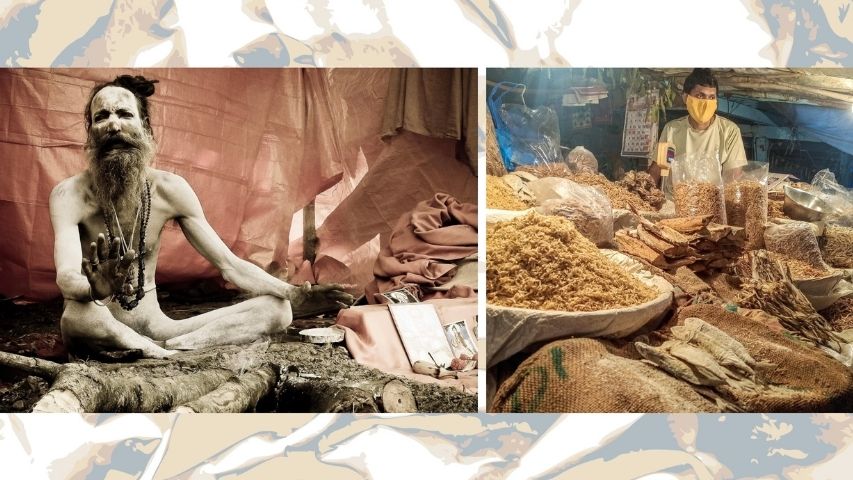 What equipment do you use apart from smartphones?
Oh, they were all cell phone cameras (Nokia, Blackberry, Micromax, RedMi), besides a Sony Cyber Shot DSC-WX7 Point & Shoot Camera which I used for nearly four years before it rested in peace.
Which photographers - Indian or foreign - would you say are your influences?
Henri Cartier-Bresson, Robert Capa, Irving Penn, Annie Leibovitz, Steve McCurry, Nemai Ghosh, Homai Vyarawalla and Raghu Rai to mention a few. Also, I was deeply moved by a photograph titled 'Final Embrace', taken by the freelance Bangladeshi photographer Taslima Akhtar.
Why is still photography not considered an art form, generally, in India?
I am not much sure why because it should be. Maybe the cell phone camera taking centre-stage and almost everyone claiming to be a photographer, has damaged the niche of being a photographer. Those are just clicks and maybe documentation but not art.
Do you think social media – Facebook, Instagram – is the right platform for photography.
I feel Facebook isn't. Maybe Instagram to a certain extent is. Either way, with the blitzkrieg of social media, these are a must to reach out to more people.
What are the subjects that are the most easiest to photograph?
Obviously, the easiest these days are selfies, clicks of sunrises, sunsets, the sky, trees and plants.
Do you like using filters and digital editing on your photos… or would you prefer to use originals.
Originals are always preferred along with minor touches at times. I am not a fan of using filters, they spoil the fun.
Any pearls of wisdom for upcoming still photographers?
First and foremost, stop using that flash. It's very annoying. Keep things simple with whatever equipment you are starting with. The focus should be composition, framing, the basics. The rest… one's style can follow with time and experience. Also, one should depend less on photo-editing. And importantly try and use manual settings and not the auto-mode.