Womanpower in khaki
by Dhruv Somani
February 14 2021, 12:00 am
Estimated Reading Time: 8 mins, 11 secs
Film historian Dhruv Somani, tracks down the heroines who have portrayed top cops, a domain usually reserved for heroes.
Bollywood has largely been about stereotypes, what with mostly daredevil heroes portraying police officers. Amitabh Bachchan, Jackie Shroff and Vinod Khanna and more lately Salman Khan, Akshay Kumar and Ranveer Singh have sported khaki 'vardis' right from Zanjeer, Khaki, Ram Balram, Amar Akbar Anthony, Ram Lakhan, Main Khiladi Tu Anari, Dabangg, Drishyam and Simmba. In fact, there has been a lot of curiosity on the release date of Rohit Shetty's Sooryavanshi, headlining the Khiladi Kumar in the title role.
Objectifying women has always been a contentious issue, since only a fistful of films has been successful in depicting strong female character-driven roles. With the super success of Delhi Crime on Netflix starring Shefali Shah and Rasika Duggal, there has been way more hope for female actors to take over the cop act.
Though Preity Zinta played a research trainee in Sangarsh (1999), directed by Tanuja Chandra, the actor was not shown in a police uniform. Preeti Jhangiani also went the law keeper way in Baaz but it was a miss and blink appearance.
Shilpa Shetty was a cop in Chhote Sarkar as Inspector Seema opposite Govinda, but here again her role was limited. As for Bipasha Basu, in David Dhawan's Chor Machaye Shor and the Dhoom franchise, it wasn't exactly memorable.
Yet as we look back in time, there has been a fistful of films with a reversal of roles. Once in a blue moon, leading ladies have been cast in parts usually considered a male reserve. Here's looking back, then, at heroines who have asserted their identity as top cops over the decades.
Hema Malini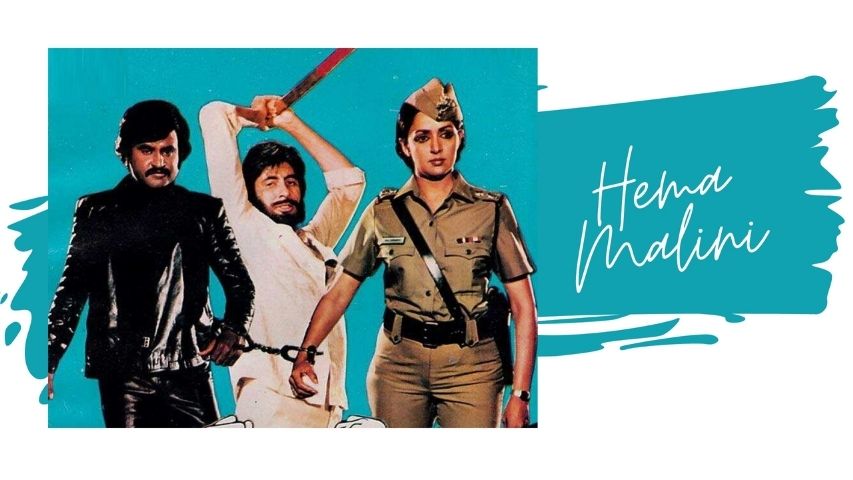 The earliest memory is of Hema Malini in the 1983 revenge saga Andhaa Kanoon, directed by T.Rama Rao and co-starring Rajinikanth, Reena Roy, Pran, Danny Denzongpa, Prem Chopra, Amrish Puri along with Amitabh Bachchan, Madhavi and Dharmendra in special appearances.
The remake of the Tamil blockbuster OruIruttari (1981), revolved around Vijay (Rajinikanth), determined to wreak vengeance. Hema Malini was his sister, Inspector Durga Singh, an upright cop who suspects her brother of serial killings but keeps failing to arrest him due to lack of evidence.
Rekha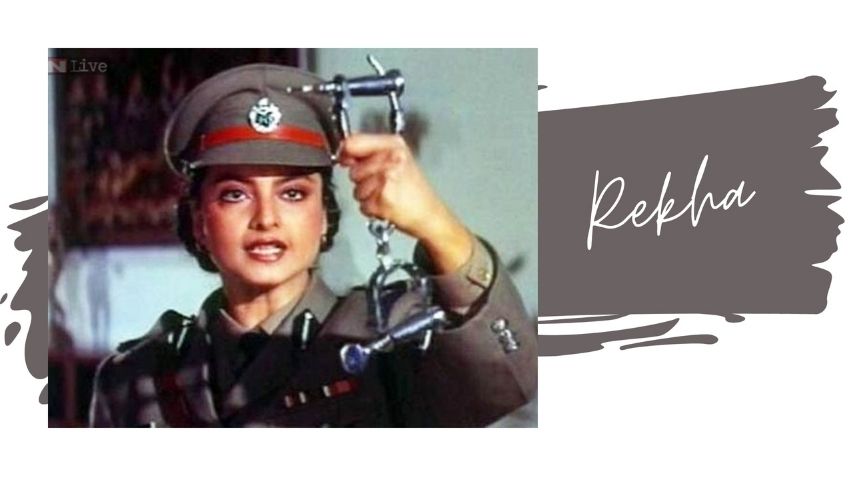 She was the tough-as-nails cop in Insaaf Ki Awaaz (1986), portraying Inspector Jhansi Rani who is out to nab the evildoers Kashinath and Mahendranath, but faces obstacles galore since her younger brother Ravi is keen to get married to Mahendranath's daughter. Begins a cat-and-mouse game between the baddies and the cop. The actioner also featured Anil Kapoor, Richa Sharma, Kadar Khan, Anupam Kher, Raj Babbar, Roopesh Kumar and Tej Sapru.
Rekha reappeared as a top cop in Phool Bane Angaarey (1991), directed by K.C. Bokadia, in which she essayed the role of Namrita Singh. After her husband Inspector Ranjit Singh is mercilessly killed by gangster Bhishambar Prasad in Udaipur, she joins the police force to fight for justice. Here was her comeback venture after taking a brief sabbatical following the death of real-life husband Mukesh Aggarwal. The outcome was a huge hit. The rest of the cast comprised Rajinikanth, Parikshit Sahni, Prem Chopra, Charan Raj, Bindu and Manjeet Kullar.
Sarika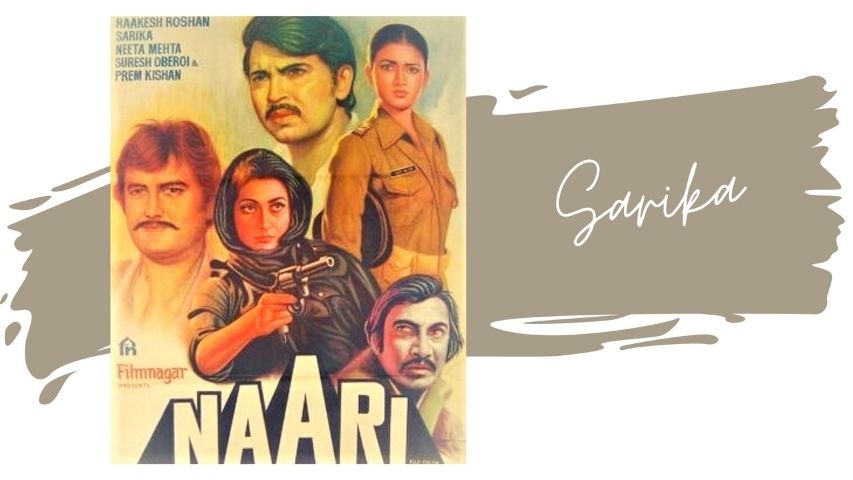 Sarika was Inspector Asha of Naari (1981) directed by Sharan. K. Chand. A typical potboiler, the plot showed local landlords tyrannizing the local villagers. Neeta Mehta, Rakesh Roshan, Prem Kishan, Madan Puri, Chandrashekhar, Ajit Vacchani and Suresh Oberoi comprised the rest of the acting crew.
The predictable story dealt with elder sister Geeta's sacrifice for her younger sister Asha to become a police officer to safeguard the village. Complications take place and later Geeta becomes a dacoit who must be caught by her younger sister (shades of Deewaar?). Unfortunately, Sarika wasn't convincing as a tough cop, whether in her body language or overall performance as she looked too fragile as a cop.
Dimple Kapadia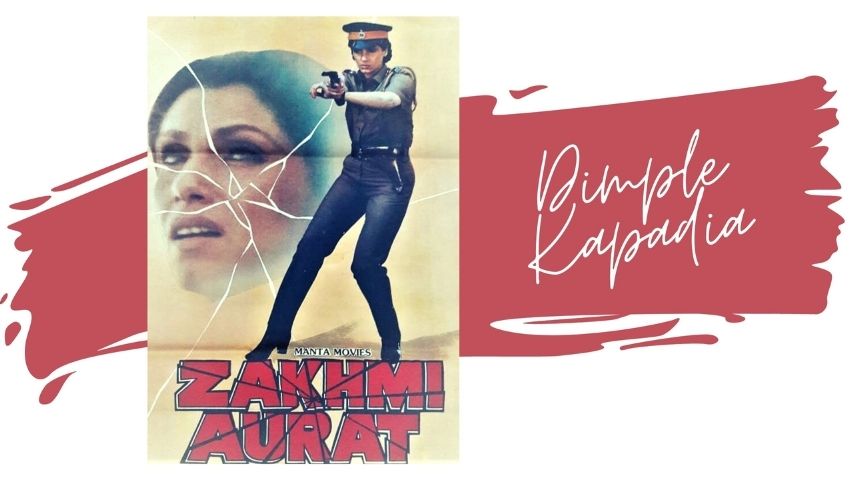 Here's one heroine who was widely appreciated as a cop. She was first seen in khaki in Aakhri Adaalat (1988), as a bumbling sub-inspector Rima Kapoor opposite Vinod Khanna. She was supposed to be the comedy relief in this actioner directed by Rajiv Mehra, which also featured Jackie Shroff, Sonam, Anjana Mumtaz, Vinod Mehra, Gulshan Grover, Paresh Rawal, Shafi Inamdar and A.K. Hangal.
The same year she was seen as the no-nonsense Inspector Kiran Dutt who becomes a victim of gang rape. With the support of other women she brings the criminals to book. Inspired by a Hollywood film, I Spit on your Grave, it was a winner at the ticket counters. The back-up cast included Raj Babbar, Anupam Kher, Puneet Issar, Rama Vij, Aruna Irani, Kalpana Iyer, Roopesh Kumar, Tej Sapru and Om Shivpuri.
In 1993 Dimple reunited with Avtar Bhogal, director of Zakhmi Aurat, for Aaj Kie Aurat opposite Jeetendra (seen together almost after a decade of Zakhmi Sher). As Roshni, she follows in the footsteps of her father who was in the police force. Roshni is forced to take the law into her hands when her sister and family are brutalized. Advocate Avinash Kapoor who fights her case in the court supports her - the result was average commercially.
Sridevi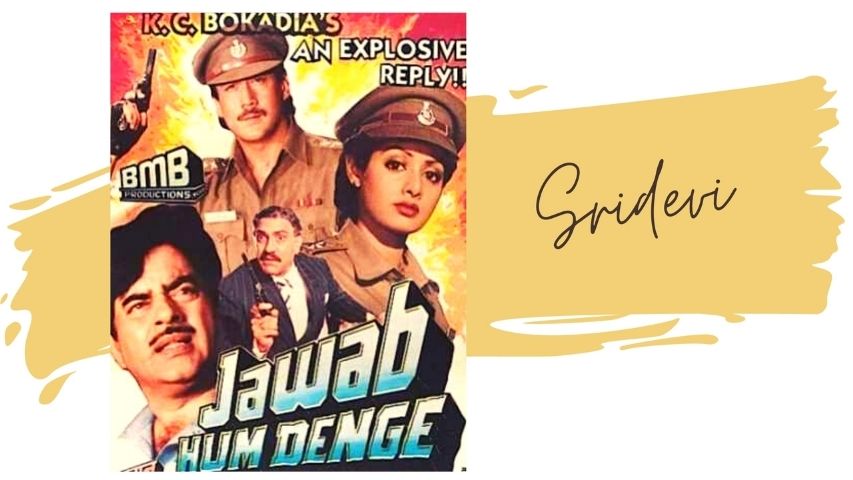 She was headlined as Inspector Jyoti in the action-packed Jawab Hum Denge (1987), opposite Jackie Shroff who played Inspector Jaikishan Verma. The plot dealt with Jaikishan Verma wrongfully framing one Vijay Saxena for the murder of Mohan and his family. Worse, the suspect's wife testifies against him in court. The audience rejected the convoluted plot although Sridevi's performance was roundly applauded.
Vijayashanti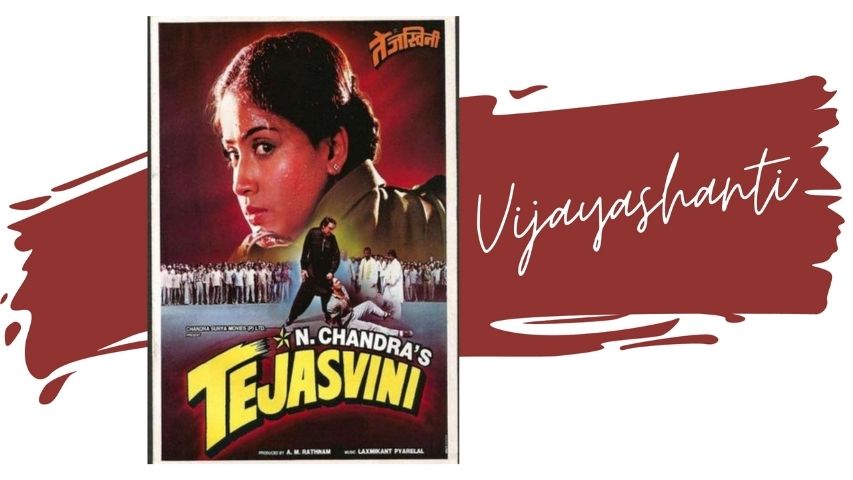 Vijayashanti was well known for playing feisty characters in the south. She convincingly played Assistant Superintendent of Police Tejasvini Joshi in director N.Chandra's film Tejasvini, opposite model Deepak Malhotra (seen in Lamhe) along with Amrish Puri, Kulbhushan Kharbanda, Charan Raj, Tinnu Anand, Suhasini Mulay and Urmila Matondkar.
Tejasvini was a remake in which Vijayashanti played the title role of a tough cop who is out to expose the gangster-turned-politician Lala Khurana. Vijayashanti's performance was praised but the remake nose-dived at the ticket windows.
Ramya Krishna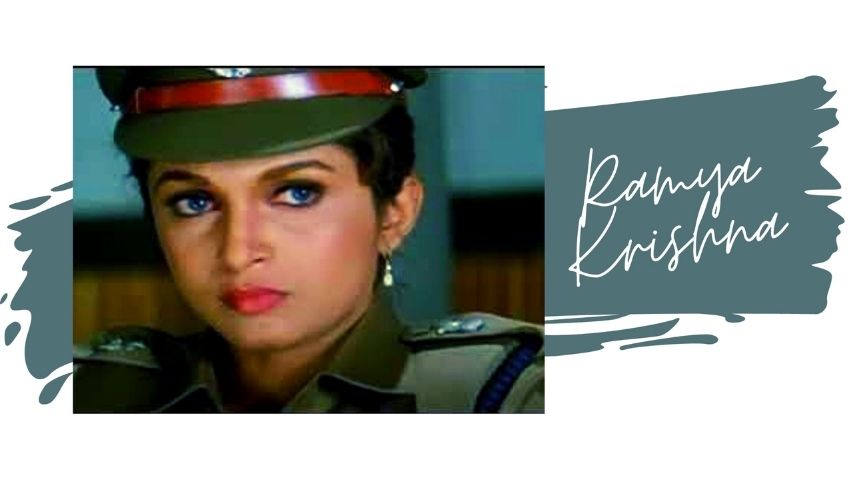 Ramya Krishna who has now become a household name thanks to her powerful portrayal of Rajmata Shivagamini in the blockbuster Baahubali had acted in several big-budget Hindi films. Initially seen in the raunchy dance number Chaahe Meri Jaan Tu Le Le in Davayan, she was later seen in more substantial parts in Parampara, Khalnayak, Chahaat, Banarasi Babu, Bade Miyan Chhote Miyan and Wajood.
She played ACP Ramya in Mahesh Bhatt's action thriller Criminal (1994), along with Nagarjuna and Manisha Koirala. She is seen helping her friend Dr. Ajay Kumar to prove his innocence when he is framed for the murder of his wife Dr. Swetha who had accidentally discovered a body organ racket in her hospital.
Sushmita Sen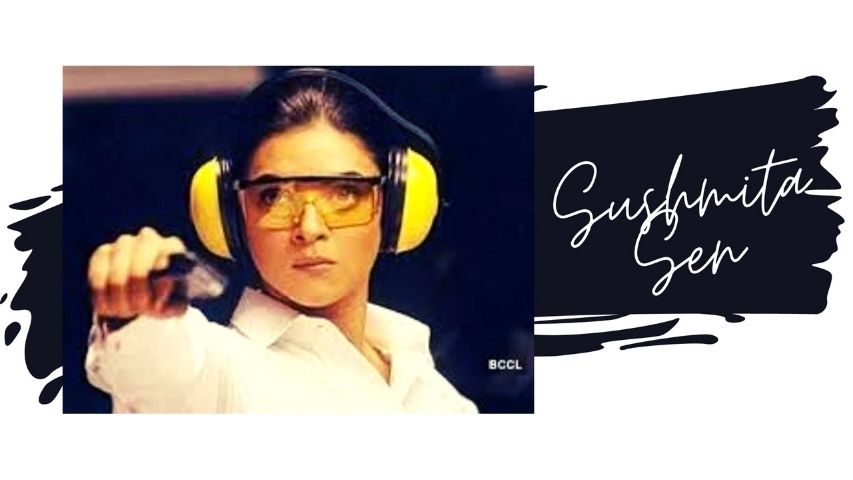 She was ACP Malvika Chauhan in Samay – When Time Strikes (2003). Despite her ultra-glamorous image, she fit the part perfectly and carried the film on her shoulders. The plot revolved around the investigations of the murder of a well-known businessman and socialite but there are few clues to be found. The project was written for Shah Rukh Khan but the script was later altered to a female to play the central character as the superstar claimed unavailability of dates.
Sushmita was once again seen as Inspector Sudha in Aaghaaz (2000), opposite Sunil Shetty, but could not do justice to the role, as her scope was limited. Nevertheless, here's one heroine who invested total conviction to her roles and carried off her uniform with elan.
Isha Koppikar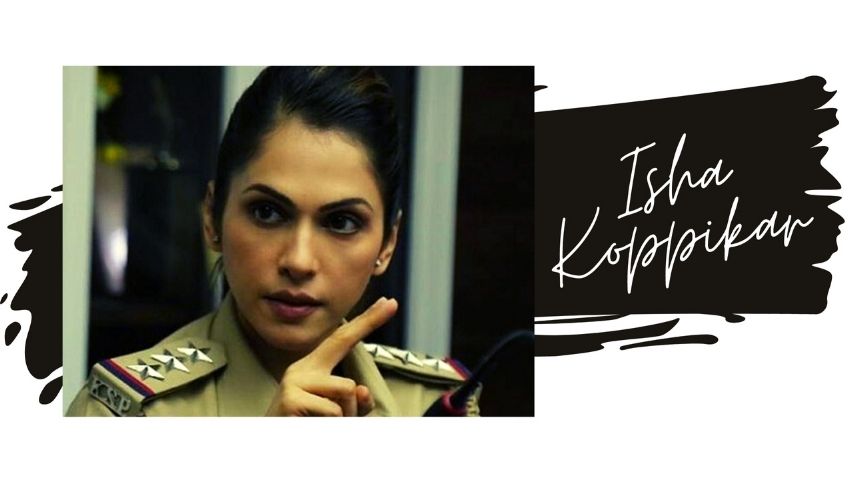 She was seen as Inspector Urmila Martondkar (funny?) Kya Kool Hain Hum (2005), produced by Balaji Telefilms and directed by Sangeeth Sivan. Isha was seen in the company of Tusshar Kapoor, Riteish Deshmukh, Neha Dhupia, Anupam Kher, Shoma Anand, Sushmita Mukherjee and Bobby Darling. A farce of mistaken identities, here one hero becomes a suspected criminal while the other one is beaten black and blue by Inspector Urmila to raise laughter.
Tabu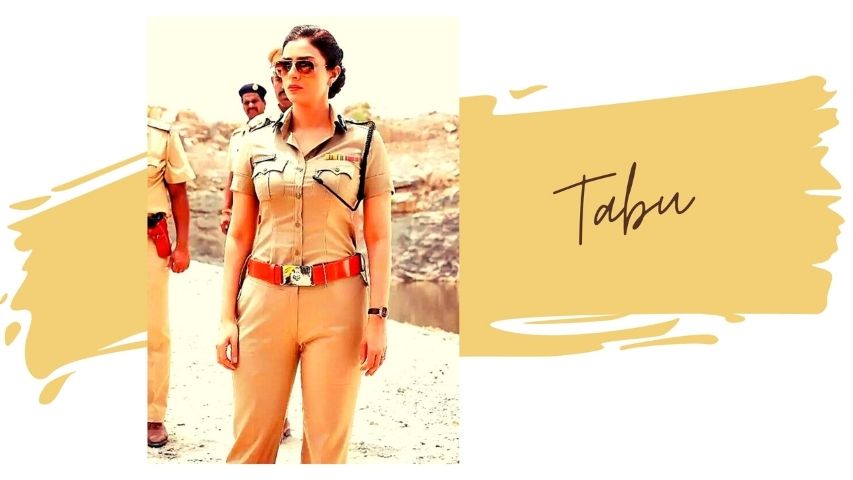 She was Inspector General Meera Deshmukh whose only son goes missing under mysterious circumstances in Drishyam (2015). The main storyline revolved around Vijay Salgaonkar (Ajay Devgn) who's trying to save his family from the dark side of the law after they commit an unintentional crime in Goa.
Tabu was also seen earlier in Mehul Kumar's film Kohraam as Inspector Kiran Patekar in the company of Amitabh Bachchan and Nana Patekar.
Priyanka Chopra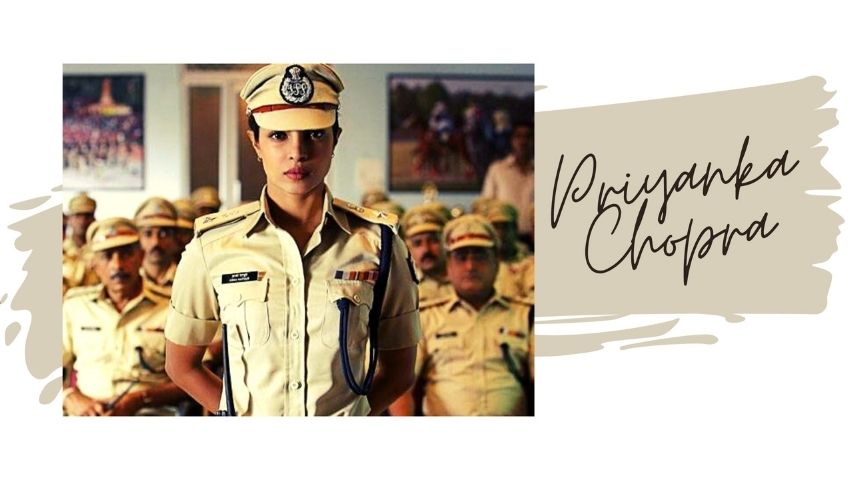 She enacted SP Abha Mathur, IPS, in the political drama Jai Gangajal (2016), directed by Prakash Jha. A sequel to Jha's Gangajal, starring Ajay Devgn, this one revolved around Babloo Panday, an MLA of Bankipur district, and his brother Dabloo Panday who run a despotic raj in Lakhisarai - usurping land to build power plants financed by political parties. Abha goes all out to help the underprivileged class to find justice. Her performance was terrific but the film just did about okay business.
Rani Mukherji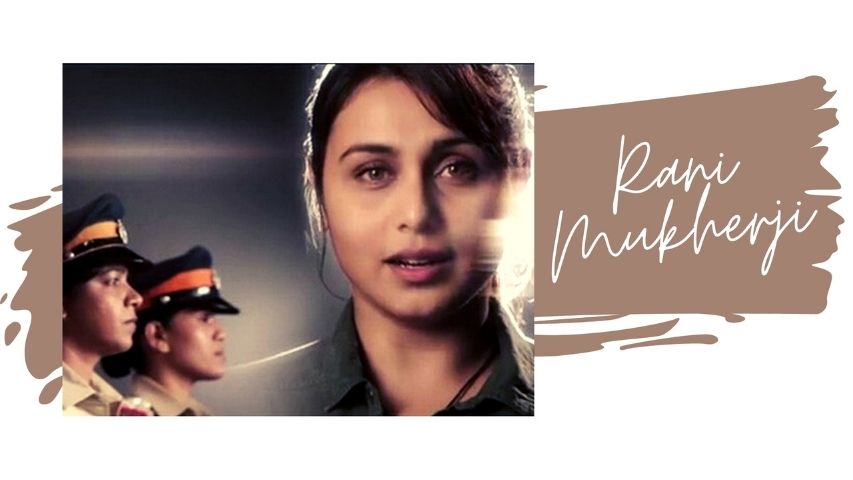 She donned the cop's vardi for Mardaani (2014), directed by Pradeep Sarkar. As Shivani Sivaji Roy, a dedicated Crime Branch Inspector of the Mumbai Police Force, she chases a Delhi based kingpin Karan Rastogi, who runs a crime cartel involving child trafficking and drugs. Mardaani was a surprise hit, earning Rani rave reviews.
A sequel was released in 2019. Rani was seen as a better and more experienced Shivani Roy who becomes a Superintendent of Police and one of her first tasks is to apprehend a 21-year-old rapist and killer played by newcomer Vishal Jethwa. Mardaani 2 also did well financially. And Rani was appreciated once again, giving rise to the conjecture that a third part of Mardaani could well be in the works.