AMITABH BACHCHAN AND THE ANGRY YOUNG MAN
by Shantanu Ray Chaudhuri
April 13 2022, 12:00 am
Estimated Reading Time: 12 mins, 33 secs
One of the biggest box-office failures of the superstar's career, Alaap boasts one of his subtlest performances and, arguably, the best musical score in an Amitabh Bachchan film. On the 45th anniversary of its release, Shantanu Ray Chaudhuri looks at a forgotten classic of Hindi cinema.
Conventional Hindi film wisdom credits Salim-Javed with the creation of Amitabh Bachchan's angry young man image, with directors like Prakash Mehra, Yash Chopra and Ramesh Sippy, to name just a few, helming some of the most iconic 'angry young man' films. However, even though Zanjeer is credited with birthing the image, and films like Deewaar, Trishul and Shakti popularizing it, the real credit for it should go to Hrishikesh Mukherjee.
More than two years before Zanjeer, Hrishikesh Mukherjee, and his regular team of writers like Gulzar, Bimal Dutta and D.N. Mukherjee, gave us Dr Bhaskar Banerjee or Babumoshai in Anand. And the one thing that makes the film work, apart from the music, is the despair and angst that Amitabh Bachchan imbued Babumoshai with. Frankly, I never quite bought into Anand's philosophy of life. Rajesh Khanna looks too in the pink of health to work as a cancer patient. And the joy he radiates becomes a tad too overbearing after a point. There's little consideration for the travails of a cancer patient, and the lack of a family takes away one huge aspect of dealing with cancer, the effect it has on a family. I am aware that the film is more about a certain philosophy than anything else, but these are lacunae I could never get over. The one true persona in the film is Babumoshai and it's the first of Bachchan's angry characters.
Following soon after Zanjeer, which means they were very much in production simultaneously with Zanjeer, we have Abhimaan and Namak Haraam, the latter largely instrumental in Bachchan's superstardom. Directed by Hrishikesh Mukherjee, both films cast Bachchan in roles with bitter overtones. It was a template he would resort to for all his films starring Amitabh Bachchan, barring Chupke Chupke, Mili, Alaap, Jurmana and Bemisal. Of course, Mukherjee's angry young man was vastly different from Salim-Javed's. For one, he never raised a fist; there were no dishum-dishum, no explosive dialogues and no final catharsis in a fight to the finish. The anger simmered at a subterranean level, as a subtext.
Of these films, Alaap stands out for a number of reasons. For one, in an era when the superstar could not deliver a flop even if he tried to, just look at his roster of films in the years 1976-79, Alaap came a cropper at the box office - the only other Bachchan film of the time that failed miserably was Imman Dharam, ironically, scripted by Salim-Javed. But while Imman Dharam was a rank bad film, Alaap has come to be regarded as one of Bachchan's best, just that it broke away too much from the star's popular image, with an outlook that is relentlessly bleak.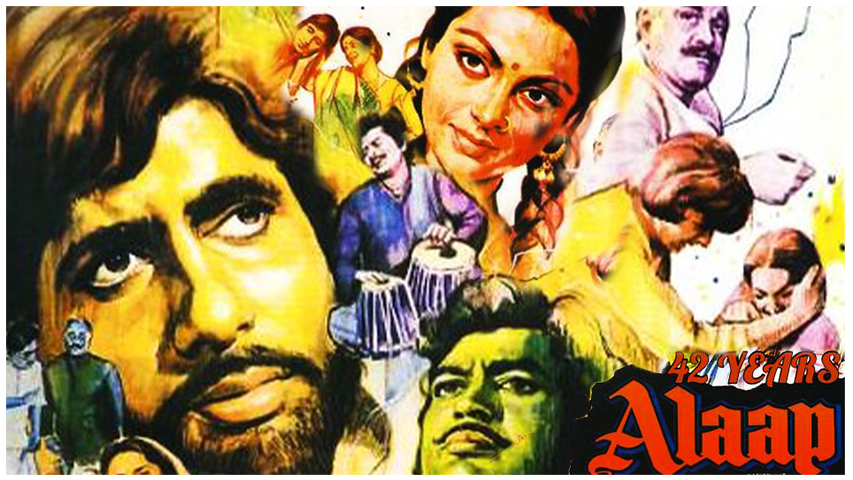 Second, it cast Amitabh as a trained classical singer, another first, in fact there are no other films in his career, which had him play a classical singer. For an Amitabh film of the era, it might come as a surprise that the film begins with a dedication to Mukesh and K.L. Saigal and the title credits play out against a visual of Amitabh Bachchan singing the Saraswati Vandana! And though I never bought the argument made by many during the era that his films sounded the death knell for good music, Alaap remains a true outlier among Amitabh's films – the one with a truly classical score and arguably his finest musical. And though by this time, Kishore Kumar was the recognized and acknowledged voice of the star, Alaap made a change here too with Yesudas providing the playback for him for the first time, and how!
So, Alaap took one risk too many for a mainstream Hindi film of the era. As the filmmaker himself observed, it was almost blasphemous to have Amitabh play the sitar and harmonium when audiences wanted him to be firing guns. In an interview to Filmfare, he said: "The film had Amitabh Bachchan holding a tanpura, which was too much for the audience to take. Amit's image of the angry man, always fighting, was becoming very strong then. Besides, the film was depressing; the characters were faced with far too many problems. The classical music base for the songs didn't go down well either."
But for the viewer looking for a different take on the angry young man, Alaap, based on a story idea by the irrepressible Harindranath Chattopadhyay, developed by the director, scintillating dialogues by Rahi Masoom Raza and Biren Tripathy, offers a richly rewarding experience. It begins with Alok, Amitabh Bachchan, returning home after training in classical music. That his father Triloki Prasad, Om Prakash whom he refers to as 'Herr Hitler' does not approve of his passion is evident at their first meeting when he peremptorily asks Alok what he intends to do with life now that he has had his little diversion in music. He fails to recognize Alok's dedication to music, and above all, his sense of fair play and justice, that will cast asunder all familial ties.
Alok meets his old friend Ganeshi, Asrani, he gets to sing two songs, who drives a tonga. It is through Ganeshi that Alok makes the acquaintance of Sarjubai, Chhaya Devi, a retired courtesan of Banaras in whose home Ganeshi and his sister Radhiya, Rekha, are tenants, and who imparts music lessons to Radhiya. After a tetchy first meeting with Sarjubai, who initially comes across as cantankerous and dismissive of Alok's musical credentials, Alok eventually manages to win her heart and confidence and becomes her pupil.
In the course of his interactions with Sarjubai, Alok also meets her long-time companion, 'Maharaj', Manmohan Krishna, who, we learn, left his privileged upbringing and family to devote his life to Sarjubai (a theme that is echoed in Alok's relationship with Sarju as well), accompanying her as a tabla player. It is here that he also hears of Raja Bahadur, Sanjeev Kumar, a connoisseur of music who shares a special relationship with Sarjubai.
Triloki Prasad, a 'respected' member of the town who prides himself on his family honor, and who is looking to contest local elections, discovers his son's association with people he categorizes as 'no-account riffraff'. To teach his son a lesson and put an end to his relationship with his newfound friends, he uses his skills as a lawyer to evict Sarjubai from her home, eventually forcing her to go back to Benares. But he has not reckoned with his son's determination and strength of character, and the stage is set for a classic father-son conflict, the staple of quite a few of Bachchan's angry young man films.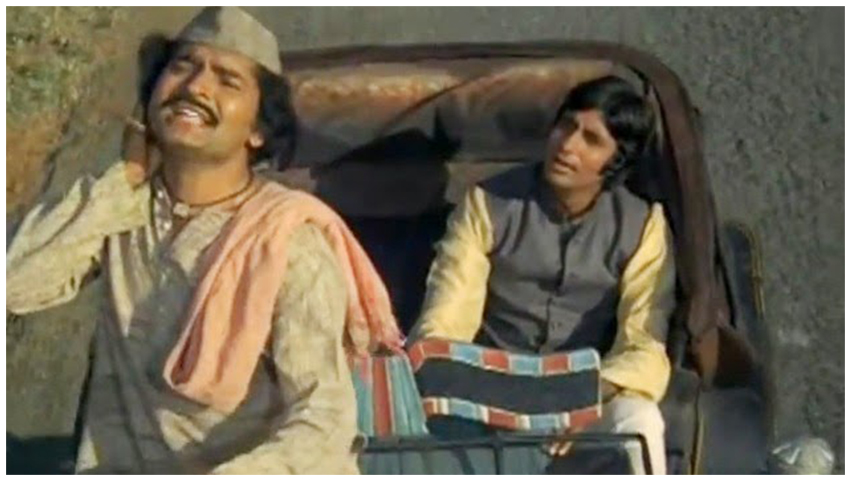 It begins with Triloki giving Alok money to purchase a second-hand car, which the latter uses to acquire a tonga. In a fitting riposte to his father, Alok decides to make his living by driving a tonga, thus demonstrating his solidarity with the 'humble' people his father seeks to destroy given his false pride in his lineage and family honor. But Triloki is not one to take this lying down. He introduces a bus service in the town, thus rendering Ganeshi and other tongawalas out of work. A distraught Ganeshi sets a bus on fire and is imprisoned.
Nothing, however, can dampen Alok's resolve to fight it out. He marries Radhiya at Sarju's request and they have a son. But conditions are tough and with neither party willing to give in, Alok contracts tuberculosis, an affliction common to rickshaw pullers. Finally, it takes Raja Bahadur's intervention for Triloki Prasad to see the error of his ways. But it may already be too late. The song that Alok sings at the memorial service for Sarjubai is as much an ode to her as it is an elegy for him.
Though the conflict between father and son is the staple of many a Hindi film, what sets Alaap apart is its approach to the conflict. You can see the understated fire in Alok, in the way he chides Radhiya for suggesting that he make it up with his father, in the way he dares his father by deciding to make a living as a tongawala. Above all, in the way he reasons that as an artist he would amount to nothing if he cannot stand up to the injustice meted out to his fellow human beings. These are all aspects that feed off his angry man image, but rendered anew, with none of the fire and brimstone of his other films in this avatar. Above all, where Alaap scores, is in the way it makes a point about the egalitarian nature of music, one that transcends caste and class. No other Bachchan film has ever done this.
The film is also notable for the way it addresses social and political issues. In one brilliant sequence, more effective for the unobtrusive way in which it plays out, Triloki hails a tonga, realizing that his son is the driver only when he proffers him money for the ride. It says a lot about the way we approach a certain class of people. Triloki does not even look at the face of the tongawallah till he reaches out to make the payment. Or consider Sulakshana, Farida Jalal, a trader's daughter with whom Triloki contemplates Alok's marriage, who tells Alok, "Enough is enough, you can't go on being a tongawalla" and to which Alok's response reveals our inherent biases against work that involves manual labor. There's also an offhand comment on the changing face of electoral practices as Triloki Prasad asks his campaign manager to make a bloc-wise break-up of the electorate by caste and religion to ensure that the right canvasser goes to the right region - a practice that has reached its full flowering in many states of contemporary India.
Another beautifully done aspect pertains to the way the film paints the picture of a surrogate family and its strong ties over biological ones. In one of the film's most telling sequences, as Sarjubai lies dying, the three men around her are Maharaj, Raja Bahadur and Alok, none of whom are related to her by blood. It is a common love for music that has bound them together for a lifetime. That extends to every other relationship that Alok has, with Ganeshi, with his sister-in-law, played with great feeling and charm by Lily Chakraborty, with Sulakshana. In contrast, the one blood relationship, with his father, is fraught with discord and discontent.
What makes this aspect come across so strongly is also Chhaya Devi's performance. Though in many ways, Sarju is the mother figure we see in countless Bachchan films, and though she stands in as a surrogate for his deceased mother, there's none of the stereotypical melodramatic overtones we normally associate with the mother figure in Hindi films of the era. And that also holds for her portrayal of the courtesan, which flies against the conventional performances of baijis in Hindi films. It is ultimately the relationship between Alok and Sarju, and between Sarju and the rest, that gives the film its narrative strength.
A palpable sense of loss pervades the film, which is as much a lament for a lost way of life, a new more aggressive world replacing a genteel one of adab and tehzeeb and leisure, an era of classical music and its practice coming to an end. As the guru at Alok's music school says, 'Ab toh sadhana ka lamba raasta hai, jo jeevan ki tarah saral bhi aur kathin bhi hai'. Music calls for a lifetime of commitment and dedication, and thus rendered irrelevant in a world changing by the day. This is also manifest in the way automobiles replace the hand-driven rickshaw, leading Ganeshi to say, 'Bus mein tel jalta hai, par tange mein janwar ka khoon.' (A bus runs on fuel, but a tonga runs on the animal's blood.)
Towering above all is the film's music by Jaidev, that outstanding and criminally neglected overlooked composer. I have already mentioned the film's classical music credentials and this being the Amitabh Bachchan film with the finest music. Rahi Masoom Raza too never scaled the heights as a lyricist that he did with Alaap. But what makes the music really stand out is the way it is integrated with the narrative and underlines its many relationships, with some of its most memorable vignettes woven into the songs.
Consider Yesudas's mellifluous 'Chand akela jaaye sakhi ri' for example, in which Alok pleads the moon's case as a plaintiff, with Amitabh's mock courtroom dialogues punctuating the song. Not only does it provide the narrative with some lively moments, it also establishes the deep bonding between Alok and his sister-in-law, one of the driving forces behind his passion for music. Then there's 'Ayi rut sawan ki', impeccably rendered by Bhupinder and Kumari Faiyyaz, which provides delectable shorthand to Sarjubai's relationship with Raja Bahadur. In 'Nai ri lagan' (Yesudas, Madhurani and Faiyyaz), you have the film's most heart-warming scene as Alok bends down to touch Sarju's feet during a Holi celebration – in a typically low-key commentary on music's ability to upend social and caste rigidities.
And the pièce de resistance: Harivansh Rai Bachchan's 'Koi gaata, main so jaata'. Both a lullaby and an elegy, I wonder if there's another song in Hindi cinema that brings these two forms together with as much feeling as this. In three-and-a-half minutes of exquisite poetry, flawless composition and heartfelt rendition, by Yesudas, the song provides a snapshot of the film and the journeys its characters have undertaken.
For me, Alaap epitomizes a lost world in Hindi cinema, when technique and technology had not yet overshadowed content. All Hrishikesh Mukherjee films for that matter are basic when it comes to the technique, he was never breaking new ground with style, but there's something about the telling that makes the films resonate even today. And as fans of Amitabh Bachchan, others may swear by Deewar and Sholay, Agneepath and Zanjeer, but for me nothing beats the charming everydayness he imbued his characters with in films like Saudagar and Manzil, Bemisal and Alaap.