BOLLYWOOD TIK-TALK: IS SHE KAT OR COPY KAT?
by Editorial Desk
November 22 2023, 12:00 am
Estimated Reading Time: 4 mins, 10 secs
Salman Khan has the answer to whether she's Kat or a Copy Kat! And more news from The Daily Eye #Newsdesk this week!
Katrina Kaif Steps Into The Spotlight As A Business Maven
Katrina Kaif is not only a renowned actor in Bollywood, but also a prosperous businesswoman, mostly due to the success of her cosmetics line, Kay Beauty. A recent event got her invited to speak at a global fashion industry platform about her journey as an entrepreneur.
Katrina Kaif, the visionary behind the inception of Kay Beauty in 2019, shared profound insights. Speaking about her role as a woman entrepreneur, the Tiger actor said, "No amount of advertising can substitute the fact that the consumer and our audiences can see the truth. They can sense what has been sold to them and what is genuinely coming from a place of authenticity".
With the '#ItsKayToBeYou' campaign serving as an illustration, Kay Beauty, the company, has been in operation for four years, prioritising inclusivity and sustainability in marketing. Her brand has engaged influencers to promote self-love, extending inclusivity beyond gender, age, colour, and identity. The esteemed panel also featured Anaita Shroff Adajania, Bandana Tewari, and Laxmi Menon, who explored the intricate dynamics of reimagining Indian beauty, spanning changing perceptions, expressions, and the challenges and opportunities in the fashion and beauty industry.
Katrina Kaif's reflection on her entrepreneurial journey underscores her influence as a trailblazer in both films and business. Amid a community comprising pioneers and visionaries in the fashion industry, she has played a significant role in advancing the conversation on reshaping beauty standards within the Indian cultural context.
Salman Khan calls Katrina Kaif a 'copy kat', says she copied his 'Jeena Ke Hain…' style in Tiger 3
Katrina Kaif gave a witty response to Salman Khan after he teased her for copying his iconic towel dance from the hit song "Jeene Ke Hain Chaar."
The two of them are currently enjoying the recent success of their film Tiger 3. Katrina interacted with fans during an AMA session on Instagram and were surprised when Salman asked a hilarious question to her during the session. He asked her, "Jeene Ke… main maine towel use kiya, aur aapne Tiger main towel use kiya. Yeh kya copy kat chal raha hai? (I used a towel in the song Jeene Ke and you used a towel in Tiger. Are you copying me?)" Katrina responded to Salman and wrote, "Aapne towel use kiya aur maine towel pehna hai (You used a towel and I'm wearing it)."
Katrina has a towel fight sequence at the Hammam in Tiger 3. The scene went viral after a few glimpses of it were shown in the film's trailer.
Priyanshu Painyuli, Ishaan Khatter and Mrunal Thakur enjoy shooting for 'Pippa' in a BTS video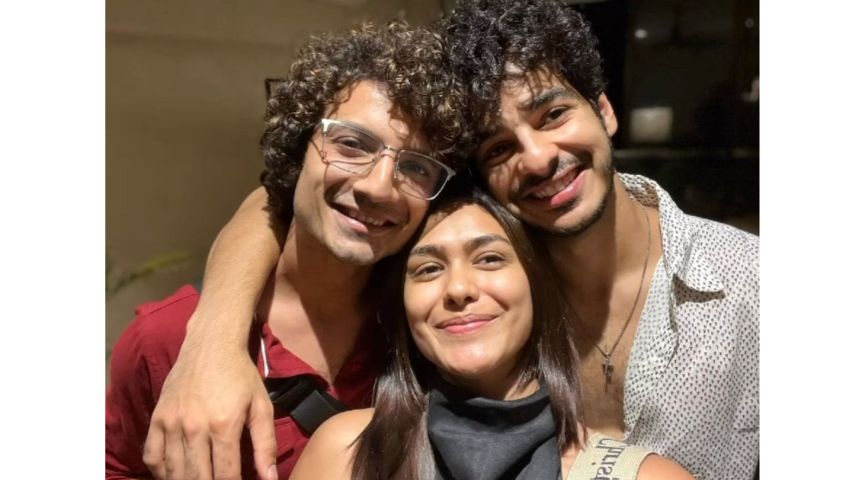 Adding a delightful touch for his fans, Painyuli recently shared a behind-the-scenes (BTS) video on Instagram from the shoot of "Pippa," featuring co-stars Ishaan Khatter and Mrunal Thakur.
https://www.instagram.com/reel/CztFG09N6lV/?igshid=MzRlODBiNWFlZA==
The video captures the trio's laughter and fun banter, highlighting the chemistry that brought the sibling bond of their characters to life on screen. Painyuli stated, "Younger siblings are like this... One is hitting me with a gun (one of the best magical things introduced to me, thanks @ishaankhatter), and the other one @mrunalthakur laughs at your singing... @arrahman will be proud of me. Best times to shoot with these two."
As audiences continue to applaud his performances, the actor gears up for his upcoming web series "Shehar Lakhot".
Celebrating Manushi Chhillar's Miss World Anniversary: A Journey of Beauty and Brains
On November 18th, in 2017, Manushi Chhillar made history by winning the title of Miss World, marking a return for India after 17 years. Representing the state of Haryana, her victory not only celebrated her beauty but also her intelligence and charisma.
Since her crowning moment, Manushi has effortlessly navigated the worlds of fashion, social work, and Bollywood. As a fashion icon, she has graced elite events, showcasing an impeccable sense of style that continues to influence trends. Her journey from a small town to the global fashion stage has been nothing short of inspiring.
Manushi's commitment to make the world better is evident in her endeavours beyond the runway. Engaging in environmental causes, such as beach cleanups after Ganpati celebrations, she has used her platform to advocate for positive change.
On the professional front, Manushi has been on a successful trajectory. With projects like "The Great Indian Family" and "Operation Valentine". She has proven her mettle as a versatile actor in the entertainment industry. She has also maintained her standing as a fashion icon and gracefully upheld her title. Fans eagerly anticipate what she will bring to them next, as Manushi's journey promises to unfold with more remarkable achievements and contributions to the world of fashion and cinema.