KASHISH Festival Travels To Ahmedabad
by The Daily Eye Team
July 20 2017, 5:12 pm
Estimated Reading Time: 4 mins, 33 secs
KASHISH Mumbai International Queer Film Festival, South Asia's biggest LGBTQ film festival, will screen a diverse range of LGBTQ films at IIM Ahmedabad in a day-long event.
Organized by IIM Ally, the LGBTQ resource group of IIM Ahmedabad and KASHISH Arts Foundation, the parent body of KASHISH MIQFF; the screening program include KASHISH Forward, a film screening program focused on youth, and Best of KASHISH, award winning and popular films from KASHISH 2017; as well as screening of National Award-winning documentary Breaking Free by Sridhar Rangayan.
"KASHISH's mission is not only to entertain but also to educate and empower. Apart from the five day festival in Mumbai, KASHISH has been holding screenings in other metros and Tier2 cities. It is important to create awareness that gay, lesbian, transgender people have a right to lead their lives with dignity and have loving relationships. Medium of cinema, and films from around the world, offer a strong context", said Rangayan, festival director of KASHISH, who has traveled to more than 18 cities with such programs.
"The event will also screen two Indian films with well known actors - Sanjay Mishra in Chudala and Tanvi Azmi in Devi", Rangayan added.
The LGBTQ conclave will also feature talks by gay right activist Ashok Row Kavi and diversity and talent expert Udayan Dhar; as well as a panel discussion about the LGBTQ movements in India and abroad, with Ashok Row Kavi, Dhaval Shah and Sridhar Rangayan.
"Emboldened by the success of our online awareness series 'Queer pe Charcha', we thought of taking a step further and collaborated with KASHISH to use the medium of movies to sensitize the society and encourage discussions around generally overlooked topics like gender identity, sexual orientation. IIM Ally team strives to create a positive impact and an inclusive environment for the queer community within & beyond the campus", said Anoop, coordinator of IIM Ally and a PGP student at IIM Ahmedabad.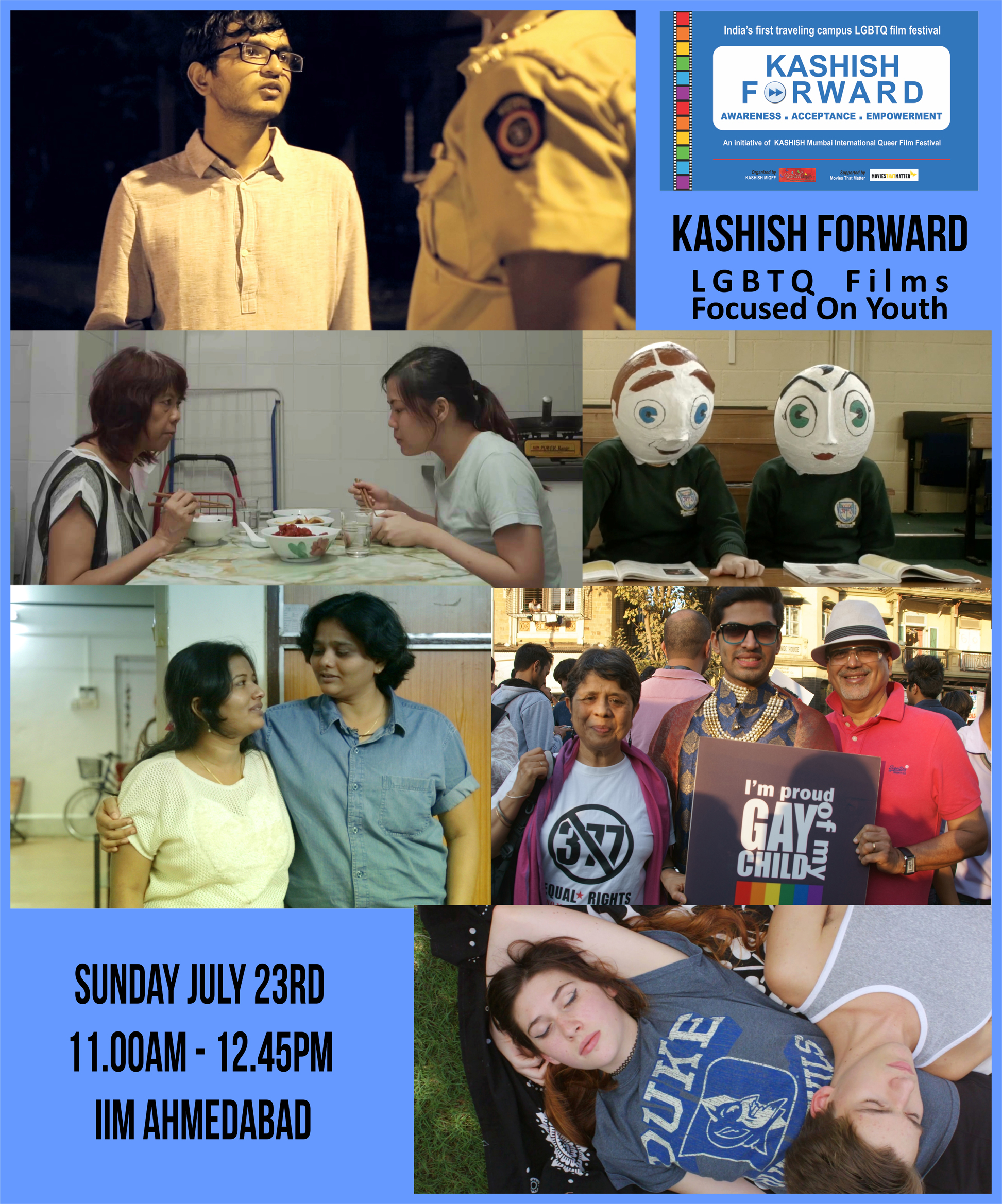 Best of KASHISH program will feature Indian short films The Fish Curry (Maacher Jhol), The Clarinets (Shehenaiiya) and Naked Wheels which won awards at KASHISH 2017 as well as Chudala and Devi. The international films to be screened are Mario Kike & David (Spain), Relics (France), The Recipe (Italy) and Beautiful Figure (Hungary)
KASHISH Forward program will feature Indian films All About Love, Any Other Day and My Child Is Gay, I Am Happy as well as international short films Keep Your Head Up (Ireland), Dear Drew (USA) and To Mum (Love, Me) (Singapore)
Event Link : https://www.facebook.com/events/141104473136880
Date: Sunday July 23rd
Time: 10.00am to 8.00pm
Venue: IIM Ahmedabad
Program:
10.00am - Talk by Udayan Dhar
11.00am - KASHISH Forward - India's first traveling campus LGBTQ film festival with films from around the world focussing on YOUTH.
12.45pm - Talk by Ashok Row Kavi
2.30pm - Screening of National Award winning documentary Breaking Free by Sridhar Rangayan
4.00pm - Panel Discussion
5.30pm - Best of KASHISH - screening of award winning and popular films from #KASHISH2017
FREE ADMISSION. OPEN TO EVERYONE.
About KASHISH Forward
KASHISH Forward is India's first travelling campus LGBT film festival which has already traveled to 14 colleges in the past, including Panjab University, Chandigarh; IIT Kharagpur; Presidency University, and Jadhavpur University Kolkata; IIM Ahmedabad, National Law College, Bangalore, Ambedkar University Delhi; Tagore International School, New Delhi; SCM Sophia, Mumbai; Wilson College, Mumbai; Tata Institute of Social Sciences, Mumbai and IIT Bombay.
These customized programs for colleges focus on youth related issues such as Identity, Discrimination, Bullying, Coming Out, Finding Love, Acceptance by Family, etc. The motto of KASHISH Forward is 'awareness, acceptance, empowerment' and not only meant for student community but also for faculty and staff at the institute, and for families & friends. KASHISH Forward is organized by KASHISH Mumbai International Queer Film festival with support from Movies That Matter, Netherlands.
https://www.facebook.com/KashishForward/
KASHISH Mumbai International Queer Film Festival
Voted as one of the Top 5 LGBT Film Festival in the World, KASHISH Mumbai International Queer Film Festival is South Asia's biggest queer film festival and the only LGBT film festival in India to be held in a mainstream theatre. Founded in 2010, KASHISH is held over 5 days at three venues. It is the first Indian LGBT festival to be held with approval by the Information & Broadcasting Ministry, Government of India. KASHISH Mumbai International Queer Film Festival is presented by KASHISH Arts Foundation and organized by Solaris Pictures.
http://www.facebook.com/Kashish.MIQFF
IIM Ally - The LGBTQ Resource Group at IIM Ahmedabad
IIM Ally is a Special Interest Group at IIM Ahmedabad. The group strives to sensitize student community towards LGBTQ issues, create awareness and serve as a support group for queer individuals. The group has organised various events like documentary screenings, panel discussions with eminent personalities like Prince Manvendra Singh Gohil, Parmesh Shahani, Baijayant 'Jay' Panda, Devdutt Pattanaik, etc on campus and also hosted KASHISH Forward & Best of KASHISH film festival. Established as an informal group in 2015, it secured an official recognition as an SIG from Students' Affairs Council of IIM Ahmedabad, thereby making it the first formally recognized LGBTQ resource group in any IIM.