Nominees of the 75th Golden Globe Award
by Yash Saboo
December 20 2017, 4:03 pm
Estimated Reading Time: 5 mins, 4 secs
It's time for celebration. The long wait ends and the hard work and efforts come to fruition soon. The nominees for the 75th Golden Globe Awards were announced on 11th December. The award ceremony is held every year to recognise and award the best in Hollywood and American Television.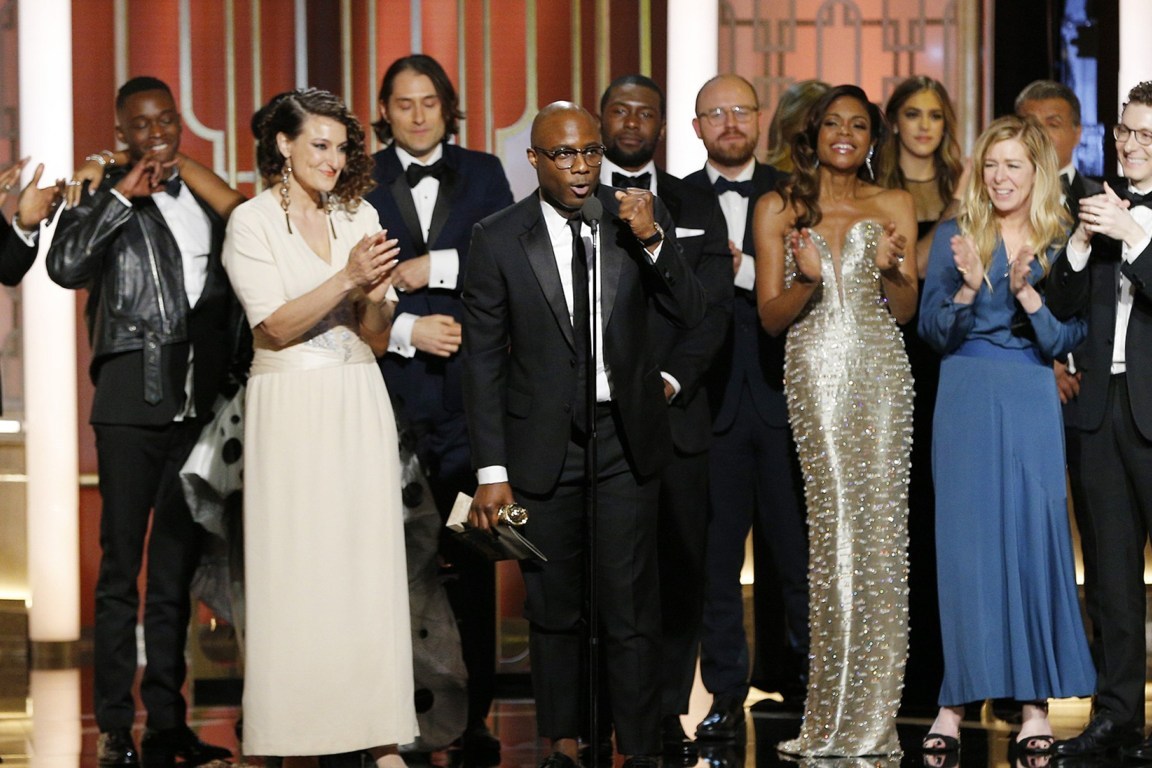 source:AwardsWatch
The ceremony will be produced by Dick Clark Productions in association with the Hollywood Foreign Press Association and will be televised in the United States by NBC. Talk-show host Seth Meyers will host the ceremony for the first time. Oprah Winfrey was announced as Cecil B. DeMille Lifetime Achievement Award honouree. The nominees were announced by Sharon Stone, Alfre Woodard, Kristen Bell and Garrett Hedlund.
Vanity Fair wrote that The Shape of Water led the pack with seven nominations, including nods for best picture, director, and actress, all in the drama category. It was followed closely by The Post and Three Billboards Outside Ebbing, Missouri, two more dramas that picked up a respectable six nominations apiece. In the comedy categories, Lady Bird reigned supreme with four nods, although it may face stiff competition from I, Tonya—which got three—and The Greatest Showman, the upcoming P.T. Barnum musical starring Hugh Jackman.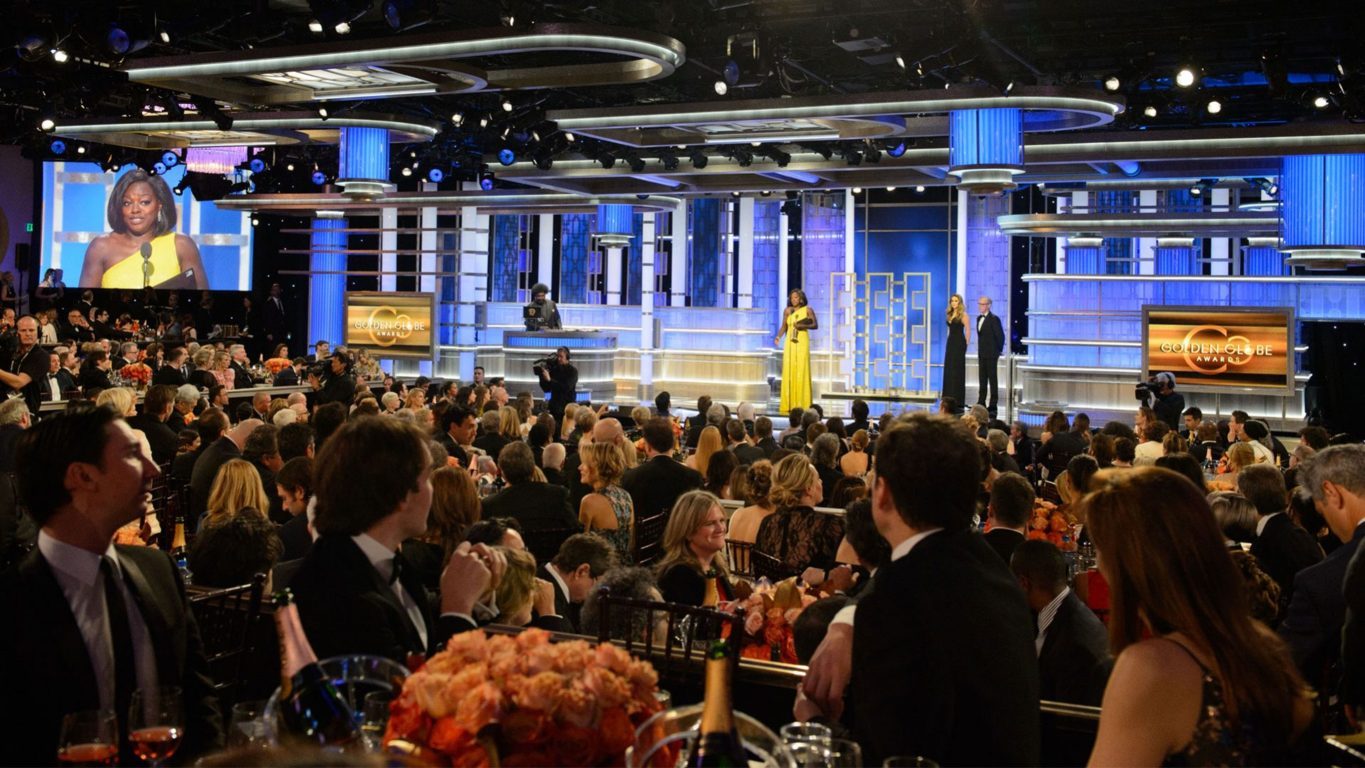 source: Dick Clark Productions
The biggest shock in the film categories, however, were the three nods given to All the Money in the World, a Ridley Scott film that underwent hasty reshoots and edits this fall after Scott decided to replace star Kevin Spacey with Christopher Plummer, following a series of accusations of sexual misconduct against Spacey. The movie has not yet screened for critics—but evidently, the Hollywood Foreign Press Association has seen it, and liked it well enough to cite it for best director, actress (Michelle Williams), and supporting actor (Plummer).
On the television side of the aisle, Big Little Lies—of course—got the most nominations, scoring six total nods. The Handmaid's Tale—which, like Big Little Lies, recently won big at the Emmys—was tied for most-decorated drama with This Is Us; each earned three nominations. Meanwhile, few comedies stood out from the pack; several series have two nominations each, including Globes favourite Black-ish, Amazon's brand-new stunner The Marvellous Mrs. Maisel, Aziz Ansari's Netflix gem Master of None, the new Showtime hit SMILF and NBC's well-liked revival of Will & Grace.
Read through to find out which films/ tv shows won the jurys' heart, along with the trailer link of the same.
FILMS
Best Motion Picture, Drama
Dunkirk
https://www.youtube.com/watch?v=F-eMt3SrfFU
The Post
https://www.youtube.com/watch?v=nrXlY6gzTTM
The Shape of Water
https://www.youtube.com/results?search_query=the+shape+of+water+trailer
Call Me by Your Name
https://www.youtube.com/watch?v=5rgO_TyyOoU
Three Billboards Outside Ebbing, Missouri
https://www.youtube.com/watch?v=Jit3YhGx5pU
Best Motion Picture, Musical or Comedy
The Disaster Artist
https://www.youtube.com/watch?v=sPSJYXi7BWA
Get Out
https://www.youtube.com/watch?v=sRfnevzM9kQ
The Greatest Showman
https://www.youtube.com/watch?v=jr9QtXwC9vc
I, Tonya
https://www.youtube.com/watch?v=DrrLDg9Qlvs
Lady Bird
https://www.youtube.com/watch?v=cNi_HC839Wo
Best Director
Guillermo del Toro, The Shape of Water
https://www.youtube.com/results?search_query=the+shape+of+water+trailer
Martin McDonagh, Three Billboards Outside Ebbing, Missouri
https://www.youtube.com/watch?v=Jit3YhGx5pU
Christopher Nolan, Dunkirk
https://www.youtube.com/watch?v=F-eMt3SrfFU
Ridley Scott, All the Money in the World
https://www.youtube.com/watch?v=KXHrCBkIxQQ
Steven Spielberg, The Post
https://www.youtube.com/watch?v=nrXlY6gzTTM
Best Actor, Motion Picture, Drama
Timothée Chalamet, Call Me by Your Name
https://www.youtube.com/watch?v=5rgO_TyyOoU
Denzel Washington, Roman J. Israel, Esq.
https://www.youtube.com/watch?v=tGVIKqbEtdU
Tom Hanks, The Post
https://www.youtube.com/watch?v=nrXlY6gzTTM
Daniel Day-Lewis, Phantom Thread
https://www.youtube.com/watch?v=xNsiQMeSvMk
Gary Oldman, Darkest Hour
https://www.youtube.com/watch?v=LtJ60u7SUSw

Best Actress, Motion Picture, Drama
Jessica Chastain, Molly's Game
https://www.youtube.com/watch?v=Vu4UPet8Nyc
Sally Hawkins, The Shape of Water
https://www.youtube.com/results?search_query=the+shape+of+water+trailer
Frances McDormand, Three Billboards Outside Ebbing, Missouri
https://www.youtube.com/watch?v=Jit3YhGx5pU
Meryl Streep, The Post
https://www.youtube.com/watch?v=nrXlY6gzTTM
Michelle Williams, All the Money in the World
https://www.youtube.com/watch?v=KXHrCBkIxQQ
Best Actor, Motion Picture, Comedy
Steve Carell, Battle of the Sexes
https://www.youtube.com/watch?v=WMdzBwsZRX8
Ansel Elgort, Baby Driver
https://www.youtube.com/watch?v=z2z857RSfhk
James Franco, The Disaster Artist
https://www.youtube.com/watch?v=sPSJYXi7BWA
Hugh Jackman, The Greatest Showman
https://www.youtube.com/watch?v=jr9QtXwC9vc
Daniel Kaluuya, Get Out
https://www.youtube.com/watch?v=sRfnevzM9kQ
Best Actress, Motion Picture, Comedy
Judi Dench, Victoria & Abdul
https://www.youtube.com/watch?v=BT2Ph_9bGPs
Margot Robbie, I, Tonya
https://www.youtube.com/watch?v=DrrLDg9Qlvs
Saoirse Ronan, Lady Bird
https://www.youtube.com/watch?v=cNi_HC839Wo
Emma Stone, Battle of the Sexes
https://www.youtube.com/watch?v=WMdzBwsZRX8
Helen Mirren, The Leisure Seeker
https://www.youtube.com/watch?v=VGGKsVFslJ8
TELEVISION
Best Television Series, Drama
The Handmaid's Tale
https://www.youtube.com/watch?v=PJTonrzXTJs
This Is Us
https://www.youtube.com/watch?v=hljQfJLQmaI
The Crown
https://www.youtube.com/watch?v=JWtnJjn6ng0
Game of Thrones
https://www.youtube.com/watch?v=1Mlhnt0jMlg
Stranger Things
https://www.youtube.com/watch?v=R1ZXOOLMJ8s
Best Television Series, Comedy
Black-ish
https://www.youtube.com/watch?v=f2oHMze7RwY
The Marvelous Mrs. Maisel
https://www.youtube.com/watch?v=fOmwkTrW4OQ
Master of None
https://www.youtube.com/watch?v=6bFvb3WKISk
SMILF
https://www.youtube.com/watch?v=bg8lF5n1W7k
Will & Grace
https://www.youtube.com/watch?v=FaZS9_69KF0

Check out the full list on the Golden Globes website: https://www.goldenglobes.com/winners-nominees/2018/all