Special Screenings, Workshops & Celebrities make a cinematic Saturday to remember at 6th Jagran Film Festival
by The Daily Eye Team
October 4 2015, 12:37 pm
Estimated Reading Time: 4 mins, 46 secs
~ Showman Subhash Ghai engages film enthusiasts in a 'Master Class' ~
~ Neil Bhoopalam conducted Q & A for NH10 ~
~ European film screenings add an exciting flavor to an already exciting film extravaganza ~
~ Bollywood films 'Bahubali', 'Kaun Kitne Paani Mein' and 'Saari Raat' showcased under Special Screenings section ~
Mumbai, October 3rd, 2015: India's largest travelling film festival, 'Jagran' in its sixth edition scaled new heights on Day 6 when Mumbai's cine goers amassed at Fun Cinemas for an uninterrupted dose of films under special screening section, master classes and celebrity appearances. Showman Subhash Ghai engaged film enthusiasts in a 'Master Class'. Actor Neil Bhoopalam conducted Q & A for NH10. European film screenings add an exciting flavor to an already exciting film extravaganza. Bollywood films 'Bahubali', 'Kaun Kitne Paani Mein' and 'Saari Raat' showcased under Special Screenings section.
From morning till the sun went down, a series of European film including Jonathan Kray & Vincent Lodder's Italian drama 'Lost In Laos', Lukasz Palkowski's 2015 award-winning Polish dramatic feature film 'Gods', Danish filmmaker Jeppe Rønde's recent real-world horror film 'Bridgend', Pierfrancesco Diliberto's 2014 Italian dark comedy'The Mafia Kills Only In Summer', Orson Welles' 1965 English language Spanish-Swiss made co-production 'Chimes At Midnight' and Jean-Pierre's 2014 Belgian small-town tale 'Two Days, One Night'. Roberto Benigni's much loved 1997 Italian tragicomedy comedy-drama 'Life is Beautiful' added to the joyous vibe at the Fun Cinemas under the Happiness category.
It turned out to be a sensational Saturday with three special Bollywood screenings including SS Rajamouli's epic historical fiction film 'Bahubali', followed by Neel Madhab Panda's satire film 'Kaun Kitne Paani Mein' and Aparna Sen's debut film'Saari Raat'. Navdeep Singh's 2015 crime thriller 'NH10', Gajendra Ahire's 2014 mysterious Marathi film 'Post Card' and Kaushik Ganguly's award-winning 2015 Bengali short film 'Chotoder Chobi (A Story about small people)' followed under the Indian Showcase. The cinema vibe was at its most contagious when Santosh Badal's 2015 drama 'Final Match' hit the big screen for a world premiere.
Sudhendu Roy's 'Uphaar', an adaptation of Rabindranath Tagore's short story recreated the 80s magic in the Indian Retrospective category. It was Girish Kasaravalli's National award-winning 1997 Kannada film 'Tai Saheba' that was showcased under Director's Special.
Film fans at Fun Cinemas loved the quick shot of Jagran Shorts spanning 5 to 29 minutes with films such as Sujoy Ghosh's Bengali film 'Ahalya', Bikas Ranjan Mishra's Hindi film 'Gelee – Wet Dreams', Lily SheffyRize's Hebrew film 'Just A Man', Hanish Kalia's Hindi film 'Day Dreams', Amitabha A Gupta's Hindi-Urdu film 'Suntey' Thae Seher Hogi', Tim Marshall's Australian-UK film 'Followers' and Kangkan Deka's Hindi-Urdu film 'Sita'.
'Masterclass with showman Subhash Ghai completely mesmerized film enthusiasts and budding film makers. As the sun set, a Coffee Table panel discussion with film makers Kaushik Ganguly and Dulal Sarkar, and Mayank Shekar's conversation with film critics like Rajeev Masand, Komal Nahta, Indu MiraniVickey Lalwani, Prabhat Chaudhary, Parull Gosian ensured variety and value-addition go hand in hand.
A larger than life Day 6 gave way to the ultimate day of this cinematic carnival tomorrow. Movie goers are all eyes for Day 7 filled with an extraordinary fix of films and experiences. The whole edition features a delectable mix of movies, master-classes and memorable experiences for avid cinema lovers based in and around Mumbai. Showcasing more than 160 feature and short films this year, it is turning out to be quite a treat for one and all.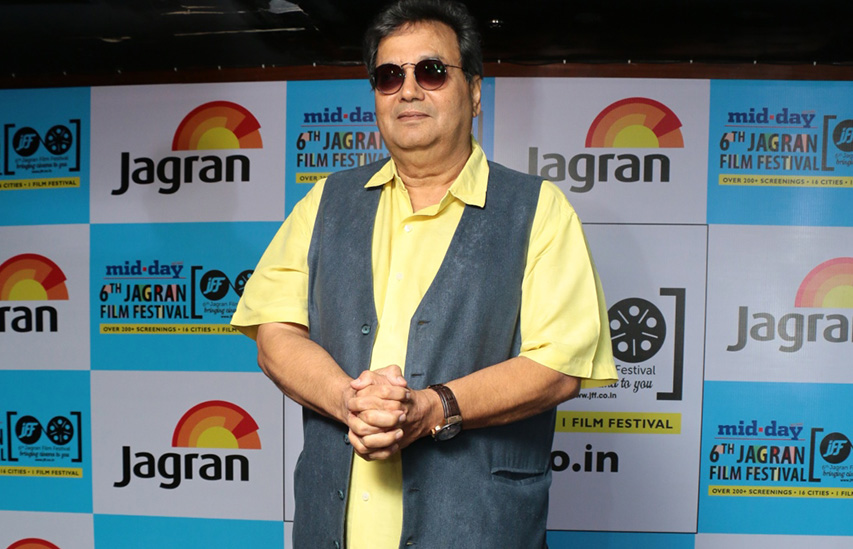 The 2015 edition of Jagran Film Festival will traverse from Delhi to the Indian hinterlands of Kanpur, Lucknow, Allahabad, Varanasi, Agra, Meerut, Dehradun, Hisar, Ludhiana, Patna, Ranchi, Jamshedpur, Raipur, Indore, and Bhopal before culminating in Mumbai. In close collaboration with festival partners such as Whistling Woods International (WWI), Film Federation of India (FFI) and Motion Picture Association (MPA) Asia Pacific Screen Awards (APSA), the 2015 edition is all set to surpass its own last benchmarks of presenting over 16 cinema appreciation workshops, 400 screenings in 17 cities, that were witnessed by a direct audience of more than 50000 film aficionados and a media reach-out to nearly 50 million people in India in 2014.
The 6th edition of the Jagran Film Festival, Mumbai 2015 is scheduled from 28th September – 4h October, 2015 at the Fun Cinemas, Mumbai. For more details and festival registration, please visit: http://www.jff.co.in/
About Jagran Film Festival: Jagran Film Festival (JFF) is an initiative by the Jagran Group towards creating a culture of cinema appreciation. JFF is an honest and sincere attempt by Jagran to spread this culture, and create a platform that connects great content with audiences across the country. The festival screens films across genres, documentaries and world classics apart from student films and ad films. A unique feature of JFF is that the cast and crew of a few select films are invited to a discussion with the audience on various elements of the film. An important aspect of the festival is to generate a discussion on the various aspects of Cinema and its impact on society and popular culture. A series of Panel Discussions will be held with deliberations by eminent personalities from the film industry.